A new archivist at the Adirondack Research Library!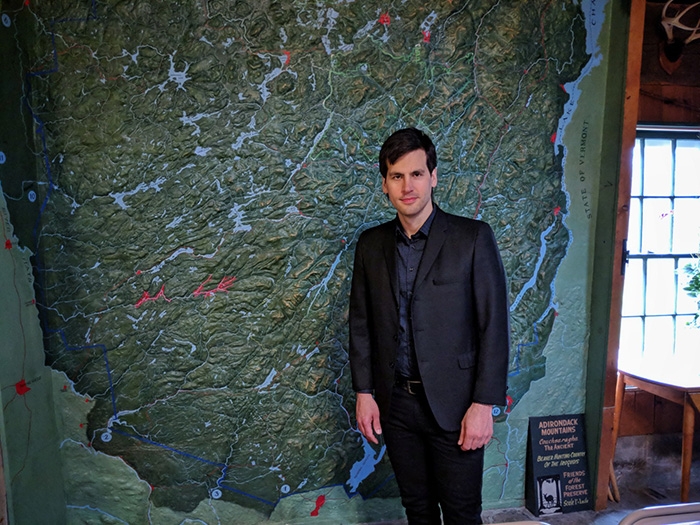 Greetings! My name is Matthew Golebiewski and I am pleased to post my first blog entry to announce that through a generous Presidential Senior Leadership grant from the Andrew W. Mellon Foundation, I have been hired to serve as the Adirondack Research Library's (ARL) Project Archivist for one calendar year, beginning September 17, 2018.
Adirondack Studies and the Presidential Senior Leadership Grant (Mellon Foundation)
The Mellon grant aims to advance an emerging academic initiative at Union College: Adirondack Studies, which will better leverage the college's unique location to wilderness areas and its information resources. In particular, collections at the ARL can provide unique materials for students and scholars to investigate humanistic questions and influences that range from the formation of environmental law and policy to grassroots advocacy and how a democratic process can mobilize and effect great change. As one of the few 'peopled' wilderness areas in the United States, studying the Adirondacks provides broad educational implications across disciplines. My job is to help researchers access and use the unique collections held in the ARL. I am looking forward to working with Union faculty members to help teach students to use the archival materials in the ARL.
What are archives?
I'm often asked about what makes up an archive. In the context of the ARL, the archival collections are one of a kind records created by individuals and organizations throughout daily life or the course of business. Unlike library collections, archival materials are mostly comprised of unpublished, unique, and sometimes rare books. Archival materials can range from photographs and letters, to three dimensional objects and ephemera. Many researchers utilize these materials to help broaden their understanding of specific events in history.
What do archivists do?
Archivists are professionally trained to arrange and describe materials in order to preserve and provide access to these unique collections. Because of their unique quality, archival records require different user policies and procedures. For example, the ARL archival collections may not be checked out, but researchers are welcome to visit and view the materials in-person. In this case, the archivist is available to help patrons find archival materials for their research or study.
Who am I?
I am a Certified Archivist with a B.A. in History and MS in Library and Information Science from SUNY Buffalo. I first came to Schaffer Library in January of 2018 and accepted my current position in September. I have been hiking in the Adirondacks for almost 20 years.
I hope you will come visit the Adirondack Research Library (we are housed within the Kelly Adirondack Center). I look forward to posting future blog posts with you and sharing my work this year. If you have further questions, please contact me at: golebiem@union.edu.