Sonia Sandoval '16
HOMETOWN: Queens, N.Y. 
MAJOR: Environmental Science
MINOR: Studio Fine Arts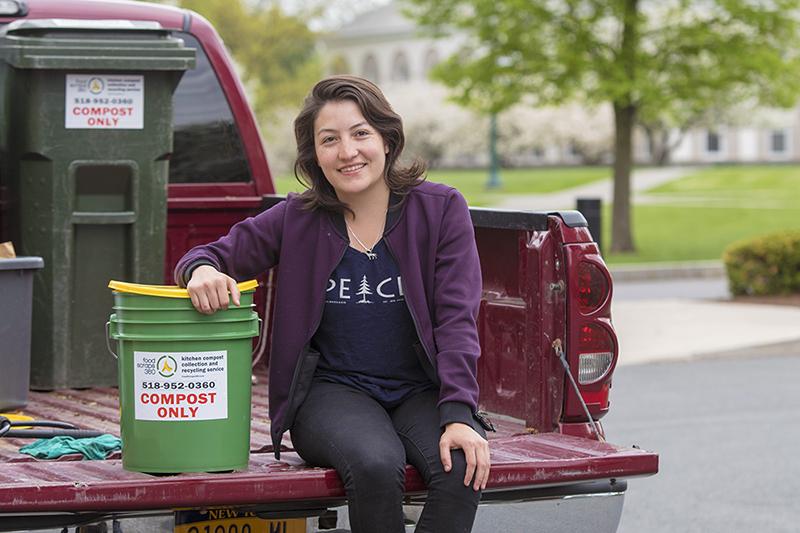 A native of Colombia, South America, Sonia Sandoval grew up in the congested cityscape of Queens, N.Y., but early on, she embraced the outdoors and ecology.
"I love trees more than concrete and steel," she says. "I left New York City and felt a strong connection to Schenectady. I love Schenectady. It's a city of innovation."
Inspired by her adopted city, Sonia is carving her own path of innovation. She is combining her environmental activism with newfound business acumen as president of FoodScraps360, a compost collection company that conducts food waste recycling for homes, businesses and special events throughout New York's Capital Region.
"My Union education enabled me to see the range of options available for helping the environment," she says. "I love what I do. This is more than a job or a career. It's a life passion."
At Union, Sonia majored in environmental science and immersed herself in research. She conducted faculty-mentored research in a local pine barren and studied biodiversity on the Great Barrier Reef on an Australian term abroad. She presented her findings at Steinmetz Symposium and at numerous conferences. As a studio fine arts minor, she learned 3-D technology, then honed her skills in the College's Collaborative Design Studio.
"At Union, you can explore and take initiative while having the guidance of professors who really care about you and your work," she says.
Before graduation, Sonia landed a job as a senior research assistant in the New York State Department of Environmental Conservation.
"I had so much research experience from Union, I was able to prove I'd be useful in the field. At DEC, I did wetlands assessment throughout the state, collecting environmental data to be analyzed by scientists."
By the end of the year, Sonia was on the move, thanks to a Union connection. Kyle Lanzit '13 recommended her for a position he was leaving at Empire Zero, a large commercial composting company in Albany.
"Kyle was a role model of environmental activism for me," Sonia said. "On campus, he won a Presidential Green Grant. He built the bicycle station at the Wold Center. And like me, he had lived in Ozone House, the sustainable residence. It was exciting to follow in his footsteps in the work world."
The opportunity brought more than she could have imagined. 
Shortly after beginning her new job, the business was put up for sale. Sonia joined forces with a local businessman, Steve Relles, and purchased the residential side of the company. They rebranded it FoodScraps360 and added a commercial practice.
"From day one, we've dedicated ourselves to a big mission," says Sonia. "Our goals are to educate consumers about the benefits of composting, make composting accessible and affordable, rescue valuable food scraps, and empower communities to re-imagine how we define and think about 'waste.'"
With massive amounts of discarded food rotting in landfills and emitting methane, a powerful greenhouse gas, food waste is an often overlooked contributor to climate change, Sonia says.
"Composting empowers our customers to curb greenhouse gas emissions and divert landfill waste. Overcrowded landfills are a big issue for a lot of communities."
FoodScraps360, located less than a mile from campus, is doing its part to change that. With two trucks currently in operation, its commercial customers include Union College, the First Reformed Church of Schenectady, the Stratton Air National Guard Base in Schenectady, and Psychedelicatessen, an eatery in Troy.
"In this political climate, sustainability and business are at odds," Sonia said. "But we want to demonstrate that they can work together to provide local jobs. We continue to find innovative ways of engaging and uniting our community around food scraps. Together, we can create sustainable communities."