Protecting the health and safety of our faculty, staff, and students and minimizing the potential spread of disease within our community, while maintaining a rigorous learning environment, is of the utmost importance to Union College.
As a student here at Union, the 2019 Novel Coronavirus or similar public health crisis ("COVID-19") may impact your on-campus experience. As we continue to provide guidance that promotes the safety of Union and its community members, it is essential to outline supplemental policies and procedures which may have evolved in response to COVID-19. As always, we will update you with information about specific health and safety guidance important for our residential students, especially as the situation evolves. You are responsible for complying with the rules, policies and regulations contained within the Community Standards, as well as this supplemental section pertaining to COVID-19. In addition, any additional law or ordinance not listed herein are also required to be followed.
The success of any reopening, either at Union College or elsewhere, will only be possible through the cooperation of those community members. It is imperative that all members of the Union College community acknowledge, behave accordingly, and educate each other about the guidelines included below.
This Agreement is a commitment to the Union community that establishes a shared responsibility to understand both the risks of COVID-19 transmission and the actions we all must commit to in order to keep ourselves, our community, and the surrounding area healthy.
Health and Safety Regulations
In addition to the standard health and safety policies as outlined in the Community Standards, residential students are required to comply with all health and safety laws, orders, ordinances, regulations and health and safety guidance adopted by the College as it relates to COVID-19. This guidance will evolve as the public health crisis evolves and may include, but is not limited to:
social distancing at all on-campus locations including residence halls,
limitations on mass/social gatherings (10 or less),
wearing a face covering,
following posted entry/exit directions,
proper handwashing and other hygienic recommendations
COVID-19 diagnostic and surveillance testing & contact tracing (before or upon arrival to campus),
disinfection protocols,
limitations of non-Union guests into residence halls,
and quarantine and self-isolation requirements.
The College is complying with the CDC's requirement to reduce the density of the residential community. To ensure we reduce the risk of transmission of COVID-19, the College is not permitting visitation to the College's residence halls, apartments, and small houses for 2020-2021. With the exception of move-in and move-out procedures, only Union College community members may be in residence halls, Greek and theme houses, Minerva residences, and apartments. Non-Union College visitation is not permitted.
These visitation directives may feel overly cautious and we recognize the impact peer-to-peer relationships have on community development. However, while we are attempting to decrease the density of residence halls, we are also conscious of how visitation may inadvertently spread the novel coronavirus through contact, surface areas, doors, etc., from one residential community to another.
For more information regarding Union Where You Are, please follow this link.
Quarantine, Self-Isolation, and Residential Re-assignment
For students who are in quarantine, students are not to leave their room unless it is to shower, use the bathroom, or pick-up grab-and-go meals. Students will be required to check-in daily with the Wicker Wellness Center via TeleHealth. If a student is not feeling well or symptoms worsen, they will contact the Wicker Wellness immediately to assess risk and agree to follow all recommendations of the Wicker Wellness Center staff. If outside of business hours, residents will contact Campus Safety to get in contact with urgent care.
For students who are in self-isolation, students are not to leave their room unless it is to shower or use the bathroom. Meals will be delivered to the student's room via contactless delivery. Students will be required to check-in daily with the Wicker Wellness Center via TeleHealth. If a student is not feeling well or symptoms worsen, they will contact the Wicker Wellness immediately to assess risk and agree to follow all recommendations of the Wicker Wellness Center staff. If outside of business hours, residents will contact Campus Safety to get in contact with urgent care.
Residential Re-assignment: In the event that students are required to self-quarantine or isolate, the College may require students to move to alternative housing arrangements as needed.
In addition, the College may need to reduce density within residence halls at any given time, or be required to reduce all residential operations if directed by governmental authorities. If possible, the College will provide alternative housing on-campus if it is required to reduce density within halls. If it is required to reduce all residential operations, the College will be in prompt communication with students about check-out requirements.
Social Gatherings
Union College highly encourages off-campus students to avoid holding social gatherings at their off-campus houses. There is an increased risk of transmission, as well as lack of contact tracing availability when these gatherings take place. We understand that students will want to engage with their classmates, and have put together suggested guidelines for doing so.
Suggested Guidelines:
20 people or less, when there is the ability to be outdoors and social distancing
Masks should be worn at all times
Only have people you know and can keep track of
Do not admit individuals not willing to follow rules and/or not wearing proper PPE
The sharing of food/beverages, include providing a common source of alcohol, is prohibited
Regular disinfection and cleaning of spaces where students are regularly visiting and hosted
If issues arise during an event, please contact Campus Safety (please reference the Responsible Citizen policy)
If residents of the house fall ill or require isolation/quarantine, the house cannot host events.
Off-Campus Residents will be required to attend a workshop about being a good neighbor, staying healthy, and being safe in light of COVID-19. This workshop will include instruction on effective mitigation of risk, strategies regarding dismissal or restriction of guests requesting entry, how to effectively manage an event, etc.
Workshop Outcomes & Expectations:
Demonstrating the level of responsibility that off-campus residents hold when it comes to the health and safety of their community, as well as the ability to have a successful reopening strategy in Fall 2020
Acknowledging that students that live off campus have an immense amount of authority and social currency to dictate acceptable behavior both on and off campus.
Enabling students to consider the consequences of problematic or unsafe environments, including the control they have to create inclusive and healthy spaces for congregation and social interaction.
If off-campus residents are found in violation of the Student Code of Conduct, local, State, or Federal laws, especially as they pertain to reducing risk of a COVID-19 outbreak, they may be subject to the following:
All individuals listed on the lease of the house that is alleged to be in violation of policy, will go before the administrative hearing panel.
After three (3) instances of violations related to our COVID-19 policies, the involved students will not be permitted to walk at the 2021 Commencement ceremony.

If violations of these policies are determined to be flagrant or intentional, more severe penalties may be considered, including but not limited to suspension from the College.
Potential Outcomes to Violations
To ensure the health and safety of the College community, and the wider Schenectady and Capital Region community, in response to a violation of the Community Standards or the COVID-19 directives included in this document, based on the severity of the violation, the Colleges may:
Issue a written warning and require a community impact conversation,
Place a student on deferred suspension,
Separate a student from the residential community,
and/or require a withdrawal from the College (suspension).
On the 2nd violation, it is likely the student will either be separated from the residential community or be required to withdraw for the remainder of the semester. A similar process and outcome is likely for organizations.
For more information about possible sanctioning and/or educational outcomes for violations of these COVID-19 directives, see below: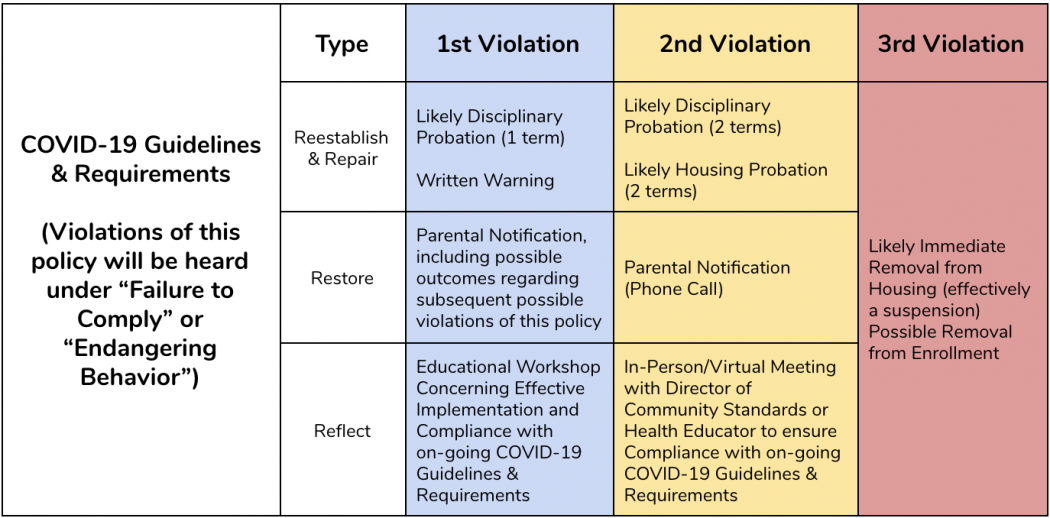 Sanction Types
Reestablish and Repair
Sanctions here focus on reestablishing structure within the community and repairing harm caused by students violating policy.
This category addresses the student's behavior and how it pertains to the viability of community at Union College, and ensuring a student can find ways to reconnect with the learning environment we hope to create and maintain.
These sanctions follow different tracts related to a student's enrollment and housing status at the College.
Restore
There are opportunities to restore the student violating policy to good standing within the College community, and/or compensate those impacted by the behavior.
Ultimately, this is also an attempt to restore faith in the student to ensure that there will not be a violation in the future.
Reflect
Consistent with the mission to promote the well-being of community members and the individual student, reflection and developmental sanctions are used in conjunction with other sanctions to balance individual accountability with educational opportunities for the student violating policy.
These sanctions are considered to allow each student the best opportunity to reflect, gain new information, and consider more deeply how a student's behavior may impact themselves and/or the community. As a result, these sanctions may include educational projects or assignments.