There is life after Union! Here is a listing of recent Physics & Astronomy graduates and what they are doing. This includes students who majored or minored in physics and/or astronomy. If you would like to correct or update information on this list, please send an email to Roubina Morgan .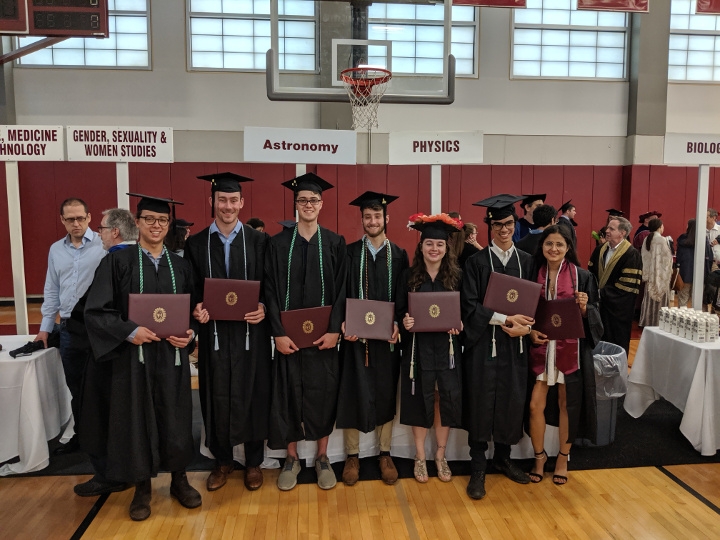 Class of 2019
Benjamin Beckwith
Sajju Chalise
Dana Dolinko
Taylor Kurtz
Max Libre
John Linarelli
Christopher (C.J.) Morgani
Aiyana Poulin - Ph.D. program, Ohio University
Maxwell Stwertka
Kevin Trigo
Simon Wallace
Cameron Yang
Class of 2018
Skye Conlan - Medical Physics M.S. program, Galway, Ireland
Genesis Guerra - Substitute Teacher, KIP NYC
Kerry Lewis
Brendan McGuire
Phoenix Mendes - Generation Teach Teaching Fellow
Mark Mininberg
Tuan Pham – Ph. D. program, U. Wisconsin Madison
Jason Turner – Ph. D. program, U. Wisconsin Madison (Applied Math)
Nathaniel Venuto
Jacob Zipkin - 8-year medical program, Albany Med
Class of 2017
Brian Cattafe - Data scientist, Kx Systems
Morgan Clark – Ph.D. program, North Carolina, Chapel Hill
Zackary Hersh - Recording Engineer Intern at Shelter Island Sound
Rebeka Kelmar – Ph.D. program, Notre Dame
Iseinie Mendez
Benjamin Nadareski – Global Business Development Associate for R3 CEV, Llc
Brendan O'Connor – Ph.D. program, George Washington U.
Paul Philpott – Project Engineer at QuEST Global
Class of 2016
Xavier Capaldi – Ph.D. program, McGill U.
Paul DiMeo - Implementation Technology Consultant at Paytronix Systems
Eric Egan – Global Foundries process engineer
Mathew Giso – Ph.D. program, Tufts
Harrisonn Griffin – Ph.D. program, McGill U.
Harry Hausner – Ph.D. program, U. Wisconsin Madison
Andrew Laugharn – Research Assistant, Quantum Matter Group, Centre for Quantum Technologies at the National U. of Singapore; Ph.D. program, U. Maryland
Shauna Le Febvre – Ph.D. program, U. Arizona, Optical Sciences
Andrew McCalmont - Assistant Scientist at SciTec, Inc.
Brent Shapiro-Albert – Ph.D. program, West Virginia U.
Michael Warrener – Ph.D. program, Yale U., Astronomy
Joshua Yoskowitz – Ph.D. program, Old Dominion U.
Yanci Zhang - M.S. program, U Penn; Algorithm Trading
Class of 2015
Salina Ali – Ph.D. program, Catholic University
Alexander Clain – research assistant at Bar Ilan University (Israel); Ph.D. program, Northwestern University
Stephen DiIorio – Ph.D. program, University of Michigan
William Harney – Tour guide for Tekapo Star Gazing, New Zealand; Claims Analyst, ImageRights
Caleb Novins – Design Assistant, Newgrange Design
Eason Zhao – Ph.D. program, Rice University
Class of 2014
Chris Allen – MSA/MBA program, Northeastern University
Sean Collison – Actuarial Analyst at AXIS Capital
Nathan Poulin – M.S., Biomedical Imaging, U. C. San Francisco
Will Linthicum – Ph.D. program in Biophysics, WPI
Vaishali Parkash – Fulbright to Goettingen, Germany, to do astronomy research; PhD program in astronomy at Monash University (Australia)
Alexandrea Safiq – Ph.D. program in Ecology and Evolution at Rutgers Univ.
Jeremy Smith – Ph.D. program in Physics at Univ. Connecticut
Lucas Viani – Ph.D. program in Astronomy at Yale University
Class of 2013
Pavel Aprelev – Ph.D. program in Material Science and Engineering at Clemson Univ.
Halley Darling – Senior Data Specialist / Solar Resource Analyst at Vaisala
Adam Margulis – Law school at the Michigan Law School; Attorney, LA
Mark Sullivan – working at Union, planning for graduate school in Germany
Colin Turley – Ph.D. program in Physics at Penn State
Matthew Wahl – Associate, Renewable Energy Development Program, GE
Christina Wong – Albany Med Physicians Assistant Program
Class of 2012
Hillary Bauer – Software Engineer at ezCater
Maria Battaglia – Medical School, U. Albany
Chris Johnson – Ph.D. program in Physics at Univ. Mass Lowell
Timothy Kuehn – Grad. school in computer science at Carnegie Mellon; Software Engineer at Solvvy, Inc.
Ana Mikler – Ph.D. program, Astronomy, University of Bonn
Robert Moore – M.E. RPI; System Operator at Cornell University
Erin Osgood – Lululemon Athletica Natick Collection; Customer Success Manager at Splunk
Anna Sise – Support Team Manager, James McGuinness; Marketing Director at Waku Inc
Class of 2011
Daniel Barringer – M.S, Penn State U.; Lecturer, Texas State U.
Peter Bonventre – Ph.D. program at Univ. Virginia; postdoc U. Kentucky
Colin Gleason – Ph.D. program at Univ. South Carolina; postdoc Indiana U.
Chad Harrington – Ph.D. program at Univ. Buffalo
Schuyler Hooper – Customized Solutions Associate, Eaton Vance
Steven Neier - Scientist I at Dana-Farber Cancer Institute
Archie Norkin – Software Developer, Daymon Worldwide
Katelyn O'Brien – M.Ed, Pace University; Physics teacher at Bronx Bridges High School
Daniel Otto – Software Administrator, Stockade Consulting Group
Pam Urresta – graduate school in Mathematics at Notre Dame
Michael Varughese – Albany Medical College
Class of 2010
Brandon Bartell – M.S., Computational Astrophysics at UNC-Chapel Hill; Business Analytics Associate, ZS Associates
Alex Handin – grad school at Boston University
Ben Miles – M.S. Mathematics, Rutgers; Nuclear Operations Engineer at Bechtel marine Propulsion Corporation
Shivani Pathak – Medical College of Virginia
Class of 2009
Dave Barker
Anna Gaudette – MBA, Texas A&M; LRP Coordinator, Phillips 66
Tom Perry – Minerva Fellow in Uganda, then PhD program in Physics, U. of Wisconsin; postdoc at Large Hadron Collider – hear a podcast interview with Tom and see this video!; currently high school teacher, New Mexico
Class of 2008
Scott Alfano – MBA, Rollins College; Business Analyst, Eagle Roofing
Paul Amy – Ph.D. program in Physics at RPI
Justin Blau – Technical Sales Representative, Fluid Management Systems
Richard Bonventre – Ph.D., Physics, U. Penn; Currently Chamberlain Fellowship, Berkeley National Lab, working on the Mu2e experiment at Fermilab: see this article. See also this award announcement!
Caleb Bower – Claims Adjuster, Allstate
Nathan Calabro – Astronomy TA in New Hampshire; YMCA Camp Takodah; Assistant Teacher, Churchill School
Steve Cohen – Actuarial Analyst at Maiden Reinsurance
Michael Gillin – graduate school at University of Kentucky.
Elliot Imler – graduate school in Neuroscience, Univ. Arizona
Dana Lasher – Field Engineer, Schlumberger
Bilal Mahmood – medical school at Dartmouth, resident U. Rochester
Matthew Newman
Stephen Po-Chedley – Minerva Fellow in Uganda, then Ph.D. program in Atmospheric Sciences at U. of Washington; fellow at Lawerence Livermore Laboratory
Christian Shultz – Ph.D. program in Physics at Old Dominion University
Crystal Smith – Actuarial Analyst, Everest Reinsurance
Shawn Wamser – M.S. Mechanical Engineering, Northeastern
Adam Wolf – MAT, Boston College; Physics teacher, Brookline High School
Class of 2007
Nate Hawes – Senior Engineer, GE Global Research
Sean Kane – IT Specialist, U. Albany
Alex Krickx – Project Engineer at Integral Group, Inc.
Matthew Lockwood – Senior Project Engineer, ERS
Sam Madden – Ph.D. program in Material Science and Engineering at Univ. Virginia
Robert Marvel – Worked for Starfire Systems, then Ph.D. Engineering, Vanderbilt
Michael Mastroianni – Ph.D. program in physics education at University of Albany; Associate Budget Examiner, Dept. of Education, NY State
Tom Mazur – Ph.D. Physics, Univ Texas at Austin; postdoc, Washington University Radiation Oncology
Charles McCaleb – MBA, Indiana Univ; Assistant Portfolio Manager, Driehaus Capital Management
James Read – M.Ed, Virginia Tech; Physics teacher at Kent County Public Schools; Student Life Coordinator, Virginia Tech
Matt Roginski – Medical school at University at Buffalo; Masters in Public Health at Dartmouth
Joshua Smith
Luther Vucic – M.S. Physiology, Georgetown
Class of 2006
Rob Katuska – Business Analyst, Liberty Mutual
Justin King – MAT Stony Brook; Physics teacher at Commack High School
Fatima Mahmood – Ph.D. program in Math at Cornell; Assistant Professor at U. Rochester
Matt Martin – Ph.D. Physics, RPI; Postdoc at NIST; Assistant Professor of Physics at Khalifa Univ.
Aaron Morris – M.S. Physics, Northern Illinois Univ.; Physicist, Radiation Safety Services
Nicole Sabbatino – Teaching high school physics at Sewanhaka High School
Ian Schaefer – M.B.A. Boston Univ; Marketing Product Manager Intern
Amy Serfis – M.S. Medical Physics, East Carolina Univ; Medical physicist, Maine Medical Center
Emily Ulanski – Ph.D. Physics, Rutgers.
Class of 2005
Evan Leibner – Penn State College of Medicine; Resident Physician
Mike Welsh – MAT Union; Physics teacher at Shenendehowa Central, Clifton Park, NY
Alyssa Maloney – Looking for work in consulting, considering an MBA.
Garrett Nilsen – M.S. European Solar Engineering School, Technical Advisor at Department of Energy – SunShot Initiative
Ryan McMartin – Support Engineer, PlanetTogether, Inc.
Barnaby Frumess – Working as account clerk, Sullivan County Community College
Class of 2004
Shaun Kennedy – Ph.D. program in Biophysics at the University of Michigan.
Jason Slaunwhite – Ph.D. program in Physics at the Ohio State University, postdoc at CERN
Jackson Reed – Ph.D. program in Physics at RPI.
Eric Greenwood – Ph.D. program in Physics at SUNY Buffalo; Assistant Professor at Univ. Southern Indiana
Brian Rice – working before a possible MBA.
Class of 2003
Jim Anderson – Ph.D. program, SUNY-Buffalo.
Joel Ott – Working for Bader Martin Accounting firm
Greg Schwanbeck – Teaching high school physics at Westwood High School
Joe Cefaly – Ph.D. program in physics at UConn.
Colin Fletcher – Project Manager at Zygo Corp., Bose
Nate Emerson – Ph.D. program in physics at Stony Brook. Teaching high school physics in Connecticut.
Smitesh Bakrania – Ph.D Mechanical Engineering at U of Michigan; Associate Professor, Rowan University
Class of 2002
Anna Hurst — working in San Francisco for the Astronomical Society of the Pacific
Jessica LaVine — working for Raytheon Corp.
Patrick Strong — working in financial services
Renee Rinaldi — Teach for America in NYC, Director of Curriculum and Instruction, St. Hope's Leadership Academy, NY
Giles Siddons — M.S. in Physics, University of Illinois Champagne-Urbana
Class of 2001
Holly Burnside — coordinator for education and outreach in the College of Engineering at Drexel Univeristy
Mark Kostuk — Ph.D. Physics, UC San Diego; Center for Theoretical Biological Physics
Fred von Stein — Ph.D. Biophysics at Cornell; Research Associate at Cornell U.
Seth Madison — working for X-Ray Optical Systems
Alex Dieudonne — Ph.D. program in neurobiology at U. Washington
Class of 2000
Marin Richardson — Data Analyst at the Space Telescope Science Institute in Baltimore
Peter Zannitto — PhD Physics, Brown; Shell Reservoir Engineering Leader
Rebecca Friedman — Teach for America
Peter Tomasi — employed at Vermont Information Processing
Adam Bradshaw — MAT program, Union to teach high school physics; Norwell Public Schools
Alex Militello — IT in Syracuse
Gabe Agnello — working for CVI Laser Optics