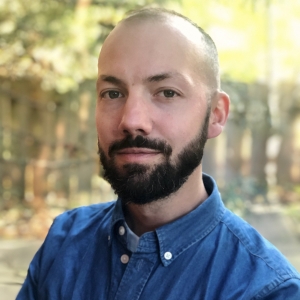 Timothy George
Job Title
Visiting Assistant Professor of Psychology
Research interests
Cognitive psychology, memory, problem solving, and analogy.
My research explores how people generate original ideas, solve problems creatively, and connect concepts through analogy. I use experimental methods to understand the conditions that cause mental fixation in these situations, and what conditions mitigate this mental fixation. Some of my recent work addresses how creative idea generation is impacted by exposure to example ideas, and by retrieval dynamics.
Teaching interests
Professor George teaches courses in Cognitive Psychology, Behavioral Neuroscience, Statistics, and Research Methods.
Publications
SELECTED PAPERS
George, T., & Wiley, J. (2019). Fixation, flexibility, and forgetting during alternate uses tasks. Psychology of Aesthetics, Creativity, and the Arts, 13, 305-313.
George, T., & Wiley, J. (2016). Forgetting the literal: The role of inhibition in metaphor comprehension. Journal of Experimental Psychology: Learning, Memory, & Cognition, 42, 1324-1330.
Academic credentials
B.A., American University; Ph.D., University of Illinois at Chicago