Jennifer Fromm
Hometown: Rochester, N.Y.
Major: Mechanical Engineering
Minor: German Studies & Mathematics
Jennifer Fromm wanted to study engineering at a small school, "but I also wanted strong non-engineering programs," she says. "The ability to combine both is what initially drew me to Union. The beautiful campus and great people ultimately sold me."
It didn't take long before Jennifer combined her mechanical engineering major with minors in math and German, and also immersed herself in a Sophomore Research Seminar focused on 3D printing with metal.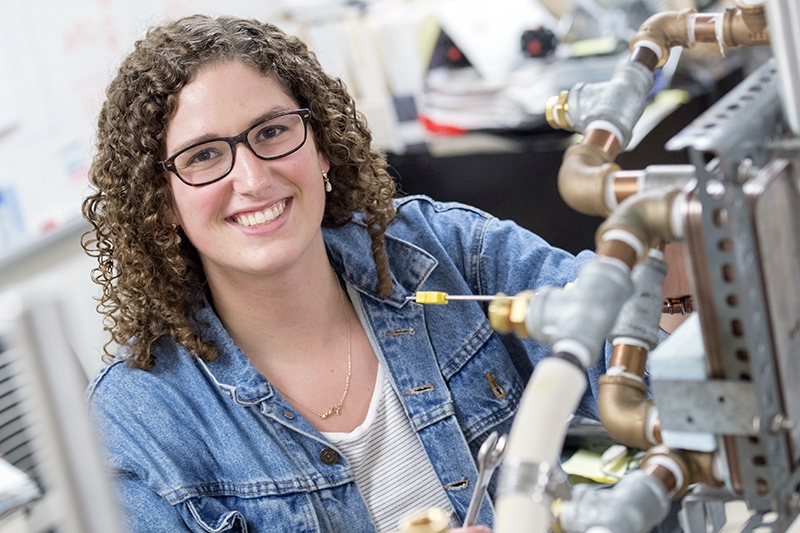 Then, thanks to a suggestion from her German professor, she was accepted into a summer research program in Bremen, Germany, through an alliance of leading German universities of applied sciences. She worked at the Laboratory for Energetics at the city university, Hochschule Bremen.
She returned to Germany on a term abroad junior year to study language and culture.
Her senior design thesis with Professor Richard Wilk involved working in the Wold Center's energy lab to improve the reflectiveness of waste heat energy generators. A Union Presidential Green Grant helped fund the project. It brought together research Jennifer conducted in Germany with work she initiated at a Schenectady County startup, Ener-G-Rotors, a pioneer in converting low-temperature waste heat into electricity.
With Union ranked among the nation's top schools for female students to study the STEM disciplines, Jennifer, the daughter of two engineers, is thriving in her chosen field.
"I didn't want to get lost in a big school, and Union has been the perfect place for me to learn and grow and come into my own," she says. "The research opportunities are unique, the professors are always helpful, and the social atmosphere is robust. I can walk into any room in any building and know someone. Plus, the trimester system made it possible for me to go on a term abroad and complete my engineering course load."
After graduation, Jennifer headed to the University of California at San Diego to pursue a mechanical engineering doctoral program that she happily characterizes as "mathematically intense." Her goal is to focus on energy research and eventually work in industry, academia or a national lab.
Studying multiple disciplines has stretched her depth of knowledge and, she says, given her a leg up in other ways.
"People, including my supervisor at my mechanical design internship at Xerox last summer, are definitely impressed with my language minor."
"This is a course of study that's probably possible only at Union," says Professor of Mechanical Engineering Brad Bruno, Jennifer's academic adviser. "It is very unusual in other engineering programs to be able to do a non-tech minor or a term abroad and to graduate from an ME program within four years. Jennifer did it all."
Even immersed in three fields, Jennifer found time for a range of other activities. She was a member of the women's varsity swim team, president of the German Club and a Minerva Mentor, helping younger students acclimate to campus life. She also served as a math and engineering tutor and presented her research at the annual Steinmetz Symposium.