Major, Minor
Degree: Bachelor of Arts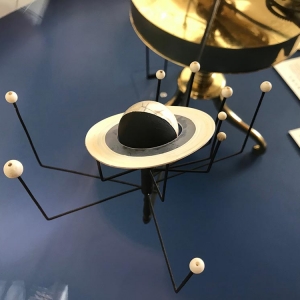 "The faculty have never failed to go above and beyond in making sure students feel supported. Some classes have been very challenging, but I have always been encouraged to try my best and learn from my mistakes, which has allowed me to succeed."
-Samantha Rosenfeld '22
Searching for extrasolar planets, observing how galaxies form and evolve, modeling nuclear reactions, contemplating the origin of the Universe — Union College astronomy is all of this and more.
There is no better place to pursue astronomy than Union. Here, your physics and astronomy classes will be small and personal, with labs taught by full-time faculty rather than by graduate students, and instruction that is truly characterized by individual attention. You will also have access to advanced equipment usually reserved for graduate students at larger institutions.
In addition to a majoring or minoring in astronomy, the Physics and Astronomy Department offers a minor in astrophysics. Several of our faculty members pursue astrophysics research, with specialties in galaxy evolution, active galactic nuclei, star formation and stellar nucleosynthesis.
Research
Astronomy and astrophysics students work with professors on cutting-edge research funded by the Department of Energy and National Science Foundation research grants. Students also are encouraged to participate in summer research projects funded by Union College fellowships and faculty grants. Every astronomy major completes a senior thesis project. Many students have conducted research at such national facilities as Kitt Peak National Observatory in Tucson, Arizona, and Cerro Tololo Inter-American Observatory in Chile. Students often present the results of their projects at professional conferences, and they have co-authored articles in scientific journals.
Facilities
The Union College Ion-Beam Analysis Laboratory is home to a 1.1-MV tandem Pelletron accelerator, a unique tool for an undergraduate institution. It is used to train students in materials analysis projects. The Union College Observatory features a 20-inch Ritchey-Chretien telescope equipped with CCD cameras and a spectrograph, and a 7.5-foot radio telescope for research projects in observational and radio astronomy. The College is also home to rare works on astronomy and astrophysics by Copernicus, Galileo and Kepler, which are located in Special Collections in Schaffer Library.
Beyond the classroom
Union has an active, award-winning chapter of the Society of Physics Students (SPS) that organizes social events, movie nights and outreach to local schools. The Department of Physics and Astronomy hosts a weekly lunchtime colloquium series, and also arranges regular department outings and luncheons.
After Union
Astronomy educator, Astronomical Society of the Pacific
Creative technologist, Primacy
Educator, Astronomical Society of the Pacific
Fulbright researcher, Germany
Graduate student, University of Wisconsin-Madison
Creative technologist, Primacy
Fulbright researcher, Germany
M.S. candidate in astronomy and astrophysics, University of Amsterdam, The Netherlands
Ph.D. candidate in astrobiology, Penn State
Ph.D. candidate in astronomy, Yale University
Ph.D. candidate in atmospheric sciences, University of Washington
Ph.D. research candidate in astrophysics/data scientist, Argelander-Institut für Astronomie,
Bonn, Germany