Major, Minor
Degree: Bachelor of Arts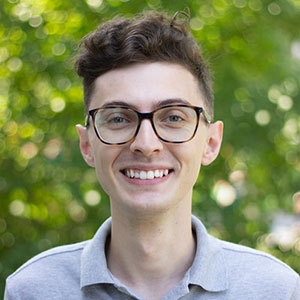 Not only have I been able to practice the tones and vocabulary of Mandarin Chinese, but also learned the underlying issues that China has politically and culturally experienced since the early 20th century. My Chinese literature professor has always encouraged class discussion and debate."
-Daniel Wilcox '22
The Chinese major at Union offers a unique opportunity to become immersed in the world's most widely spoken language and one of its most fascinating cultures.
Some 885 million people speak Mandarin Chinese, the world's most spoken first language. As a Union College Chinese major, you will develop your speaking, listening, reading and writing skills in highly individualized settings.
Courses
Beyond the language sequence, our courses examine a broad spectrum of topics. You may explore Chinese literature, cinema, the contemporary mass media landscape, gender and sexuality, and Chinese commercialization and globalization. "The New Wall of China" is an interdisciplinary overview of the cultural, historical and artistic attributes of a region in China whose geo-political landscape has been dramatically shaped by the construction of the Three Gorges Dam.
Study abroad
You can experience China firsthand and further improve your linguistic skills and cultural proficiency on Union's fall term abroad in through CET Academic Programs. The course of study includes electives, intensive language and possible internship placements. Other outstanding study abroad options for the Chinese major include faculty-advised independent study and a mini-term in Tianjin, which focuses on traditional Chinese medicine. The host college is the renowned Tianjin University of Traditional Medicine.
Campus activities
Outside the classroom setting, there are plenty of ways for Chinese majors to immerse themselves in speaking and thinking in this poetic language. You'll be exposed to film series and speakers, as well as gatherings of the Chinese Language Table in Reamer Campus Center. The Asian Student Union sponsors events and discussions about current Asian and Asian American issues. Union students also get involved in the annual Pan-Asian American Workshop with other local colleges. And those with a passion for Asian culture may live with like-minded students (typically 8-10 residents) in Thurston House, a popular campus theme house that hosts discussions with faculty members and other programs open to the campus community.
After Union
Legislative assistant, Washington, D.C.
Communications and development specialist, Youth for Understanding, Washington, D.C. Analyst, ChinaVest, Shanghai
Advanced language studies at IUP-Tsinghua University, Beijing