French and Francophone Studies
Major, Minor
Degree: Bachelor of Arts
Did you know that French is unique among the modern languages of the world in its influence on English? Our classes will help you understand its many contributions to world cultures.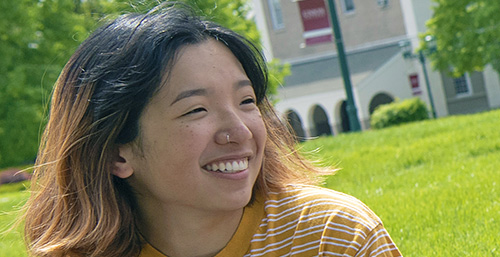 French is the official language of more than 140 million people, including residents of Quebec, located just a four-hour drive from Union. It is the only language other than English named as an official language on five continents. Unique alongside English, French is also the official working language of worldwide organizations such as the United Nations, UNESCO, NATO, the International Olympic Committee and International Red Cross.
French speakers and francophone cultures contribute greatly to our diverse and interconnected world. As we study figures from Rousseau to Sartre, from Hugo to Simone de Beauvoir, from Truffaut to Césaire, you will see that Union offers a variety of French courses tailored for language competency, cultural proficiency and critical thinking.
As a Union College French and Francophone Studies major, you will interact with a talented pool of professors who know your name (in two languages!) and be part of an exciting academic program that encompasses language, culture and literature courses.
From our basic and intermediate language courses to our upper-level courses including a senior project, we examine a broad spectrum of French and francophone topics including women's and gender studies, theater, literature and cinema. Classes emphasize the importance of global awareness as a key element of 21st century life.
Other learning opportunities
To develop and maintain your linguistic skills and cultural proficiency, you can live with host families abroad and attend film nights on campus. You can participate in French Club activities and French Table, and attend presentations throughout the academic year by renowned speakers, poets, artists and performers.