French and Francophone Studies
Major, Minor
Degree: Bachelor of Arts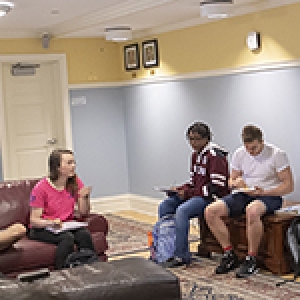 Taking French courses at Union has completely changed my life. All of my professors are knowledgeable, accessible and extremely caring about their students. I absolutely love the French Department, and being vice president of French Club keeps me connected to my classmates. "
-Rhys Moger '22
Did you know that French is unique among the modern languages of the world in its influence on English? Our classes will help you understand its many contributions to world cultures.
As a Union College French and Francophone studies major, you will interact with a talented pool of professors who know your name (in two languages!) and be part of an exciting academic program that encompasses language, culture and literature courses.
Courses
Our courses examine a broad spectrum of topics, including women's and gender studies, theater, literature and cinema. They emphasize the importance of global awareness as a key element of 21st century life. And they look at how French speakers and Francophone cultures – from Africa, the Caribbean, Europe and North America – contribute greatly to our diverse and interconnected world.
Study abroad
To further improve your linguistic skills and cultural proficiency, you may participate in a term abroad in Rennes, France. Students on this term live with a host family and take four courses at the University of Rennes, one of which is taught by the Union faculty member leading the program. There are also opportunities to become immersed in French-speaking cultures in two visual arts-focused mini-terms in Paris, and during a summer break mini-term in Senegal.
Campus activities
Be prepared for many lively hours reading, writing, speaking and thinking in French inside and beyond the classroom (c'est vrai!) through a variety of enriching activities. These include French Club events, a weekly French Table where students lunch and learn together, and guest presentations throughout the academic year by renowned speakers, poets, artists and performers.
After Union
Art instructor, Boston Museum of Fine Arts
Associate director, University Honors Program, Northeastern University
Associate professor of French, Villanova University
Care coordination specialist, Mercy Medical Center
Client services professional, H&R Block
Educator, Teach for America
M.A. candidate in visual arts administration, NYU
Marketing and communications project manager, Jayne Agency
Language center operations assistant, French Institute Alliance Francaise
Research assistant, RPI
Speech-language pathology clinical fellow, EBS Healthcare
Teacher, Greenwich Country Day School
Tour consultant, ACIS Educational Tours