Iconic and inspiring
The 16-sided Nott Memorial, one of America's most dramatic High Victorian buildings, is the centerpiece of the Union campus. The building is dedicated to Eliphalet Nott, president of Union College and major leader of American education, whose many innovations included a scientific curriculum and the first introduction of engineering at a liberal arts college.
The Nott Memorial was conceived by President Nott in consultation with the French architect Joseph Ramée, who created the master plan for Union's campus. His plan included a circular building originally envisioned as an alumni hall. Construction finally began on the building in 1858, based on designs by Edward Tuckerman Potter, grandson of President Nott.
The Nott Memorial is 89 feet in diameter and capped with a ribbed dome. The dome is sprinkled with 709 small colored glass windows, or "illuminators." Girding the lower portion of the dome is a band of red slates bearing a modified Hebrew inscription from the Talmud. In its simplest translation, the phrase says, "the day is short, the work is great, the reward is much, the Lord is urgent."
The Nott underwent extensive renovation from 1993-1995 in time for the College's 1995 bicentennial celebration. Improved climate control, audio systems, an elevator and better accessibility helped turn it into a magnificent space for conferences, lectures, exhibitions, and study. Today, the Nott Memorial is a national historic landmark and a beloved symbol for Union College.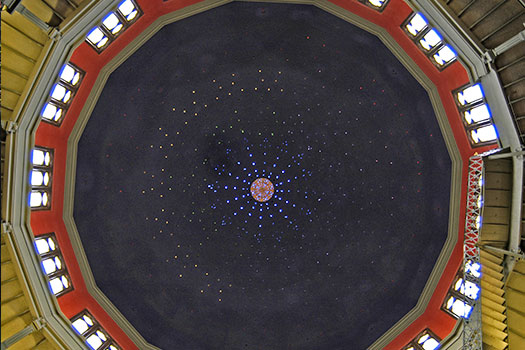 Timeline:
The central "round building" appears in Joseph Ramée plans for the new Union campus on Nistiquana Hill outside of Schenectady.
Forty-five years after the first building goes up on the new campus construction begins on Alumni or Graduates' Hall, the early name for the Nott Memorial.
Following the Civil War students stage a mock burial of the trustees for their failure to continue construction.
Andrew Carnegie pledges $40,000 to renovate the building.
On the centennial of Eliphalet Nott's inauguration as Union's president, the College dedicates the building in his honor. For nearly 60 years the building is the College library.
Schaffer Library opens and the theater and College Bookstore move into the Nott Memorial.
Work begins on the restoration of the Nott Memorial.
The Nott Memorial, fully restored, is dedicated on February 25, 1995—the 200th anniversary of the founding of the College.