Major, Minor
Degree: Bachelor of Science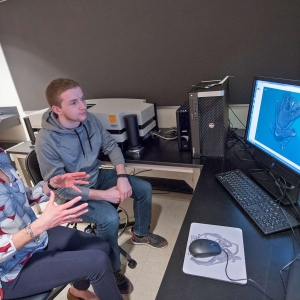 "Biomedical engineering is very versatile. We take classes across majors. Getting that exposure to various fields gives me a good platform to move in different directions after college."
-Will Duprey '22
Prosthetics, robotic surgery, tissue engineering, medical imaging – these are only some of the areas that biomedical engineers in the 21st century are exploring.
As a Union College biomedical engineering major, you will be part of a forward-thinking, highly interdisciplinary program that bridges engineering and the life sciences. You will learn to apply engineering principles and analytical approaches to the study of biological systems as you seek to understand how engineering devices and materials are used in biomedical applications.
The BME degree is accredited by the Engineering Accreditation Commission of ABET.
Courses
You will take foundation and core courses in biology, biomechanics, bioinstrumentation and biosignals, and choose from among a range of upper-level electives in these areas. Courses in biomechanics focus on approaches to understanding the structural properties and dynamics of biological cells, tissues and systems, and of engineered devices with biological and biomedical applications. Courses in bioinstrumentation and biosignals explore how sensors are engineered to obtain useful signals from cells or the human body, which can be used in biomedical applications. During your senior year, you will work on a capstone design project in a small team with a faculty advisor. Round out your academic experience with a set of courses in literature, writing, arts and humanities, languages and cultures, and social sciences.
Small and personal
All BME courses and laboratories are taught by Union College faculty members (not teaching assistants), and many classes have fewer than 20 students. You will work closely with your faculty advisor to formulate and implement a successful plan of study. Our focus on undergraduate education solely, along with small classes and close faculty-student interaction, are hallmarks of the BME curriculum at Union.
Beyond campus
As part of a unique summer clinical immersion program, Union biomedical engineering students may work at Albany Medical College and its affiliated hospital over six weeks, shadowing doctors and residents in the thick of their clinical duties, from patient rounds to surgeries. They help identify the biomedical challenges associated with equipment and devices used in patient treatment—and then return to the Union campus to design solutions as part of their two-term senior capstone course.
After Union
Associate project engineer, Stryker Orthopaedics
CAD engineer, ConforMIS Inc.
Director, Harvey Performance Company
Emergency medicine resident, University of Washington School of Medicine
Engineering technical writer, image processing, MathWorks
Fulbright Fellow, Ulm University, Germany
Incubation strategist, Stanley Black & Decker Leadership Program
Mechanical engineer, Ephesus Lighting
Ph.D. candidate, computational neuroscience, University of California, San Diego
Ph.D. candidate, BME, University of Colorado
Ph.D. candidate, BME University of Michigan
Ph.D. candidate, BME, Worcester Polytechnic Institute
R&D Engineer II, Boston Scientific
Post-baccalaureate researcher, National Institutes of Health
Research assistant, pediatric oncology, Children's Hospital
Research manager, Partners HealthCare
Sales engineer and marketing coordinator, Sheaumann Laser, Inc.
Scientific informatics analyst, Accenture
Scientist, Estée Lauder Companies
Senior imaging R&D engineer, Mobius Imaging, Stryker medical technology