#5
Top STEM school for women (USA Today College Guide)
Major, Minor
Degree: Bachelor of Science
#5
Top STEM school for women (USA Today College Guide)
Prosthetics, robotic surgery, tissue engineering and medical imaging are just some of the areas that biomedical engineers in the 21st century are exploring.
As a Union College biomedical engineering major, you will be part of an interdisciplinary program that bridges engineering and the life sciences. You will learn to apply engineering principles and analytical approaches to the study of biological systems as you seek to understand how engineering devices and materials are used in biomedical applications.
Courses
Our biomedical engineering majors take foundation and core courses in biology, biomechanics, bioinstrumentation and biosignals. They choose from among a range of upper-level electives in these areas.
Courses in biomechanics focus on approaches to understanding the structural properties and dynamics of biological cells, tissues and systems, and of engineered devices with biological and biomedical applications. Courses in bioinstrumentation and biosignals explore how sensors are engineered to obtain useful signals from cells or the human body, which can be used in biomedical applications.
Careers
Biomedical engineers are employed in universities, industry, hospitals, research facilities, government regulatory agencies and teaching institutions. Some biomedical engineers have advanced training in other fields, as in the case of those who also earn an M.D. degree, thereby combining an understanding of advanced technology with direct patient care or clinical research.
Medical Imaging Systems
The basic physics, instrumentation, system design and image reconstruction algorithms are covered for the following: ultrasound, radiography, x-ray computed tomography (CT), magnetic resonance imaging (MRI), planar scintigraphy and positron emission tomography (PET).
Biomechanics 1
A basic biomechanics course covering two -and three- dimensional force systems, equilibrium and distributed forces. These topics will be studied in the context of the musculoskeletal system.
Mechanobiology
This course will focus on the mechanical regulation of biological systems. The topics covered include principles and concepts of mechanobiology; embryogenesis and histogenesis of tissues with a focus on the skeletal system; physical forces at the cellular, tissue, and organ level; mechanical regulation of cellular behavior, tissue growth and organ development.
What can a Union degree do for you?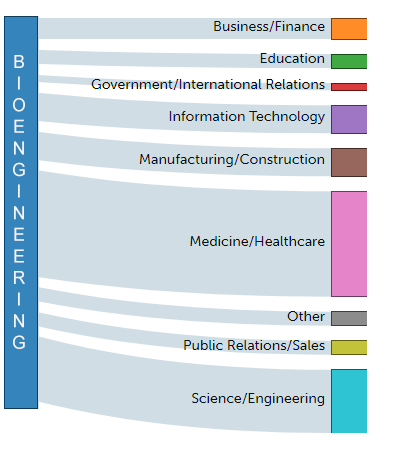 ABET accreditation:
The biomedical engineering degree is accredited by the Engineering Accreditation Commission of
ABET
.