Major, Minor
Degree: Bachelor of Arts
The Classics major at Union is very much a living and vital pursuit. Union excels at making connections among disciplines, and in many ways, classics is the original interdisciplinary studies program.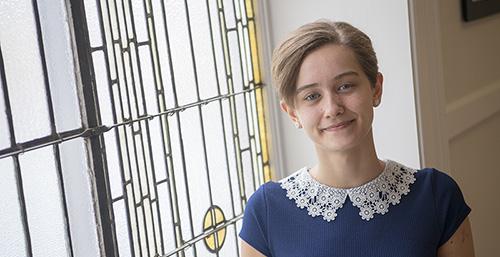 At Union, you will explore in depth the extraordinary civilizations of the ancient near east, Greece, and Rome – their art, architecture, economics, history, languages, law, literature, mythology, philosophy, politics, religion and science. In contrast to more traditional programs, many of your courses go beyond the "classical" realm to explore other ancient civilizations, such as Sumerian and Babylonian, Egyptian, Hebrew, Hittite and Persian.
Students can undertake course work in the ancient languages (Greek, Biblical Hebrew and Latin), leading to study of ancient texts in the original language, with opportunities to minor in Greek, Latin and classical civilization. Your courses also provide the basis for majors and minors in Religious Studies and numerous other interdisciplinary options. Recent interdisciplinary majors have combined classics with such fields as biology, computer science, economics, English, French, history, mathematics and philosophy.
Faculty
Our faculty members bring varied backgrounds and interests to their teaching, and they have been recognized with local and national teaching awards. They have written, edited and translated a range of articles, books, texts and tomes. They have received fellowships from such national institutions as the National Endowment for the Humanities, the Center for Hellenic Studies, and the Loeb Classical Library Foundation, and from such international institutions as Wolfson College (Oxford University), the Bavarian Academy of Sciences and the Mommsen-Gesellschaft (Germany). They will guide you as you learn to read carefully and critically, truly coming to understand how language works, and develop your ability to communicate with others.
Other learning opportunities
Outside the classroom, our active Classics Club organizes trips to see plays on classical themes and promotes lectures about the ancient world. For many students, a highlight of their Union experience is studying abroad on the fall term in Athens, offered through the College Year in Athens (CYA). This program combines course work in a broad range of areas related to ancient and modern Greece – often on site at an archaeological excavation and in its associated museum – with extended field trips to Crete and into the Peloponnese. A term in Florence led by a Union professor and exploring classically inspired Renaissance art is another exciting option for Classics majors.