Major, Minor
Degree: Bachelor of Science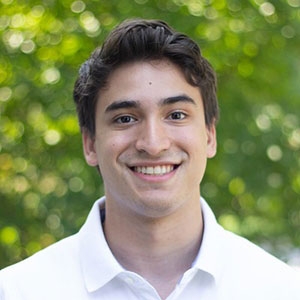 It's a privilege to be at a liberal arts institution that has an ABET-accredited engineering program. While I learn about signal processing, semiconductors and circuit design as an electrical engineering major, there is flexibility in a field that is usually extremely rigid. "
-Carlos Gregory '22
Our electrical engineering program blends study in cutting-edge audio and image processing, wireless communications and nanotechnology with traditional areas such as electronic design, electric circuits, electromagnetics, optics, solid state devices, control systems and communications.
Union EE majors are part of a long line of distinguished students and professionals. The Department of Electrical and Computer Engineering was founded in 1902 by Charles Proteus Steinmetz, America's leading engineer at the time and a Union professor.
Students hone their abilities in analytic reasoning, design and problem-solving. Small classes, integrated studio-format courses and close faculty-student interaction are hallmarks of our program. All courses are taught by Union faculty members (not teaching assistants), and most classes have fewer than 20 students.
The electrical engineering Bachelor of Science degree program is accredited by the Engineering Commission of ABET. We also offer a 5-year combined B.S./M.S. in electrical engineering in conjunction with Clarkson University's Capital Region Campus.
Curriculum
Students build a strong core in engineering fundamentals, mathematics and basic science with a set sequence of courses and labs before progressing to more specialized areas of study, such as embedded systems, neural networks and power systems. All students complete a capstone design project senior year, in which they apply theory, skills and creativity to a practical problem, working in small teams or individually alongside a faculty member. Students also are required to take a range of liberal arts courses in literature, writing, arts and humanities, languages and cultures, and social sciences.
Research
Union's EE program emphasizes collaboration, academic inquiry and experimentation. Students enjoy opportunities for summer research fellowships and participation in symposia, and most present at Union's Steinmetz Symposium research day. Recent Steinmetz project presentations by EE students have featured an athletic recovery device, a chaos-based coffee can radar system, and radar network synchronization and imaging using semiconductor laser systems.
Beyond the classroom
With Union committed to preparing students to practice their profession in the global engineering community of the 21st century, many EE majors participate in one of the terms abroad offered by the College, especially in Germany and Turkey. On campus, students are active members of many student-run engineering clubs and organizations.
After Union
Account representative, CDWG
Electrical design engineer, GE Renewable Energy
Electrical engineer, General Electric
Electrical engineer, Knolls Atomic Power Laboratories
Electrical engineer, Naval Nuclear Laboratory
Engineer, Apple
LCS senior project manager, General Dynamics Mission Systems
Lead financial analyst, IBM
Lieutenant, U.S. Navy
Lighting controls application engineer, Illuminate
NE Manager/integrations engineer, Google
Patent examiner, U.S. Patent and Trademark Office
Senior analyst, National Grid
Senior product manager, Rocket Software
Substation electrical engineer, POWER Engineers
Systems Engineer, Raytheon