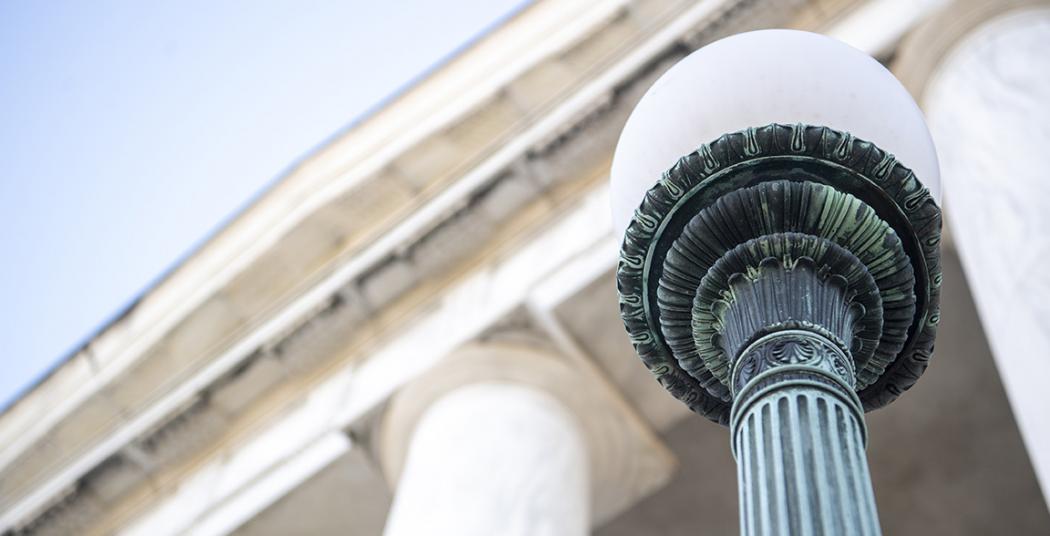 Trustees
"The Trustees of Union College," as a corporate body, has owned the College and been the College's designated legal representative throughout its history. The Board consists of four life trustees, twenty-one term trustees, four alumni trustees, two faculty trustees, two student trustees, and the president of the College. The governor of the state of New York is also an ex officio member. The Board meets three times annually: in February, May, and October. The Board appoints the president of the College upon vacancy of the position; it may also appoint an interim president should the need arise.
Ex-Officio
Hon. Governor Andrew M. Cuomo of the State of New York
Life Trustees
Stephen J. Ciesinski '70, B.S.E.E., M.B.A., President, SRI International
Neil M. Golub, B.A., M.S., Executive Chairman of the Board, Price Chopper Supermarkets/Golub Corporation
Douglass Karp '97, B.S., President of New England Development
Frank L. Messa '73, B.A., J.D. Retired Senior Vice President, Ayco Co., L.P.
Mark L. Walsh '76, B.A., MBA, Managing Director, Ruxton Ventures, LLC
Term Trustees
Robert Bertagna '85, B.A., M.B.A., Vice Chairman, Macquarie Capital
David J. Breazzano '78, B.A., M.B.A., President, DDJ Capital Management, LLC
Thomas Caulfield, P'19, B.A., M.B.A., Ph.D., Chief Executive Officer, GlobalFoundries
Thomas J. Coleman '88, B.A., Co-Founder and Co-President, Kensico Capital Management Corporation
Thomas G. Connolly '89, B.A., Managing Director, Goldman Sachs Merchant Banking Division
Estelle Cooke-Sampson '74, B.S., M.D. Director, Women's Imaging, Howard University Hospital
Judith Dein '76, B.A., J.D., Magistrate Judge, U. S. District Court, District of Massachusetts
Julie Greifer-Swidler '79, B.A., J.D. Executive Vice President for Business Affairs & General Counsel, Sony Music Entertainment
David L. Henle '75, B.S., M.B.A., President, DLH Capital, LLC 
Arthur Holden '77, B.S., M.B.A, Chairman, Organizing Committee of Genomic Resources Consortium; Chairman and CEO, Pharmaceutical Biomedical Research Consortium, Ltd.; Chairman and CEO, International Serious Adverse Events Consortium, Ltd. 
Roy Jackson '82, B.A., M.P.A., Executive Vice President, Development & Industry Restaurant Association
John E. Kelly III '76, B.S., M.S., Ph.D., Senior Vice President of Cognitive Solutions and Research, IBM Corporation
Jennifer Sconyers Lawton '85, B.S., CEO, Techstars
Guy T. Logan '90, B.A., M.B.A., Managing Director, Citigroup Global Markets, Inc.
James M. Loree '80, B.A., CEO and President, Stanley Black & Decker, Inc.
Kathy E. Magliato '85, B.S., M.D., Director of Women's Cardiac Services, St. John's Health Center
Robert J. Moser '99, B.S., Founder & CEO, Prime Group Holdings
Stanley O'Brien '74, B.A., M.B.A., Retired Vice President, BNY Mellon Center
William Perlstein '71, B.A., J.D. Chief Deputy General Counsel, Bank of New York Mellon
Ellen Smith '80, B.S.M.E, M.S., Senior Managing Director, FTI Consulting
William M. Wicker '71, B.A., M.A., M.B.A., former Vice Chairman Investment Banking, Morgan Stanley
Kelly M. Williams '86, B.A., J.D., President, GCM Grosvenor Private Markets 
President of the College
David R. Harris, Ph.D.
Alumni Trustees
Kathryn Stefanik Barry '01, B.S., M.A., Partner, Isaacson, Miller
Betsy Modest Brand '82, B.A., M.B.A., Founder and Principal, Brandmark Studios LLC
Matthew H. Cohen '98, B.A., J.D., Digital Media & Technology Counsel, XO Group Inc. (formerly TheKnot, Inc.)
John K. Johnson, 85, B.A., Senior Sales Director, Arizona Beverages
Chair, President's Council
Shari Midoneck-Pochapin '85, B.S., M.D., Internal Medicine, MD2 Park Avenue 
Campus Trustees
Rebecca Cortez, B.S., Ph.D. Department of Engineering
Megan Ferry, B.A., Ph.D. Department of Modern Languages and Literatures
Ruchi Raval, Class of 2020
Brian Huang, Class of 2021
Trustees Emeriti
Gerald Barandes '54, A.B., LL.B. Of Counsel, Beckman, Lieberman & Barandes
Philip Beuth '54, A.B., M.S., Retired President of Entertainment, Capital Cities/ABC-TV 
Robert DeMichele '66, B.A., M.B.A., President, CEO, CIO, Strategy Asset Managers, LLC
Robert B. Enemark '50, B.S., Retired Vice President and Director of Research and Development, Electro Signal Laboratory
Adrian Jay '98, B.A., M.S.J., Co-Founder, Random Acts of Flowers
Lawrence Pedowitz '69, B.A., Partner, Wachtell, Lipton, Rosen & Katz
Norton H. Reamer '58, A.B., B.E.E., M.B.A., President, Unicorn Corporation
Officers of the Board
Robert Bertagna '85, Chair
Stanley O'Brien '74, Vice Chair
Ellen Smith '80, Secretary
William Perlstein '71, General Counsel
Bobbi Nelson, Assistant Secretary