Major, Minor
Degree: Bachelor of Science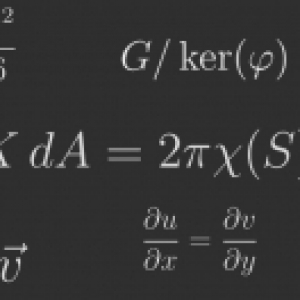 I struggled with math in high school. But after taking Calc I-III and seeing the willingness for professors to help students achieve and the love they had for the subject, I decided to minor in math. It was one of the best choices I made."
-Stephany Heiberger '22
Mathematics is one of the oldest learned disciplines, and Union College is one of the first schools in the nation to offer math as part of its liberal arts curriculum.
At Union, you'll enjoy being part of a community of scholars that values and enjoys mathematical exploration and inquiry. We are dedicated to helping students develop the ability to reason logically, understand abstract concepts and solve problems, and to producing versatile mathematicians who grasp the complexities in their field.
We also strive to give students an understanding of the aesthetic side of mathematics, which can be appreciated as an intellectual activity for its beauty and its ability to hone the mind.
Courses
Mathematics majors at Union take foundational courses such as calculus, abstract algebra, and real analysis, and also choose from courses in cryptology, geometry, differential equations, discrete mathematics, applied mathematics, probability, knot theory, topology and many others. Their independent studies have included advanced topics in real analysis, the mathematical study of voting systems and mathematical computer graphics. Statistics is offered as a minor within the Department of Mathematics.
Faculty and student research
Our faculty conduct research in fields as diverse as commutative algebra, topological data analysis, fair division, voting theory, statistics, algebraic topology, simplicial and differential geometry, medical imaging and the history of mathematics. They also guide students in research projects throughout the academic year and during our summer research program. Many students go on to present their findings at professional conferences and Union's own Steinmetz Symposium.
Student clubs
Math students share their love of the field beyond the classroom. The Union chapter of the Association for Women in Mathematics hosts many events, including dinners with professors, programs with local middle and high school students, themed discussions and more. The active student-led Math Club meets regularly for movie and game nights, discussions, volunteer work, problem-solving sessions and – a campus favorite – a Pi Day bake sale for charity.
After Union
Actuarial analyst, Watson Wyatt Worldwide
American Mathematical Society/American Association for the Advancement of Science (AMS/AAAS) Congressional Science and Engineering Fellow
Associate vice president, Barclay's Capital Inc.
Associate Professor of Mathematics at Saddleback College
CAMD lab coordinator, Brigham and Women's Hospital
Data science associate, Fannie Mae
Financial analyst, Starr Companies
Foreign affairs officer and AAAS Science & Technology Policy Fellow, U.S. Department of State
Integration engineer, Leidos Inc.
Mathematics teacher, various high schools
Professor of mathematics, University of Berkeley
Professor of mathematics, Kent State University
Professor of mathematics, University Notre Dame
Professor of mathematics and statistics, The College of New Jersey
Professor of mathematics, Williams College
Software developer, Allscripts
Teacher, Fairfield Public Schools
Visiting assistant professor of mathematics, College of Holy Cross