Major, Minor
Degree: Bachelor of the Arts
Political science explores national and international government systems and social institutions, and how they interact with each other
At Union, you'll study this fascinating field in small classes where you get to know your peers and professors, gain real-life political experience through field learning that complements classroom learning, and tackle special research projects that allow you to delve into a topic that fascinates you.
Curriculum
Our dedicated faculty engage students through dozens of courses that cover American politics, international relations, comparative politics and political theory. You'll examine everything from the U.S. presidency, Congress and electoral politics to power formations undergirding political institutions, relationships among countries and domestic politics in settings across the globe.
Research
Your faculty-mentored independent research is an intensive two-term project that serves as the capstone experience for the major. It may focus on original political science research, political action, political art or applied public policy. You'll have a chance to influence community politics by working closely with local organizations. For instance, our students have become part of the political process by evaluating the Schenectady County Drug Court and writing a juvenile justice reform proposal, and they have carried out research for several community organizations.
Internships and study abroad
Internships are a vital part of your Union education. The Department of Political Science runs internship programs in Albany with the New York State Legislature and in Washington, D.C. There are also continuing internships with government agencies in Schenectady County, including the offices of the public defender and district attorney, social services agency, advocacy groups and non-profit organizations. To develop a global perspective, political science majors complete a foreign experience requirement. You can study a language or participate in one of Union's many full terms abroad.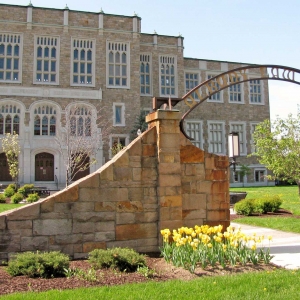 As I am applying to law school, the research required for political science has helped prepare me in many ways for my future academic ventures. Classes are thought-provoking and professors push you to explore what you are interested in."
-Paxton Ouellette '22
Beyond the classroom
Zeta Upsilon, Union's award-winning chapter of
Pi Sigma Alpha
, the national Political Science Honor Society, sponsors a number of speakers, panel discussions and activities. The popular Pizza & Politics series features leading experts on topics ranging from environmental issues and feminism to human rights activism. Some students contribute to The Pi Sigma Alpha Undergraduate Journal of Politics, the premier national student research publication in the field. Students also participate in intricate simulations of the political process through Union's Model United Nations course. This academically rigorous approach to the Model U.N. conference contrasts with that of other schools, where participation is of a more informal nature, usually as part of a club.
After Union
Brand strategist/fashion writer/social media manager, self-employed
CEO and co-founder, Measure (Drone as a Service®)
Content strategy lead, Twitter
Deputy NYC press secretary for U.S. Senate Democratic Leader
Senior personal technology columnist, The Wall Street Journal
Staff director, Western Hemisphere Subcommittee, U.S. House Committee on Foreign Affairs
Tech columnist, The Wall Street Journal
U.S. press officer, Center for Reproductive Rights