Spanish and Hispanic Studies
Major, Minor
Degree: Bachelor of Arts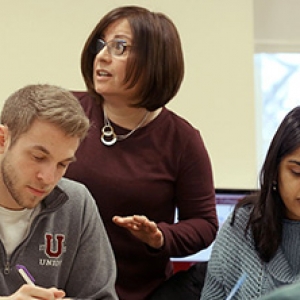 Professor Maritza Osuna has made my Spanish experience here at Union so amazing. She truly cares about her students and wants them to succeed while also pushing us to new heights in our Spanish speaking and learning abilities."
-Abigail Strauser '23
As a Spanish and Hispanic Studies major at Union, you will enjoy a dynamic journey across Spain, Latin America and U.S. Latino communities through an array of exceptional course offerings, terms abroad, extracurricular activities and interdisciplinary initiatives.
You will study with a diverse group of faculty members whose research interests infuse their classroom teaching. You'll partake in lively discussions, develop written linguistic skills, deepen your critical and creative thinking, and broaden your awareness and understanding of cultural diversity.
There isn't a better time – or place – to study Spanish, the third most-spoken language among the more than 5,000 in the world today. The U.S. Bureau of the Census has predicted that the number of Spanish language speakers in the U.S. will surpass the 100 million mark by 2050.
Courses
Our program offers all levels of Spanish language learning plus an array of upper-level courses in Spanish and in English. Thematic clusters cover the diversity of Spanish, Hispanic and Latino languages, literatures and cultures. Students also have the unique opportunity to take classes geared toward a variety of professions, including medicine, economics, and business, and to explore digital and social media in Spanish and Hispanic culture. Senior-level classes span a host of subjects based on faculty members' personal research projects and interests.
Study abroad
Immerse yourself in Spanish life on terms abroad in Spain and Argentina. In Spain, students live with a host family in Seville and take courses through Union's partnership with Spanish Studies Abroad. One course in a specialized area of Spanish literature or culture is taught by the Union faculty member leading the program. There are optional internships in health and immigration.
A faculty-led winter term in Cordoba, the second largest city in Argentina, combines classroom study with numerous field trips. A winter break mini-term in Argentina focused on social movements and human rights features two weeks in Buenos Aires and one week traveling in Patagonia. Study is divided between classroom presentations and visits to locales where activists are engaged in social, economic and environmental justice movements.
Campus activities
The Union College Spanish Club promotes the language and cultures of the Spanish-speaking world through films, lectures, social gatherings, cooking classes and the weekly Spanish Table in Reamer Campus Center, where you will lunch and learn informally with your peers and faculty.
After Union
Editorial assistant, Pearson Education
Ed.M. candidate, Teachers College, Columbia University
Emerging markets expert, Mirae Asset Global Investments LLC
Estate planning attorney, Kirkland & Ellis
J.D. candidate, Texas A&M University School of Law
Litigation associate, Goulston & Storrs PC
Operations analyst, Citibank
Research assistant, National Institute of Health
Resident physician, emergency medicine, Boston Medical Center
Senior talent operations manager, Ro
Spanish teacher, School of the Holy Child
Spanish and ESL teacher, Chappaqua Central School
U.S. director, Idiomatic Language Services