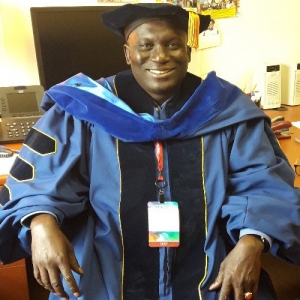 Cheikh Ndiaye
Job Title
Professor of French and Francophone Studies
Research interests
My research interest addresses pre-colonial, colonial, and post-colonial literatures with a focus on French-speaking regions including West Africa, North Africa, the Caribbean, and French Guyana. My scholarly work is interdisciplinary and predominantly cross-listed with French and Francophone studies, Africana studies, and Latin American and Caribbean studies. It addresses Africa and its Diaspora, thus examines both Black civilizations and political consciousness through different lenses (heritage, ethnicity, colonial history, post-colonialism, class, gender, race).
Teaching interests
My teaching portfolio stems out of my research and interest in linguistic competency. I teach various courses: Basic French; Intermediate French; Advanced French; college-wide courses including a First Year Preceptorial, a Sophomore Research Seminar, and a Modern Literature in Translation course. My upper-level lit and cult courses in French fairly cover local and global matters pertaining to French-speaking geographical spaces including France, West Africa, North Africa, the Caribbean, and French Guyana; they include a course on Modern France, a Survey of French Literature I, a Survey of French Literature II, a course on Studies in the French Caribbean, a French Senior Project course, the Negritude Movement, a course on West African Oral Literature, the Voices of Francophonie Literature course.
Publications
« Les frères Jérôme et Jean Tharaud : Avant-gardistes de la Négritude ? » Voix Plurielles, Vol. 16 No 1 (April 2019): 45-56
Book Chapter. "Rewriting History in the Field of Orality: (West) African Oral History and Languages." Transnational Trills in the Africana World. Cambridge Scholar Publishing (2019), Chapter Ten: 220-234
"The Representation of the Sahara as a Geographic Space and a Cultural Mark in The Forbidden Woman by Malika Mokeddem." CELAAN, Sahara and Identity, Vol. XV, No 2 & 3 (2018): 190-207.
Book Preface. Tim tim? Bwa sech! Keskiya a kiskeya? (collection of folktales). Author: Jacques-Raphaël Georges. Bloomington IN: Xlibris, 2018
"Teaching World History." The UNION Book. Published by Union College, Schenectady, New York. Printed in the United States of America by Herff Jones, Inc. in Charlotte, North Carolina (2014): 118-119
« Rapports Amérique du Nord-Caraïbe Francophone : Problématique de l'Espace ou du Statut ? ». Contemporary French and Francophone Studies Journal, Vol. 14, No. 3, June 2010, 241–246.
« Entretien avec Osvalde Lewat-Hallade, jeune réalisatrice d'origine camerounaise," article featuring an interview with prize-winning Cameroonian filmmaker Osvalde Lewat, co-authored with colleague Michelle Chilcoat. French Review, 2009, Volume 83 No 2 : 388-396.
« Marronnage, oralité et écriture dans Solibo Magnifique de Patrick Chamoiseau,» in Francophone studies journal Nouvelles Etudes Francophones Journal (NEF) 22.2 ( Fall 2007) :112-121.
« Histoire et mythes du Pays Sérère dans la poésie de Léopold Sédar Senghor. » Special Dossier on Léopold Sédar Senghor edited by Alain Mabanckou. Nouvelles Etudes Francophones Journal (NEF), 2006, Volume 21 No 2: 23-32.
« Remembrance and/or Oblivion: The Politics of Memory», West African Research Association Newsletter (WARA), Spring 2006: 15-16.
« La Mort, signe de révélation de soi dans Une si longue lettre de Mariama Bâ et dans L'Interdite de Malika Mokeddem, » Francographies Journal for SPFFA (Société des Professeurs Français et Francophones d'Amérique), 2003, Volume No 12 Nouvelle Série: 69-77.
«Voix d'une femme exilée: L'écriture de l'espace et de la mémoire chez Calixthe Beyala,» Francographies Journal for SPFFA (Société des Professeurs Français et Francophones d'Amérique), 2002, Volume No 11 Nouvelle Série: 135-143.
« La zombification vue par Jean Stephen Alexis dans Chroniques d'un faux-amour et par René Depestre dans Hadriana dans tous mes rêves,» Francographies Journal for SPFFA (Société des Professeurs Français et Francophones d'Amérique),1998, Acte II, No Spécial 1:107 -114.
Book Chapter. « L'épopée de San Mone Faye: Version de C. Mbacké NDIAYE, Dakar, 1993 mémoire inédit, » a book chapter in Lylian Kesteloot et Bassirou Dieng's, Les Epopées d'Afrique noire, Paris: Editions Karthala, 1997: 280-300.
Preface. Septième Printemps/Seventh Springtime, book (collection of poems) by
Ramonu Sanusi. Huy (Belgique) : Les Editions du Pangolin, 2006: 6-7.
Additional media
Academic credentials
B.A., M.A., University of Dakar/Senegal; Ph.D., French and Francophone Studies, University of Connecticut