On an overcast Sunday morning in June 1994, celebrated historian David McCullough looked out over Library Plaza to face the 427 members of the graduating class.
The year before, McCullough had collected the first of his two Pulitzer Prizes, for "Truman," his masterful biography of the nation's 33rd president. He also won in 2001 for "John Adams."
Through a connection with Trustee Joseph M. Hinchey '47, President Roger Hull had invited McCullough to speak.
In his rich, distinctive voice, McCullough delivered a memorable talk that resonates more than two decades later. He titled the speech, "Which Way Forward."
"What might be said of America, of the world you enter, so near the start of a new century? Where do we stand?" he asked. "I think what most of us want — as most people everywhere want more than anything -- is to be useful. This and to feel we belong to something larger than ourselves. What is needed now, now especially in this momentous change of scenes in world history, is a common understanding of what that larger something can be. What we Americans need above all is leadership to define the national ambition. And in this you of the Class of 1994 must play a part."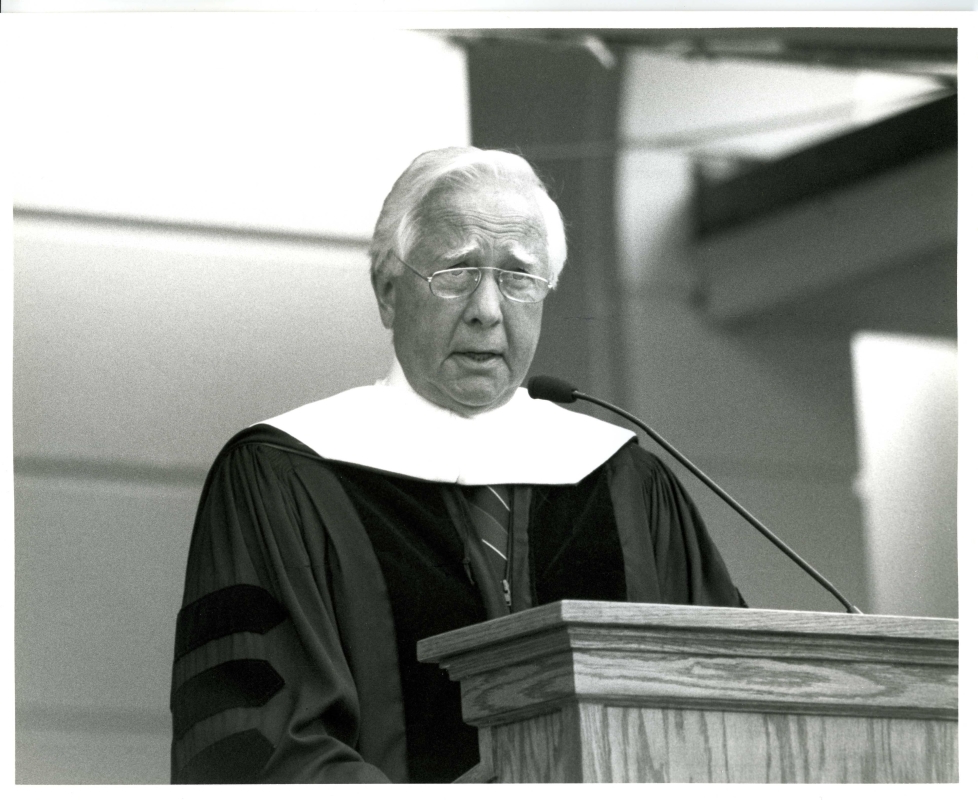 Those words are featured in McCullough's latest book, "The American Spirit: Who We Are and What We Stand For." A collection of speeches culled from the scores McCullough has given over the past 25 years to a variety of audiences, the book comes after last year's bitter election campaign, which left many distressed over where the country appears headed.
"I hope the book is a reminder of how much we have to be thankful for that we live in this country, and how much those that went before us did for our benefit at often great struggle and effort and sacrifice," said McCullough. "How obliged we should feel to carry on the creed that they brought us up on. We tell the truth. We're not unkind to people. We believe in tolerance and equal opportunity."
The 83-year-old author spoke by telephone the day before his appearance at the grand opening of The Museum of the American Revolution in Philadelphia.
He included the talk at Union in his book because the College "represents in its way – and ahead of so many others – so much of what we value as our way of education and being good citizens."
Known for his diligent research to prepare for his talks, McCullough began his commencement speech at Union with a brief history of the College's founding and its relevance in higher education. He recalled the accomplishments of some of its earliest alumni, including Eliphalet Nott, Chester Arthur and William Seward.
He then shifted to the current state of affairs in both the U.S. and abroad, mentioning crime, drugs and poverty, and humanitarian crises in Bosnia and Rwanda.
"We find ourselves worrying and taking stock as a nation, in ways we've not before," he said. "Who are we? What do we want? Which way forward?"
And in words that could easily be repeated today, McCullough told the class "we need less fanfare, less stagecraft and circumventing. We need to talk sense, to speak the truth, to work harder and stay faithful to our fundamental beliefs. We are, each of us, responsible for our own actions, but we also know it has been bedrock in our American creed, that without cooperation, without all of us working together, pulling together, we can't make it."
McCullough is a recipient of the Presidential Medal of Freedom, the nation's highest civilian award. Typically neutral in his political opinions, he has not muted his disdain for President Trump, calling him "a monstrous clown with a monstrous ego."
He said if there were only two courses required for college, it should be English and History, because "both will serve you well for the rest of your life in very important ways.
"History isn't just about facts and figures and memorizing dates," he said. "It's about human beings and what happened to them, and why and how they react to what they accomplished, and where they failed, and where they had regrets. When you listen to the present occupant of the White House talk, you realize he needs a hell of a lot more education."
In his talk at Union, McCullough stressed that importance of understanding history. He also encouraged students to read books and give generously of themselves.
He concluded with a line that he would repeat often in subsequent speeches over the years: "Sometime, somewhere along the line, do something for your country."
"That was the first time I used those words, and I felt very good about that," said McCullough. "I still do. I really want young people to get out and do something for our country."
As co-salutatorian, Jody Yetzer had a front-row seat to McCullough's talk. A classics major with a minor in women's studies, Yetzer knew that she had just heard something special.
"I felt engaged and fulfilled by what he said," Yetzer recalled recently. After Union, she attended Yale Law School. She is an attorney who lives in Cincinnati, Ohio.
"He was imploring students to do something with your life. It really hit home with me. I've tried to apply that in all aspects of my life. You need to have an understanding of how you got to where you are, and more importantly, understand how others got to where they are in order to move forward."
McCullough's commencement talk was the start of a whirlwind courtship with Union. He would speak here twice more over the next 11 months.
As the ceremony ended, McCullough and Hull looked over at the Nott Memorial, which was draped in scaffolding as it underwent an extensive multi-million dollar renovation.
Impressed by the towering beauty and uniqueness of the 16-sided structure, McCullough turned to Hull. "I would love to see the Nott when the renovation is finished."
"I think that can be arranged," Hull replied, and in February 1995, McCullough spoke at the rededication of the campus's iconic centerpiece.
He returned to the Nott in May with Tom Brokaw of NBC Nightly News to film a piece commemorating the 50th anniversary of VE Day, which featured two dozen Union students.
"I got quite hooked on Union," he said.
Twenty-three years after his commencement speech, the man referred to as the "master of the art of narrative history" recalls fondly that first visit.
"I remember all of it with a vividness that surprises me," he said. "It was a great, great occasion."
He remains impressed with the school's historic role in higher education and the importance of the liberal arts.
"What Union started is impressive in the extreme, and how early it happened. Abraham Lincoln wasn't even born yet and this was happening. It's thrilling."
He compared the school's lofty historical status to one of his favorite buildings, Carpenters' Hall in Philadelphia. The two-story brick building was the site of the First Continental Congress.
"This is where it all started," he said of the key meeting place in the early history of the U.S. "That's the beauty I had at Union. You don't have to be big in order to be important or admirable, or to stand still as high accomplishment."