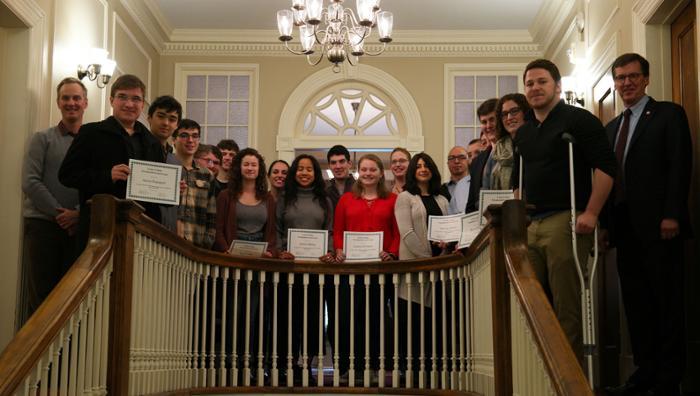 Ten years ago, the College awarded its first Presidential Green Grants, an initiative aimed at supporting environmentally sustainable projects at Union.
As President Stephen C. Ainlay told the 10 inaugural winners, the grants would help find the mechanisms by which they could improve the world.
"We are actually asking the Union community, 'How are we going to do this? What are the new ideas?" Ainlay said. "Over the next couple of years, I hope we see even more good ideas that could become part of the way we do business at Union College."
Open to faculty, staff and students, the grants have indeed generated an abundance of good ideas over the past decade. Since it was launched, grants totaling $172,000 have been awarded to support 123 projects.
This includes the 17 projects announced Tuesday during a ceremony in Feigenbaum Hall. They range from placing recycling bins in each first-year student's residence and creating an environmental action media lab to studying the effects of a group of environmental contaminants called perfluoroalkyl acids (PFAAs), which have recently shown up in high levels in the water supplies of several New York and Vermont towns due to contamination from plastics manufacturing facilities.
Ainlay credited Jeffrey Corbin, associate professor of biology and faculty co-chair of U Sustain, for first suggesting the idea of an incentive program to support environmentally sustainable projects at Union.
Ten years later, the president noted the threat at the federal level of the commitment to the environment. He said it's important that mediating institutions, such as neighborhoods, churches and schools, fill in the gap when the government fails in its mission.
"What you are doing is keeping sustainability in front of people," he told the recipients of this year's grants. "You have to keep it going, so the priority of sustainability remains not just a Union priority, but a much broader one than that."
Sustainability is one of the key priorities of the College's Strategic Plan.
In 2007, Ainlay was among the first to sign the American College & University Presidents' Climate Commitment (now known as the Climate Leadership Commitments), pledging to formally work on reducing, and eventually eliminating, campus greenhouse gas emissions. Union was also recently named again named one of the country's most environmentally responsible colleges, according to The Princeton Review's "Guide to Green Colleges."
"Each of the projects we honor today represents the best of our community," said Corbin. "They each take an idea, and with a little bit of monetary support and, just as important, encouragement, have the chance to see it become reality."
Winners were presented with a certificate.
The 2017-18 Green Grant winners and their projects:
Kira Wilson '20: Provide recycling bins in every first-year's room.
Margie Amodeo (coordinator, Kelly Adirondack Center): Install a water bottle refill station in the KAC.
Jim de Seve (filmmaker-in-residence): Create an Environmental Action Media Lab to train students in media production, culminating in a sustainable banquet at Proctor's Theater. The food for the banquet will be a platform for students to examine issues such as food justice, sustainable agriculture and local sourcing.
Andrew Mannion (lecturer, Theater and Dance): Replace 575W Quartz-Halogen lamps with 100W LED worklights in secondary studio space, Studio A. This space is used for classes, rehearsals, events and clubs, including the Mountebanks, No Offense Improvisation Club, Ballroom Dance and the Hip Hop Club.
Jessica Maung '18 and Alexandra Pagano '18: Introduce composting at six different STEM department regular seminars with food catering. Compost bins, along with compostable utensils, plates and cups, will be purchased to support this endeavor.
Emma Will '18: Sustain growth and longevity at Octopus's Garden through the purchase of compost, irrigation maintenance and repairs, straw, seeds and starter plants.
Matthew Caulfield '19: Install a water bottle filling station in Delta Kappa Epsilon House in Fox North.
Shmuly Rubin (co-director of Chabad): Purchase an energy efficient natural gas range for use with Chabad's weekly Shabbat dinners, kosher dinners and Challah bakings.
Jessica Maung "18 (Faculty adviser Laura MacManus-Spencer, associate professor of chemistry): Study the photolysis and cellular toxicity of the sunscreen ingredient Octyldimethyl Para-Aminobenzoic Acid, an environmental estrogen.
Xavier Quinn '20 (Faculty adviser Jim Hedrick, senior lecturer, Electrical and Computer Engineering): Create a modular and autonomous aquaponics garden to provide vegetables for the school and serve as a research space for students.
Anna Mahony '20 (Faculty adviser MacManus-Spencer): Analyze soil and water samples contaminated with perfluoroalkyl acids (PFAAs). Drinking water with these chemicals in it can be very harmful to one's health because they accumulate in the liver and kidneys.
Jennifer Fromm '18 (Faculty adviser Rich Wilk, professor of mechanical engineering): Investigate mixture working fluids in low temperature generators. These generators have the potential to decrease the consumption of fossil fuels and reduce carbon emissions associated with electricity consumption.
Aaron Rapaport '20 (Faculty adviser Mike Hagerman, professor of chemistry): Build an inkjet printer to manufacture solar nanomaterial films that will afford optimized control of the stratification of nanoparticle and polymer assemblies. This approach avoids polluting the air with toxic organic solvents and provides an interesting framework for increasing photoconversion efficiency.
Lauren O'Connor '18 (Faculty adviser MacManus-Spencer): Research the photo degradation of sunscreen chemicals in the aquatic environment.
Kevin Pollio '18 (Faculty Adviser Wilk): Enhance a portable solar energy conversion system by increasing its electrical and thermal power outputs.
Alexandra Pagano '18 (Faculty advisers MacManus-Spencer and Hagerman): Use common surfactants and cheap clay materials to design a filter that is specific and effective for all environmentally relevant PFAAs.
Kaya Cooley '18 (Faculty adviser MacManus-Spencer): Research the synthesis and characterization of organically modified silicates for sequestration of PFAAs in contaminated water.