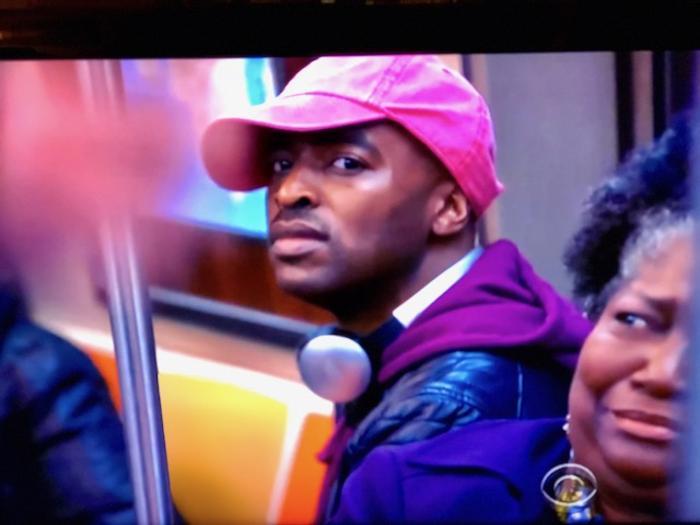 If you were one of the nearly 20 million viewers who tuned in to the Grammys Sunday night, you might have noticed a familiar face from campus.
Jermaine Wells was one of the background actors in a Carpool Karaoke skit featuring host James Corden and singers Sting and Shaggy.
In the prerecorded skit, the three board a New York train for a subway edition of Corden's popular segment from his Late Late Show.
They sing a couple of songs, including The Police's "Every Breath You Take" and Shaggy's "It Wasn't Me."
But the other riders aren't impressed, with one highly agitated man threatening the trio and ordering them to shut up. An elderly woman complains, "No, no! Not for this Grammy! I don't want to be on your stupid YouTube video."
Wearing a pink baseball hat, Wells is seated between the grumpy woman and another rider. He looks disgusted.
A musician and aspiring actor, Wells got the call to be in the skit last Monday. He went to the New York Transit Museum in Brooklyn Wednesday to film the bit. He said it took about 10 takes to get it right.
Corden co-directed the skit. He told the extras he wanted them to be annoyed by the trio's singing. And how he did bring out that repulsive look on Wells' face?
"He told me to imagine I just smelled this huge disgusting fart on the subway," Wells said.
A coordinator for Learning Environment Services and Special Events/Conferences, Wells enjoyed his brief interaction with the stars. He attended the Grammys at Madison Square Garden on his own. After the clip aired, he heard from friends, family and co-workers who recognized him, helped no doubt by the pink hat he was given to wear.
Next up for Wells: He plays Whoopi Goldberg's son-in-law, Barry, in "Furlough," out in March. In the film, Barry is married to Brandy, played by LaLa Anthony, NBA player Carmelo's ex in real life.
A Bronx native, Wells joined Union in 2005.