Emmanuela Oppong '19, center, with President Stephen C. Ainlay and Lynn Evans, director of National Fellowships and Scholarships.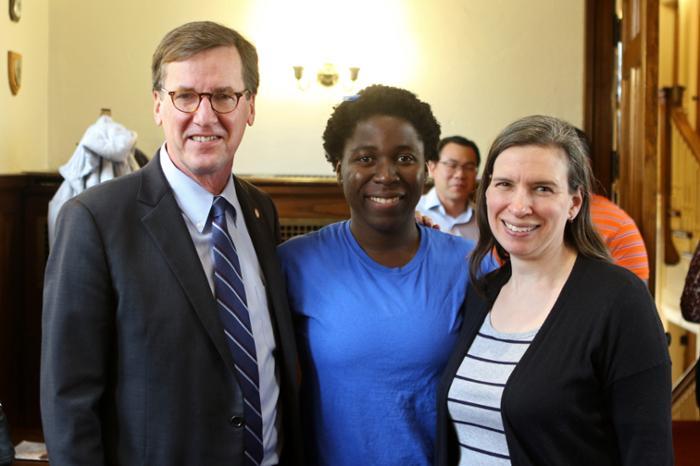 Growing up in Ghana, Emmanuela Oppong '19 was familiar with the serious health issues that ravaged the coastal African country. AIDS, malaria and tuberculosis were just some of the major crises afflicting the developing country of more than 28 million.
By the time she arrived in the U.S. to attend high school in the South Bronx, Oppong witnessed poverty and other social problems.
Her experiences in both countries had a profound impact.
"If I can help others, that's what I want to do," Oppong said.
The bioengineering major recently received a significant boost to pursue her dream.
She was awarded a prestigious Harry S. Truman Scholarship. She is among 59 students from 52 institutions who were chosen based on leadership, public service and academic achievement. Recipients receive a $30,000 scholarship toward graduate school and the opportunity to participate in professional development programming to help prepare them for careers in public service leadership.
Winners will receive their awards in a ceremony at the Harry S. Truman Presidential Library and Museum in Independence, Mo., on Sunday, May 27.
Oppong is Union's first Truman Scholar since Scharn Robinson '90.
Ella, as she is known on campus, plans to use her award to pursue a career in international medicine. Her goal is to obtain an MD/Master of Public Health and work with the World Health Organization or similar agencies to bridge the gap for access to health care for people in developing countries in sub-Saharan Africa.
She wants to educate and empower women and children in those areas to help them escape their plight.
"Women need their voices to be heard," she said.
At Union, Oppong is involved in numerous activities, including the Engineering Ambassadors Program, which seeks to inspire middle and high school students to get involved in engineering. She's a member of the Heavenly Voices gospel choir and the African Dance Club. She volunteers at the Kenney Community Center.
She also initiated a partnership between the College's chapter of the Society of Women Engineers and Girls Inc. in Schenectady to create a science, engineering and art outreach program for young women.
Oppong credits a number of faculty with helping her thrive at Union, including her research adviser, Nicole Theodosiou, associate professor of biology, and Palma Catravas, associate professor of electrical and computer engineering.
"The faculty is what makes Union what it is," Oppong said. "They are willing to listen to your ideas and encourage you, and are also very happy to share their knowledge with you."
She also credits Lynn Evans, director of National Fellowships and Scholarships, Gretchel Hathaway, the dean of Diversity and Inclusion and chief diversity officer and Carolyn Fielder, counselor with the Academic Opportunity Program, for their encouragement and support.
Oppong received word of her Truman Scholarship in a surprise ceremony at Feigenbaum Hall. The President's Office had asked her to stop by to discuss a matter.
"I thought it might be about the Truman, or that I had done something very bad," she joked.
President Stephen C. Ainlay delivered the news.
Oppong said winning the Truman has been a humbling experience. She's eager to finish her college studies and embark on her next journey: helping others.
"God made this all possible," said Opong, a devout Christian. "There's nothing special about me."
Established in 1975, the Washington, D.C.-based Truman Scholarship Foundation serves as a living memorial to the nation's 33rd president. Each year, the Truman Scholarship helps 55 to 65 students committed to public service after completing their degrees.
This year, 756 students were nominated by 312 colleges and universities. The foundation selected 194 finalists. Following interviews by regional review panels, the 2018 Truman Scholars class was selected.