Sharifa Sahai '18 spent her winter break getting up close and personal with sharks. As one of Union's Klemm Fellows, Sahai spent three weeks on the south coast of Fiji's main island of Viti Levu for a shark conservation project.
Working alongside internationally renowned shark research scientists, Sahai collected scientific data and studied shark habitats.
Part of the research included shark dives in Beqa Lagoon, where Sahai was close enough to tiger sharks, bull sharks and other species to take a selfie. One thing she learned?
"Sharks have a bad rep," said the computer science and biology major from Queens, N.Y. "They are not as dangerous as people think they are. There's no reason to be scared of sharks. Education is the best way to combat that fear."
Sahai recently accepted a software engineering residency at Google in New York City, also deferring acceptance to the systems biology doctoral program at Harvard University. After the residency, she'll continue her studies at Harvard.
She was one of more than 400 students who showcased their academic interests and talents during the 28th annual Steinmetz Symposium Friday.
Following tradition, classes were canceled to allow faculty, staff, students and visiting parents to sample projects in all fields – the arts, humanities, social sciences, sciences and engineering.
"Steinmetz is when we get the chance to show off what we do best here at Union," said Chad Orzel, the R. Gordon Gould Associate Professor of Physics and director of undergraduate research.
The activities began with a corporate breakfast featuring remarks by Frank Bozich, president and CEO of SI Group, a leading global developer and manufacturer of chemical intermediates, specialty resins and solution.
The all-day event included a diverse lineup of oral presentations, poster sessions and exhibits highlighting student research as well as a dance performance, musical concerts, an art exhibit and other activities.
Representing science and engineering, Anouk Nouet '18 discussed the impact of adding waste materials to pervious concrete performance under freeze-thaw conditions.
In a session on market economics, Alexander Kozikowski '18 presented a case study on a leveraged buyout for American Outdoor Brands Corp. Formerly Smith and Wesson, the company's shares tanked after the Parkland, Fla., massacre.
One of the annual highlights at Steinmetz is the Lothridge Festival of Dance. Hundreds filled the Nott Memorial for an hour-long show that showcased original works by faculty and student choreographers in an array of dance styles. Here, "United Differences" was a collaboration by the Dance Experience course directed by Dance Program Director Miryam Moutillet.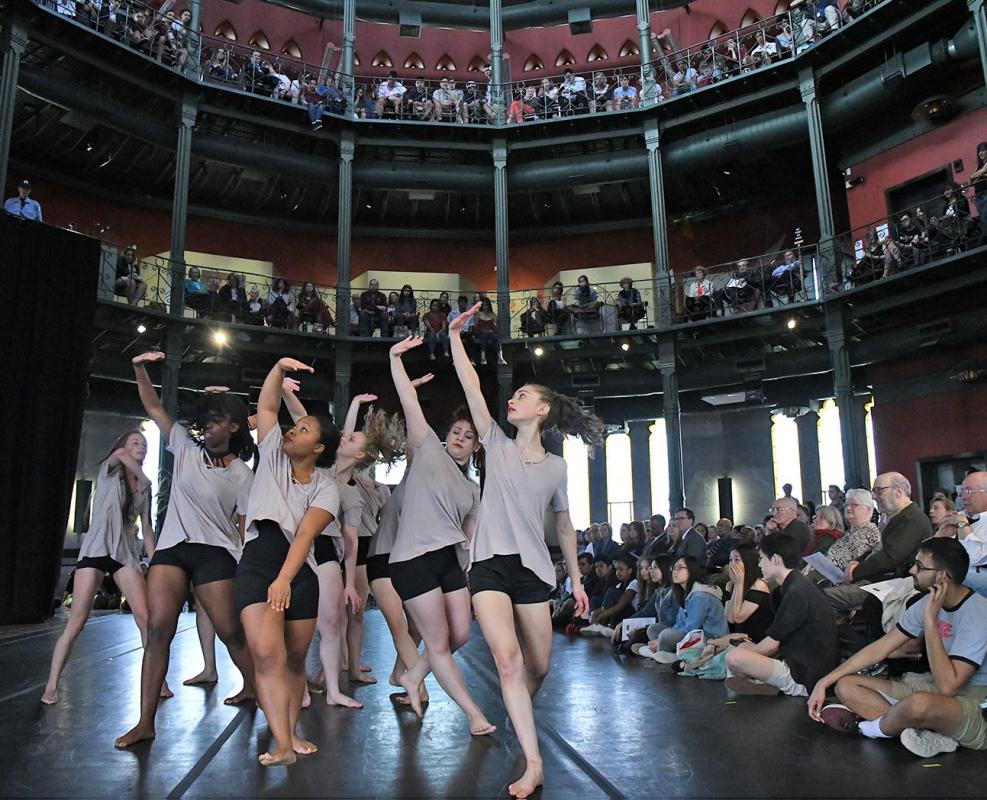 And Maxwell Sandberg '18 explored free speech and political correctness on college campuses.
Hannah Ellen '19 shared her research on the national opioid crisis, particularly its impact on white women from rural areas, during a poster session in the Schaffer Library Lally Reading Room.
"There are a lot of punitive policies right now that are essentially preventing pregnant women from getting the care they need," said Ellen, a political science and gender, sexuality and women's studies major from Bedford, Mass.
One of the annual highlights at Steinmetz is the Lothridge Festival of Dance. Hundreds filled the Nott Memorial for an hour-long show that showcased original works by faculty and student choreographers in an array of dance styles. Included were pieces from the Winter Dance Concert, "Breaking Boundaries," by dance minors Brendan Coleman '18, Sydney Conner '18, Bianca Mielke '18 and Shannon West' 19, as well as new work from Ayanah Dowdye '18 and Megan Wells '18.
Students from Bhangra Union, the Hip Hop Club, the In-Unison Step Team, the African Queens, Terra Dance Company and the Dance Team also performed.
At the end of the show, the Edward Villella Fellowship, which allows exceptional students to expand their dance studies, was awarded to dance minors Danielle Pinney '20 and Shannon West '19. Pinney is majoring in English and Spanish, while West is a pre-med neuroscience major. They will be pursuing aerial dance, including silks or Lyra hoop.
Wells, a theater and biology major, received the Hedda Hainebach Memorial Prize in Music and Theater.
In addition, Dance Program Director Miryam Moutillet was named the first Gustave L. Davis, Class of 1959, and Susan S. Davis Director of Dance. A former ballerina with Les Grands Ballets Canadiens who has choreographed, performed and directed her own companies internationally, Moutillet joined the College faculty in 2001.
Also, the annual Steinmetz Student Art Exhibition, featuring 175 works by students from a wide variety of majors and all class years, was on display in the Crowell and West galleries in the Feigenbaum Center for Visual Arts.
Curated by Visual Arts faculty, it is the largest Steinmetz exhibit to date, with drawing, painting, photography, printmaking, sculpture, and digital art and video works.
The day wrapped up with a concert in Memorial Chapel featuring the Union College Choir and the Union College and Community Orchestra, under the direction of Shou-Ping Liu, lecturer in choral and orchestra music and director of performance.
The Steinmetz Symposium is named for Charles Proteus Steinmetz (1865-1923), who taught electrical engineering and applied physics at Union. Also chief consulting engineer for the General Electric Company, he was widely regarded as America's leading electrical engineer.
The symposium coincided with Prize Day, which was held on Saturday in Memorial Chapel, followed immediately by a reception on the Reamer Campus Center patio. Students were honored for achievement in academics, research, service and governance.
Among the top awards given are the Josephine Daggett Prize to the senior for conduct and character (Gianluca Avanzato) and the Frank Bailey (1885) Prize to the senior who has rendered the greatest service to the College in any field (Andrew Cassarino).
The complete list of Prize Day winners can be found here.
Also, the Union College Jazz Ensemble, led by Professor Tim Olsen, performed in Emerson Auditorium.