Lawrence J. Hollander, dean of engineering emeritus and a generous benefactor to Union, passed away on May 12, 2018. He was 91.
Known to colleagues as Larry, he joined Union in 1986 as a visiting professor of electrical engineering and, three years later, was named dean of engineering.
He established the Lawrence J. Hollander Bicentennial Scholarship for engineering students and the Hollander Music Prize, awarded annually to an outstanding student or ensemble. Larry took pride in getting to know the recipients of the scholarship he established. He personally presented the music prize at Opening Convocation.
Lawrence J. Hollander, dean of engineering emeritus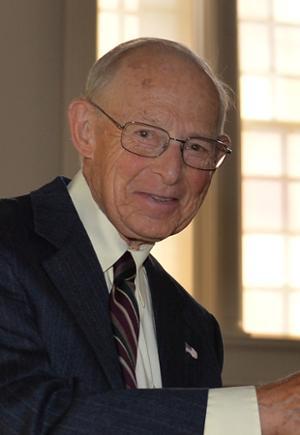 In retirement, he enjoyed travel, especially cruises on some of the world's largest ocean liners. Destinations included Antarctica, the Yangtze River in China and the Rhine River.
A native of New York City, he first set foot on Union's campus in spring 1971 while doing an accreditation visit as secretary of the New York State Education Department Board for Engineering and Land Surveying. He also served as a dean at the Cooper Union and has taught at his alma mater, New York University (B.S.E.E., 1951; M.S.E.E., 1954).
An expert in the electrical power grid, he made a name for himself during the Northeast blackout of 1965.
In retirement, he remained close to the College that he said is "like a second home." When he established the scholarship, he said, "Union College, with more than 200 years of history and 150 years of engineering, is where I want to be remembered. I believe in the idea of a private liberal arts college containing engineering curricula."
Services will be held at the Mt. Hope Cemetery in Brooklyn, N.Y., where he will be entombed in the family mausoleum. A memorial service will be announced at a later date. To leave a condolence message for the family, please visit levinememorialchapel.com