The 50th anniversary of women's arrival at Union features a year-long celebration of women and their contributions to the College, their communities and the world.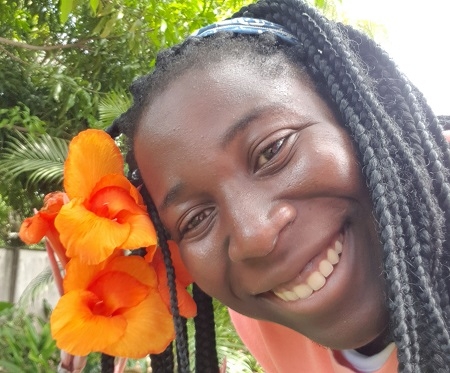 Emmanuela Oppong '19 holds a degree in biomedical engineering with a minor in global service and education from Union College. Currently a Watson Fellow, she is traveling and exploring social entrepreneurship in healthcare and conducting health research across the globe. An intern at the Social Innovation in Health Initiative hub in Latin America and the Caribbean, hosted at CIDEIM in Colombia, she is learning how the organization uses crowdsourcing to solicit and share community-based solutions from the different countries in the region. As a student she was active in everything from African Dance Club to the Society of Women Engineers. She was also very involved with Schenectady through her volunteer efforts at the Kenney Community Center. Ella loves to sing, dance, cook, eat, read, watch movies and try new things, including art, swimming, biking and languages.
What are the most challenging and rewarding aspects of your career or volunteer activities?
I really liked it when my students at the Kenney Center smiled or got excited because they understood things. I feel warm inside when I can help, including getting people together. I like connecting different ideas, thoughts and subjects to create or build something. One of the biggest challenges I face is continuing to realize that things are just plain unfair in our world. Although many people are fighting this, many others often overlook, ignore and accept the unfairness because "it is not close to home," "it's just the way it is" or "it's far out of our reach."
Who inspired/inspires you, both professionally and personally?
Personally, I would say the undying faith of my aunt (Sis Ama) and my family and friends (including my sister Rita and my squad). Professionally, it is my Union professors and staff including my Louisiana work and experience with Prof. Janet Grigsby; Prof. Sudhir Khetan's course on fluid transport; Bob Soules's professional development course; my brief encounter with Prof. Erika Nelson on the beauty of narratives; the impactful work of Kenney Community Center. Union's faculty and staff are that good and always got me excited. Also my advisors – the Academic Opportunity Program staff, Lynn Evans (director of fellowships) and professors Nicole Theodosiou, Shane Cotter, David Cotter and Christine Henseler.
What advice would you offer today's women students, not just at Union, but across the country?
Experiences make you, but they are never complete and are, I have found, imperfect. They mold your perspective, thoughts and sometimes very existence, but they are never solidified. Thus, there is infinite room for reshaping and remodeling with patience, consideration, faith and empathy. It can be holding onto or changing a part of yourself, your family, your community, untouchable traditions, the abstract government, our world. So, know and believe that nothing is far out of reach and that everything is possible for you.
What was your most formative experience at Union?
My interactions with Union's professors and their belief in me. Their willingness to share their knowledge, engage my questions and doubts, and challenge me were all very humbling for me and sometimes frustrating. But they made me grow.