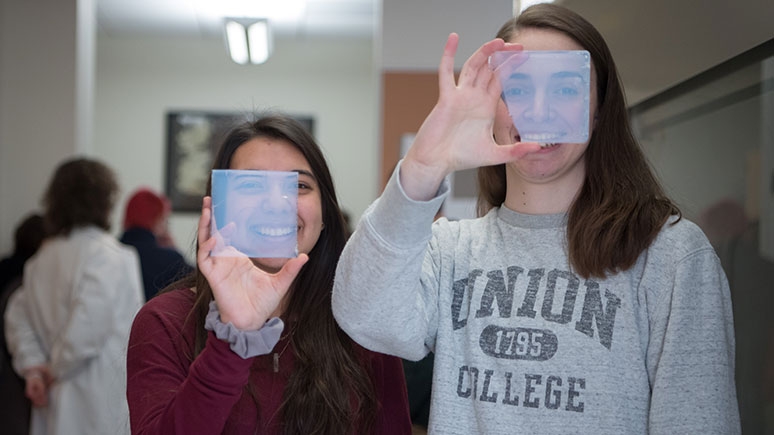 Sunthru, a Schenectady startup founded by professors Ann Anderson and Mary Carroll '86, is creating a silica aerogel insert for triple-pane windows that's more energy efficient and cost-effective than traditional products. The company is working on commercializing its insert with the help of two alumni who recently came onboard.
Aerogel as a material is very light- weight, about 95 percent air. Anderson, the Agnes S. MacDonald Professor of Mechanical Engineering, once described it as "frozen smoke."
Her colleague, John Costa '17, explains aerogels this way.
"The name aerogel may be misleading at first since aerogels are actually dry, rigid or elastic foam-like materials," said Costa, Sunthru's chief executive officer. "But the name originates from the fact that aerogels are usually derived from wet gels, physically similar to edible gelatin. In aerogels, the liquid component is replaced by a gas or vacuum in a way that preserves the sparse, solid, porous backbone."
"We call our aerogels for windows see-through insulation," he added.
The see-through bit—or optical clarity—is one reason silica aerogels are good for windows. Another is the fact that aerogel is an extremely good insulator, which is why it's used in everything from wetsuits to skylights to blankets that cover pipelines in deep-sea drilling.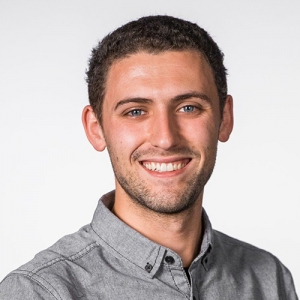 What separates SunThru is our manufacturing process. We use Union's patented rapid supercritical extraction method."
-Adam Forti '17
SunThru's chief operating officer
"Current high-performance windows that can perform beyond the typical double-pane window are about 1.5 times heavier and thicker than our aerogel alternative," said Adam Forti '17, Sunthru's chief operating officer. "In North America, most buildings cannot accommodate these windows without significant alterations that are extremely cost prohibitive."
"But because a silica aerogel is one of the lightest solids on earth and also highly insulative per inch, an aerogel solution can increase thermal performance without adding significant weight or thickness to existing windows—all for only a small green premium."
How?
The aerogel insert Sunthru is creating will be sold to window manufacturers, who will then place the insert between panes of glass without changing the design or structure of traditional windows.
"Sunthru is in the research and development phase, proving out our latest highly transparent aerogel and working with our customers to integrate them into window products," Costa said. "We have contracted with the Union College Aerogel Lab to produce 5" x 5" aerogels for us. In the near future, we will begin building out SunThru's own manufacturing capabilities."
"We have an immediate goal of making 20" x 14" aerogels, as this is the minimum size needed for our customers to test our materials in their windows," he continued. "We hope to eventually make aerogels as large as possible since windows come in all shapes and sizes."
While there is another company in the Northeast developing a similar product, Sunthru's aerogel has an edge over the competition.
"What separates Sunthru is our manufacturing process. We use Union's patented rapid supercritical extraction method," Forti said.
During rapid supercritical extraction (RSCE), chemicals gel together (like Jell-O) in a hot press; the resulting wet-gel is dried by removing solvents (the wet part). The remaining aerogel (the dried part), is created in hours, rather than the days or weeks alternative methods take.
RSCE is also approximately seven times cheaper, requiring one hour of labor for every 8 hours the other methods need, said Anderson, Sunthru's chief technology officer. She and Carroll, the company's chief science officer, are among the inventors of the process.
So what's on the horizon for Sunthru in the next five years?
"We hope to have completed building out a manufacturing site that gives us the capability to supply 5 million square feet of aerogel inserts," Costa said. "Beyond this, we hope to expand the market share of our product and continue to innovate in the manufacturing of aerogel materials."
The prospect of commercializing a product they've been studying for years is thrilling for Anderson and Carroll.
"It has been personally and professionally rewarding as well as intellectually stimulating," said Carroll, the Dwane W. Crichton Professor of Chemistry. "This shows that it is possible to commercialize research coming out of fundamental and applied work in laboratories at small liberal arts colleges."
"Union has been incredibly supportive in helping us navigate this process, and we have obtained funding from the National Science Foundation and the New York State Energy Research & Development Authority that helps bridge the gap between research and commercialization," she added.
Costa and Forti are equally excited about taking Union aerogel into the wider world. After all, they caught the aerogel bug as mechanical engineering majors working in the lab with Anderson and Carroll.
"This experience has been nothing short of amazing. John had originally approached me about starting some form of business together, though not a high-tech one," Forti recalled. "But I couldn't get aerogel off my mind and told John we should reach out to Ann and Mary about working together."
I don't think either of us could have imagined what would happen next," Costa added. "It has been so rewarding to be part of innovation. Every day we are presented with new challenges and need to make meaningful decisions. It really helps give a sense of purpose to life."
Costa recently participated in the FuzeHub 2021 Commercialization Competition at the NYS Innovation Summit, and won $50,000 to support SunThru's efforts.
Costa, Forti, Anderson and Carroll would also like to acknowledge the contributions of Sri Teja Mangu, Joana Santos '20, Margeaux Capron '22, Avi Gajjar '23, Allison Stanec '21, Matthew Roizin Prior '21, Ben Manning, Jason Leo and Casper Xallan Wilson to recent efforts.
To learn more about Sunthru, visit sunthru.biz