For more than half of its time on campus, the Class of 2022 weathered a global pandemic that forced students to go home for a period, take classes remotely and navigate an ever-shifting set of mask mandates and social distancing rules.
COVID-19 upended the typical college experience students envisioned when they arrived at Union their first year. The class also witnessed other seismic events, including the Jan. 6 Capitol riots, racial injustice and the war in Ukraine.
Yet they persevered, knowing that the finish line was in reach.
"We made it through some of the most unforeseeable events and are stronger because of it," said Julia Nicolescu of Ellington, Conn., a biomedical engineering major with a minor in Spanish. "I am so proud of all of us and thankful to be a part of the Class of 2022."
Headed to Worcester Polytechnic Institute to pursue a Ph.D. in biomedical engineering, Nicolescu was among more than 500 graduates and their families who gathered on Hull (Library) Plaza Sunday morning to celebrate Union's 228th Commencement.
"What a crazy, tumultuous couple of years you have had, and I so admire the grace with which you have handled this horrible disruption in your lives-and the fact that you made it, you're here today," Kate White '72, the featured speaker, told the class.
One of the first women to graduate from Union after the College began enrolling women full-time in 1970, White is a New York Times best-selling suspense novelist and former magazine editor-in-chief.
She said that while she did not presume to have solutions for any of the major issues this generation faces, she wanted to share three lessons that informed her own life and career arc since graduating 50 years ago.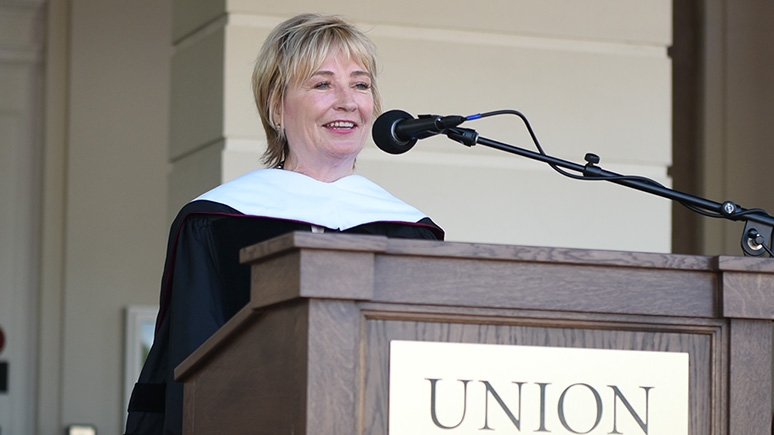 The first, she said, is not to believe everything you think.
"I know you've got a lot of thoughts kicking around your head right now," she said. "I would really like to work for a startup," or "I would never want the pressure of working for a startup," or "I want to move back to Chicago."
Instead, she encouraged students to step back from their thoughts, challenge them and come up with new thoughts.
"If you are still struggling to figure out what your passion is—and there's nothing wrong with that -stop by the workplaces of friends who already have jobs, volunteer, go to galleries, exhibits, plays, lectures, and TEDx talks, visit towns you've never been to before, take wrong turns. I know you're under such pressure to stay on the straight and narrow path, but wrong turns can lead to all sorts of fabulous places."
The second lesson, White said, is to go big or go home. While at Union, two staff members encouraged White to enter Glamour magazine's Top Ten College Women contest. White knew that winning could create a path for a career in magazines.
"Part of the application involved writing an essay called 'My Goals for the Future,' White recalled. "I took a deep breath, crossed my fingers and did the opposite of what they had asked. I wrote an essay on why I did not feel ready to declare my goals for the future. I won, I became the August cover girl, I started working at Glamour by the end of the year, and 13 years later one of the other winners, who was working in TV news, told me she wanted to set me up with her co-anchor. And that's how I met my husband."
Finally, White pressed the class to take the picture in their mind. She relayed a story of a solo trip she took as a young woman to a safari in Kenya and Tanzania. When she noticed how many tourists never took their cameras down from their faces, she asked the tour guide if he was as obsessed with taking photos of animals as foreigners are.
"No, the Kikuyu takes the picture in his mind," he replied.
"We're so busy taking pictures, taking selfies, posting about our lives, podcasting about our lives, multitasking, that we're not savoring the experiences we have," White said.
An English major, White spent 14 years as the editor-in-chief of Cosmopolitan magazine and previously served as editor-in-chief of Child, Working Woman, McCall's and Redbook magazines. She has written 16 novels, including eight psychological thrillers. Her next psychological thriller, "The Second Husband," is to be released June 28.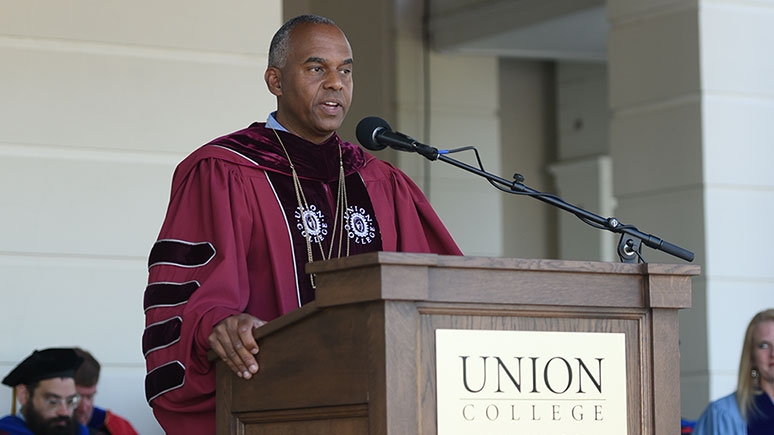 "One of my biggest regrets is that during the craziest days of my career, especially when my kids were young, I was sometimes guilty of having more than one thing going on in my mind at once," she said. "My daughter and I were watching the remake of the movie Rebecca lately, and at one point I turned and asked her, 'Honey, have you ever read the book?' She said, 'Mom, don't you remember? You read it to me one summer.' Sadly, I did not remember. Maybe during that time I was worrying about the budget or maybe it was when Lady Gaga had just bailed on a cover shoot with only a few weeks to go, and I was desperately trying to figure out how to get her back. I did get her back -with lots of begging, and I was so relieved when the shoot happened, I did not even mind that she decided to wear only underwear on the cover."
White closed by saying that while she has lived an enviable life, she envies the Class of 2022.
"You have it all ahead of you, and there's every chance it'll be fulfilling and fun and exhilarating," she said.
White received an honorary doctorate of letters degree.
The College also awarded an honorary doctorate of science degree to Robin Queen, the Kevin P. Granata Faculty Fellow and a professor of biomedical engineering and mechanics at Virginia Polytechnic University. She was nominated by Jennifer Currey, associate professor of electrical, computer and biomedical engineering, and interim director of the Templeton Institute for Engineering and Computer Science, and Amy Loya '14, visiting assistant professor of biomedical engineering.
Queen and her team hope to develop patient-centered care models for injury prevention, rehabilitation and improved long-term physical function. Queen is also a professor of orthopedic surgery at the Virginia Tech Carilion School of Medicine and an adjunct faculty member at the Edward Via College of Osteopathic Medicine.
The student speaker, Sophia Anderson '22, shared with classmates her fascination with the stars in the sky and their impact, beginning with her first night in Richmond Hall 309.
"Stars represented consistency and reliability. They were a dream to someone who dreaded the unknown as they clutched onto images of the past," said Anderson, from Mystic, Conn., a political science major who minored in environmental science and psychology.
"Though not directly, they followed me throughout my time at Union, and have served as important lessons for how I have come to understand the unknown as well as interact with change."
Her best friend at Union taught her to share life with fear and to let it motivate her to live more.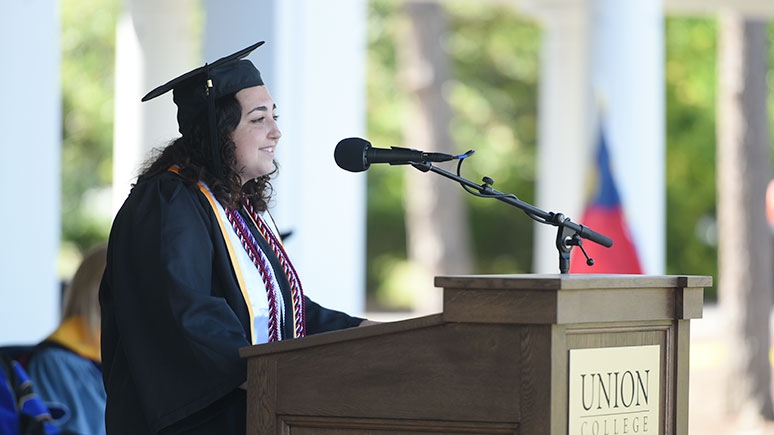 "She showed me the fun in spontaneity, whether that was traveling 11 hours in a snowstorm to visit our friend, or deciding at two in the morning that we should wrap ourselves in blankets, sit on Rugby Field looking up at the stars and wait for the sunrise," she said. "The best moments I experienced at this school have been unplanned, unexpected and were at one point, unknown."
As the Class of 2022 prepares to leave Union, Anderson said their time together prepared them not to fear the unknown that awaits.
"When we look up at the night sky in whatever locations life may take us next," she said, "we can find solace in gazing upon the same stars and we can feel connected, familiar and comfortable in the places that may feel totally and completely strange."
Four members of the Class of 2022 received special recognition. Co-valedictorians are Emma Houston, a psychology major with a minor in studio fine arts from Louisville, Colo.; Christos Kakogiannis, a physics major from Thessaloniki, Greece, and Colin Pennock, an electrical engineering major from Whitefield, Maine. Salutatorian is Dereck Wang, a biology and economics interdepartmental major in the Leadership in Medicine program, with a minor in Chinese. He is from West Windsor, N.J.
In his charge to the graduates, President David R. Harris leaned on two of his familiar phrases to send the class out into the world: "Under the laws of Minerva, we all become brothers and sisters," and "Be comfortable being uncomfortable."
"Union has been a team sport," said Harris. "You thrived, you overcame challenges and disappointments because of your Union brothers and sisters. Look around and you will see them and know how they lifted you up and helped you become more than you sometimes thought possible. Remember that life after Union is also a team sport. Keep and cultivate friendships, seek to understand those who have walked paths that are unfamiliar to you, and lift others up, especially when it would be easy to tear them down.
"The world will continue to change. To continue to achieve your full potential, you must also keep changing, in ways large and small."
Also at Commencement, Maritza Osuna, senior lecturer of Spanish, was announced as the winner of the Stillman Prize for Faculty Excellence in Teaching. Jillmarie Murphy, the William D. Williams Professor of English and director of Gender, Sexuality and Women's Studies, was announced as the winner of the Stillman Prize for Faculty Excellence in Research. The prizes will be officially presented at Convocation in the fall.
The celebration opened with remarks from the College marshal, Kathleen LoGiudice, professor of biology. Robert Bertagna '85, chair of the College's Board of Trustees, offered welcoming remarks.
Following "Ode to Old Union," led by the Dutch Pipers, the Eliphalets and the Garnettes, the ceremony concluded with a performance of Natasha Bedingfield's "Unwritten," sung by Yalena Terrero-Martinez '24, Helen Smith '24 and members of the Union College Choir.