This year, friends, parents, alumni and students attending Homecoming and Family Weekend (Sept. 29 - Oct. 1) will be part of something extra special – Homecoming's 100th anniversary. To mark the occasion, the weekend will be filled with amazing activities.
Guests can celebrate Homecoming's centennial birthday at the President's Welcome Reception on Friday (Sept. 29). Enjoy live music, pumpkin carving, food and a commemorative mug (yours to keep) to use at the hot cocoa bar. On Saturday (Sept. 30), the picnic will boast tastings from eight of the best Schenectady restaurants and Schaffer Library's History of Homecoming Open House will feature rare and unique materials from past Homecomings.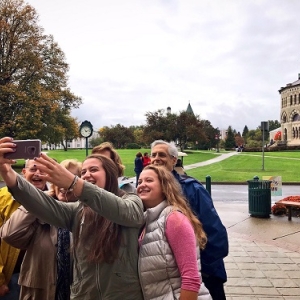 As we celebrate 100 years of Homecoming, we're kicking it up a notch. The sea of garnet, the festive vibes and the contagious excitement all remind us of the enduring Union spirit. Join us as we celebrate this remarkable legacy, while creating more everlasting memories. We can't wait to see you there!"
-Molly Harbour, associate director of alumni and parent engagement
Highlights include:
Friday, Sept. 29
100 Years of Homecoming Alumni & Friends Luncheon (11:30 a.m.)
Alumni Athletics Panel (5 p.m.)
Class of 1973 Patio Ribbon-Cutting Ceremony & Dedication (6 p.m.)
The President's Welcome Reception (6:30 p.m.)
Fireworks Celebrating 100 Years of Homecoming (8 p.m.)
Saturday, Sept. 30
100 Years of Homecoming Celebration & Picnic (11 a.m.)
History of Homecoming Open House (11 a.m.)
Brown Trophy Presentation (half-time)
Treats provided by the Alumni Council (half-time)
Rumbold Cup Presentation (women's ice hockey intermission, 4:30 p.m.)
And don't forget to use "Homer," the Homecoming helper, during the weekend. "Homer" uses AI to provide quick answers to questions about Homecoming. Text "Hi" to (833) 797-6578 or scan this QR code to get started.
A full schedule of events is available online. Athletic contests throughout the weekend include football and women's ice hockey, volleyball and soccer. Athletics tickets are available for purchase online.
Homecoming and Family Weekend 2022 Highlights