Major, Minor
Degree: Bachelor of Arts
As an art history major at Union, you will study a broad range of visual communication across historical periods and cultures – from Renaissance masterworks, Chinese scroll paintings and modern art to the art and science of painting – as you explore how societies throughout history have defined themselves through art.
The Department of Visual Arts offers a dynamic program that features small classes with individual attention and actively engaged professors. Interdisciplinary opportunities include work with Asian studies, American studies, Latin American and Caribbean studies, Africana studies, gender, sexuality and women's studies, film studies and art conservation.
Faculty
Faculty specialties include Italian Renaissance painting, Latin American and Caribbean art, Islamic art and architecture, 19th and 20th century European and American art, the arts of Japan, the history of photography, the art and archaeology of early China, and contemporary art and visual culture.
Special learning opportunities
The department sponsors an array of field trips to museums in New York City and other locales. Students also learn from original works of art in the Mandeville Gallery and the special collections of Schaffer Library, home to many rare prints, photographs, manuscripts and artifacts. Each spring, art history majors present their research at Steinmetz Symposium, a day-long research festival.
Beyond campus, students can take advantage of a departmental term abroad in Italy (Florence) and mini-term in France (Paris). Internships and other forms of specialized study can be arranged with the Union College Permanent Collection, art galleries and museums in the Capital Region, as well as in New York City, Washington, D.C., and abroad.
Careers
Art history graduates have secured jobs in major museums, galleries, auction houses and libraries. Advanced study in the field can lead to positions in museum curating, teaching art history and visual culture, art conservation, historic preservation, publishing, and advertising and communications.
Arts of China
An exploration of works of art and artistic traditions in China from the Neolithic period to the early 20th century. Lectures cover representative works in calligraphy, painting, sculpture, architecture, decorative arts and other media within the contexts of court production, literati culture, and Buddhist and Daoist temples.
The Art & Science of Painting
A historical and chemical grounding in the topic of painting and its impact on society, with focus on the 14th to 17th centuries. Topics include inorganic and organic pigments and binders used in the late medieval workshop, fresco, the tempera tradition, and oil painting in the Renaissance.
History of Photography
An introductory survey of the history of photography from its pre-history to the present. Students explore the evolution of photographic expression in the period, and focus on relationships between photography and fine art, photography and popular culture, and photography and theory.
What can a Union degree do for you?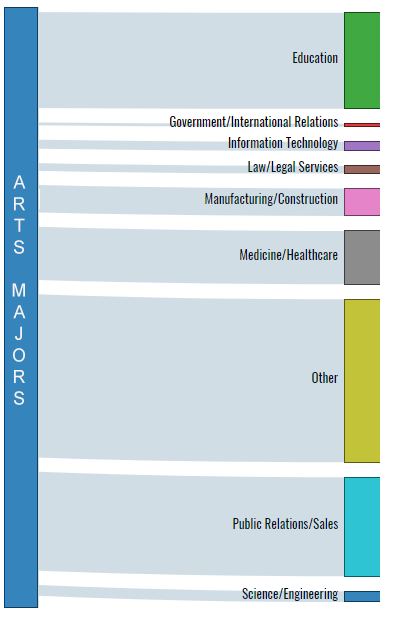 Art history and chemistry mix at Union:
From courses to concerts to student clubs, the arts are infused throughout campus life.