Major, Minor
Degree: Bachelor of Arts
As an art history major at Union, you will study a broad range of visual communication across historical periods and cultures as you explore how societies through the ages have defined themselves through art.
Facilities
The Feigenbaum Center for Visual Arts is a hub for art students and art lovers. This spacious, light-filled building houses classrooms, faculty offices, state-of-the-art studios for students working in a range of mediums, studios specifically for seniors and a student lounge. The center also is home to the Crowell and West galleries, which showcases two professional artist exhibitions and two exhibitions of student work in a typical year, and also hosts receptions and artist talks regularly each term.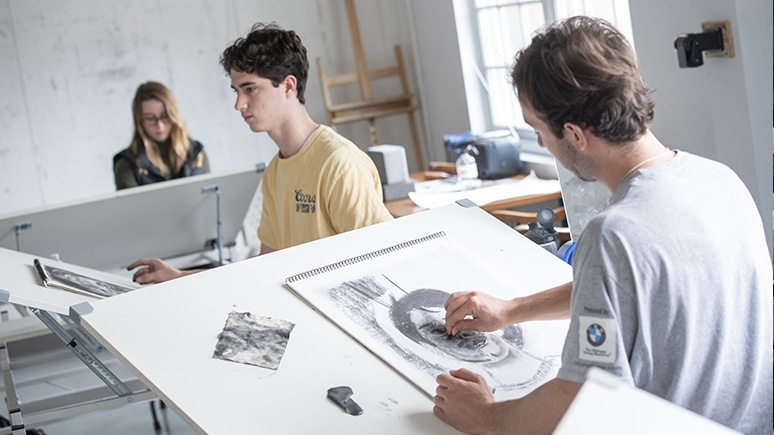 Internships and study abroad
Students can arrange internships and other forms of specialized study with the Union College Permanent Collection, as well as with art galleries and museums in the Capital Region, New York City, Washington, D.C., and abroad. A term abroad in Florence, Italy, features courses in basic Italian and Florentine architecture. A mini-term in Paris, Three Weeks in the Louvre, is an intensive art history course that includes journaling, group lectures, daily writing assignments and individual projects.
After Union
Assistant professor of art history, Auburn University, Alabama
Audience development manager, Lawrence Wilson Art Gallery, The University of Western Australia
Collections Registrar, Tang Teaching Museum, Skidmore College
Designer and jeweler, Razvet Jewelry Company, Troy, N.Y.
Economic and Policy Analyst, Rhode Island Department of Transportation
Founder and director, 56 Henry Gallery, New York City
Historic preservation technical specialist, New York State Department of Historic Preservation
Researcher, Catalogue Raisonné, Roy Lichtenstein Foundation
Connect with Union
Questions about this major? Contact visualartschair@union.edu. Ready to apply? Click the button below.