Major, Minor
Degree: Bachelor of Science
Learning through hands-on laboratory experience, making discoveries through research and gaining a global perspective in a constantly evolving field are some of the hallmarks of the biological sciences at Union.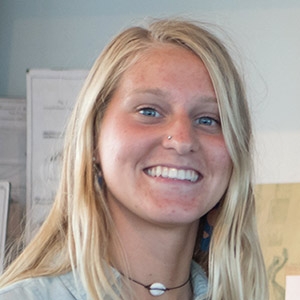 Union helped me develop my writing skill and to view issues from an interdisciplinary lens. Union allows you the space and support to grow into the human you've been wanting to be. Union provides the resources, you provide the action."
-Claire Lockwood '20
Research
We encourage students to carry out independent research under direct faculty supervision. This leads to participation in Union's annual Steinmetz Symposium research day and in national scientific meetings, as well as to publication as co-authors in scientific and professional journals. As a biological sciences student at Union, you'll also enjoy opportunities for summer research fellowships and on-campus work with faculty. Our accomplished faculty have received research grants from the National Science Foundation, National Institutes of Health, Air Force Office of Scientific Research, Howard Hughes Medical Institute and other prestigious foundations. In addition, Union's proximity to the Adirondacks, Albany Pine Bush Preserve, Mohawk and Hudson rivers, and many natural lakes offers innumerable field research opportunities.
Facilities
Union's equipment and research laboratories are first-rate. Biology labs are housed in the Peter Irving Wold Center, the Integrated Science and Engineering Complex, the Biomedical Engineering Center and the Center for Neuroscience. Our undergraduates have access to such advanced instruments as a laser confocal microscope, video-microscopy workstations with digital image processing and microinjection capabilities, PCR workstations and much more. An NSF Major Research Instrumentation Grant enabled the College to acquire a continuous flow Delta V Plus isotope ratio mass spectrometer and supplemental components to support interdisciplinary research and undergraduate student research training.
Study abroad
Biology students may pursue any term abroad as part of their academic program, but the fall term abroad program to Australia, a country that's home to great biological diversity, is especially suited to our majors. This is a Partnership for Global Education Program run jointly with Hobart and William-Smith Colleges and organized in coordination with the School of Biological Sciences at the University of Queensland (UQ), the country's largest university.
Science and engineering news
Connect with Union
Questions about this major? Contact biologychair@union.edu. Ready to apply? Click the button below.