Major, Minor
Degree: Bachelor of Science
The hands-on laboratory experience, making discoveries through research and gaining a global perspective in a constantly evolving field are some of the hallmarks of the biological sciences at Union.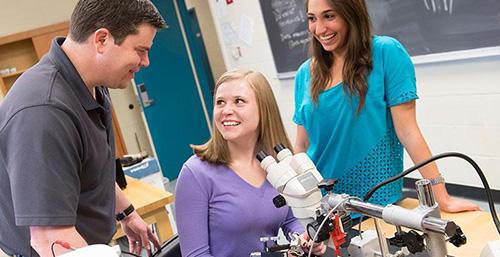 Compared to colleges of similar size, the range of courses offered at Union is exceptional—cell and molecular biology, neurobiology, biomedical engineering, plant and animal organismal biology, environmental biology, developmental biology, and ecology and evolutionary biology, to name a few. Consequently, our students are able to explore their interests and aptitudes in many different areas.
Courses
Our common curriculum courses range from Understanding Cancer to Food and Health in the 21st Century to a field course combining supervised observation and service learning in various health care settings with on-campus seminars. Biology is central to numerous interdisciplinary programs: biochemistry, biomedical engineering, environmental science and policy, and neuroscience.
Research facilities
Union's equipment and research laboratories are first-rate. Many biology faculty research labs are housed in the Peter Irving Wold Center, Biomedical Engineering Center or Center for Neuroscience. Our undergraduates have access to such advanced instruments as a laser confocal microscope, video-microscopy workstations with digital image processing and microinjection capabilities, PCR workstations and much more.
An NSF Major Research Instrumentation Grant has enabled the College to acquire a continuous flow Delta V Plus isotope ratio mass spectrometer and supplemental components to support interdisciplinary research and undergraduate student research training.
Other learning opportunities
Many students carry out independent research under direct faculty supervision, which also leads to participation in Union's annual Steinmetz Research Symposium and in national scientific meetings, as well as to publication as co-authors in scientific and professional journals.
Our accomplished faculty have received research grants from the National Science Foundation, National Institutes of Health, Air Force Office of Scientific Research, Howard Hughes Medical Institute and other prestigious foundations.
In addition, Union's proximity to the Adirondacks, Albany Pine Bush, Mohawk and Hudson rivers, and many natural lakes offers innumerable field research opportunities.