TOP 30
Engineering programs accredited by ABET (U.S. News & World Report)
TOP 30
Engineering programs accredited by ABET (U.S. News & World Report)
Major, Minor
Degree: Bachelor of Science
Union College's nationally-ranked mechanical engineering program offers an exceptional engineering education within a liberal arts environment. The ME degree is accredited by the Engineering Accreditation Commission of ABET, https://www.abet.org/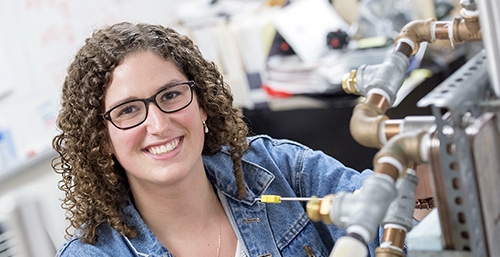 At Union, you will find an emphasis on close student-faculty interaction, hands-on laboratory experience and challenging design projects.
There are ample opportunities for disciplinary and interdisciplinary undergraduate research, and for participation in national collegiate design competitions.
Students build a strong core in engineering fundamentals, mathematics and basic science before progressing to more specialized areas of study.
Our Mechanical Engineering program also includes an international experience woven into the curriculum, as Union is committed to preparing students to practice their profession in the global engineering community of the 21st century. We also currently offer a five-year combined B.S./M.S. in mechanical engineering with the Clarkson University Capital Region Campus.
Careers after Union
Career possibilities for mechanical engineers are robust and almost limitless. Given the tremendous flexibility of this field, mechanical engineers work in a wide range of industry settings, including product design, research and development, manufacturing, systems management, alternative energy, robotics, health care, spacecraft design, transportation, and sports and recreation, to name just a few.
The many government agencies that hire mechanical engineers include the Department of Energy, NASA, the Patent and Trademark Office, as well as all branches of the military. A mechanical engineering education also serves as excellent preparation for graduate study and careers in business, law, consulting, teaching and technical management.
Here's a look at what some of our alumni have been doing since graduating:
Engineer, Toyota Racing Development
Chief design engineer, General Electric
Manager, Engineering Solutions, ARAMARK
Pilot, Wasabi Air Racing
Nuclear plant engineer, Bechtel, Knolls Atomic Power Laboratory
Founder, Forsake footwear startup
Design engineer, Sumitomo Electric Wiring Systems
Process engineer, Global Foundries
COMPLIANCE WITH ABET ACCREDITATION POLICY AND PROCEDURE MANUAL SECTION II.A.6
Please see this document for our educational objectives, student outcomes and recent graduate and enrollment data.