Major, Minor
Degree: Bachelor of Arts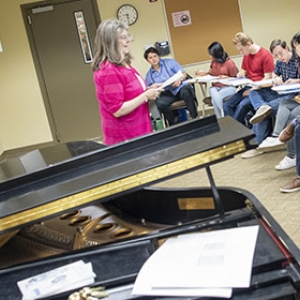 The Music Department at Union gave me confidence in myself as a scholar and performer. It gave me the opportunity to perform many types of music with great people and opened my eyes to the vast musical world outside the Western Canon"
-Elyse Clark '18
All students with a passion for music can find their niche at Union.
With our diverse course offerings and a greater variety of performing ensembles than is typically found on a small liberal arts campus, you'll nourish your musical interests and expand your knowledge. You'll work closely with faculty who are practicing musicians and composers as well as dedicated teachers and scholars. And you'll be welcomed into a close-knit learning environment that nurtures creativity, collaboration and personal exploration.

Curriculum
Our integrated curriculum explores music theory, music technology, composition, music history, global and popular musics and jazz studies. Not only will you be able to create and perform early on in your time at Union, but you also will enjoy opportunities to delve into special topics, such as musical theater, music and social justice, and popular song writing. Learn diverse perspectives through lectures, performances, recitals and workshops by visiting musicians. Be a part of our expanding music technology program. In-class experiences are enhanced by trips to area venues whenever possible. Most courses offered by the Department of Music are open to students in any major, and private vocal and instrumental lessons are also available to everyone. Global and Popular Musics is offered as a minor.
Performance opportunities
Union students are eager to perform on campus and in the community. Many of our courses provide opportunities to develop performance skills under the guidance of seasoned faculty and in final projects. Students also are able to perform in groups or solos in our many faculty-led ensembles, including the Union College Chorale, the Union College and Community Orchestra, and our Jazz, Japanese drumming and Early Music ensembles. Our students perform in local, national and international festivals and on tours.
Facilities
Music facilities at Union, an all-Steinway school, are based in the Taylor Music Center. The centerpiece of the building is the Fred L. Emerson Foundation Auditorium, an intimate performance space used for student workshops, classes, rehearsals and recitals, as well as concerts and guest lectures by renowned scholars and guest artists. The building also houses classrooms, practice rooms, faculty offices and studios designed specifically for music technology, early music and global musics.
Study abroad
Union's faculty-led winter break mini-term on the Indonesian island of Bali is an intensive study of the performing arts. It features daily group instruction with master performers in gamelan (Balinese orchestra of gongs and xylophones) and dance. Private lessons, performances and visits to key religious and architectural locations round out this program.
After Union
Audio engineer, Stwertka Publishing
Composer and sound designer
Ethnomusicologist and assistant professor, Instituto de Música, Universidad Alberto Hurtado, Santiago, Chile
Executive producer, community theater
M.A. candidate in music business, NYU Steinhardt School of Culture, Education, and Human Development
Pianist and composer, self-employed
Ph.D. candidate in ethnomusicology, Boston University
Teacher and choir director, Culver Academies