Major, Minor
Degree: Bachelor of Arts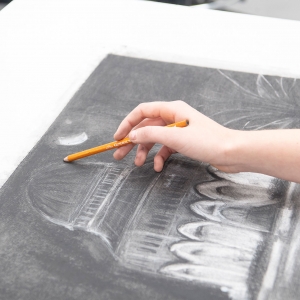 The tight-knit arts community has allowed me to create close relationships with my professors. I can turn to them for advice and talk about my future goals, and they help direct me toward the field I want to pursue"
-Aram Festekjian '22
As a fine arts student at Union, you can expect to thrive in a close-knit environment in which you gain the confidence and skills needed to make, understand and appreciate art.
Working in the Feigenbaum Center for Visual Arts, you will be intellectually, creatively and technically challenged in small classes that promote artistic and personal discovery. You will experience a robust curriculum under the guidance of accomplished faculty who are active in their respective fields, regularly exhibiting their work and garnering awards in prestigious shows.
Courses
Choose from many areas of study, including drawing, painting, photography, printmaking and two-dimensional design, digital arts and sculpture. You'll study technique, color and pictorial composition in an introductory oil painting course. Learn about linocut, collagraph, monotype and woodcut in relief printing. Navigate the complex world of computer aided graphic design in Digital Aesthetics. You'll dig deeper into your chosen genre(s) with independent project and study opportunities and your senior-year thesis or capstone project. You may also combine your studies with majors and minors in fields as diverse as anthropology, art history, biology, economics, environmental studies, film studies, and gender, sexuality and women's studies.
Facilities
Make yourself at home in the Feigenbaum Center for Visual Arts. This spacious, light-filled building has outstanding studios for drawing, printmaking, metalworking, sculpture, and 2D and 3D design; a three-room painting wing; a media lab; photography suites and dark rooms; individual studio spaces for advanced students; and more. The Crowell and West Galleries typically showcase two professional artist exhibitions and two exhibitions of student work during the academic year.
You'll enjoy real opportunities to exhibit your own art, including in the Crowell and West Galleries in the visual arts building, Wikoff Student Gallery in the Nott Memorial, and at Steinmetz Symposium, a campus-wide event dedicated to research and creative work. The Department of Visual Arts also sponsors an exciting roster of visiting artists, including alumni who return to campus to talk about their experiences and career paths.
Field trips and study abroad
Join your classmates and professors on excursions to New York City galleries, museums and studios. Discover world-class regional art attractions such as the Clark Art Institute, Mass MOCA and Storm King Art Center. Study digital art on a term abroad in Florence or pursue drawing and printmaking on a mini-term in Paris.
After Union
Curatorial division research associate, Museum of Fine Arts, Boston
Designer and principal, DesignGLXY
Director of impact teams, Common Energy
Educator, Hudson River Museum
Interactive engineer, TikTok/ByteDance
Manager of stewardship and administration, Institute of Contemporary Art, Boston
Marketing and graphic designer, Hubbell
Public art administrator, Cambridge Arts Council, Boston
Researcher, Catalogue Raisonné, Roy Lichtenstein Foundation
User experience consultant, Center for Digital Experiences, Pratt Institute
UX designer and front-end web developer
Visual effects artist, DreamWorks Animation