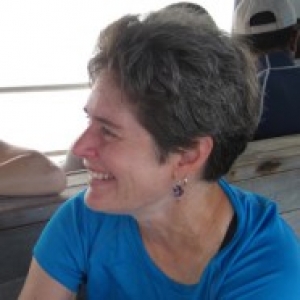 Karen Brison
Job Title
Roger Thayer Stone Professor of Anthropology
Department chair
Research interests
Karen Brison specializes in anthropology of childhood, education, religion and the study of language and culture. Her most recent research is in Fiji where she also runs a term abroad. In Fiji she is studying the acquisition of gender and cultural identity in children's play and in a growing Pentecostal community. For her two years of doctoral research (1984-1986), she lived and did research in the East Sepik Province of Papua New Guinea. She has published a book, Just Talk: Meetings, Gossip, and Power in an East Sepik Village (University of California Press, 1992) on oratory and village politics based on that research. Prof. Brison started doing research in Fiji in 1997 and published a book, Our Wealth is Loving Each Other: Self and Society in Fiji (Lexington Books 2007) examining constructions of self and community in ceremonial language, church sermons and informal discourse in Rakiraki Fiji. In a second book, Children, Social Class and Education: Shifting Identities in Fiji (Palgrave 2014), she explores the way mass preschool education is producing social class based identities in a society traditionally structured by ethnic divisions. She co-edited a book on youth culture, Super Girls, Gangstas, Freeters and Xenomaniacs: Gender and Modernity in Youth Cultures (Syracuse 2012). Since 2006, Prof. Brison has been studying the participation of Fijians and Papua New Guineans in global Pentecostal networks.
Publications
Children, Social Class, and Education: Shifting Identities in Fiji
By Karen J. Brison, Palgrave Macmillan in Mind, Culture and Society Series, 2014
Children, Social Class, and Education examines the production of social class based identities through mass preschool education in Fiji, a Pacific Island nation where ethnic divisions between indigenous Fijians and Indo-Fijian descendants of indentured servants from India have been historically dominant. Based on participant-observation in eleven kindergartens in Suva Fiji, Children, Social Class, and Education shows that Suva kindergartens were instilling social class-specific ideas about self and society. Teachers had different goals depending on the professional background of the families who attended their schools. Kindergartens also created novel social environments for children. They formed friendships based on shared experience of toys, gender roles, and mass media and generally avoided the confusing and problematic ethnic categories that structured their parents' worlds. Many middle-class children spoke only English and saw themselves as "white." Children, Social Class and Education is written in an accessible fashion suitable for undergraduates and addresses a scholarly audience interested in education, and Pacific Island societies.
Super Girls, Gangstas, Freeters, and Xenomaniacs: Gender and Modernity in Global Youth Culture
Edited by Susan Dewey and Karen J. Brison, Syracuse University Press 2012
In recent years, there has been a proliferation of scholarly interest in youth cultures, with much of the focus on questions of how young people shape and are shaped by the experiences of globalization in the modern age. As adolescents everywhere struggle to redefine their gendered and ethnic identities, they are keenly aware that they operate on an uneven global terrain. Transnational images of modern youth that stress independence and self-cultivation often exist in stark contrast to the actual local limitations of many youth experiences. Composed of twelve chapters based upon ethnographic research in Africa, Asia, and Oceania, this volume explores the gendered cultural diversity of how young people experience modernity. The first part features chapters on mobile phones as agents transforming gender norms for young Mozambicans and on economic independence and feminine beauty among young Namibian women. In part two, contributors describe children's use of English and Pentecostal ideology as agents of social mobility in rural Fiji and examine androgyny, social mobility, and group membership for youth on reality television shows in China and India. Part three probes gendered discourses of "citizen warrior" versus "citizen shopper" in Cyprus and describes the moral panic surrounding child sex tourism in India. The last part analyzes how New Zealanders make sense of a growing youth activist movement, how young Australian—Papua New Guineans embrace their parents' traditional culture, and how Tongan male adolescents in the United States construct gang identities.
Our Wealth is Loving Each Other: Self and Society in Rakiraki Fiji
By Karen J. Brison, Lexington Books, 2007
Our Wealth is Loving Each Other explores the fluid and context-bound nature of cultural and personal identity among indigenous Fijians. While national identity in Fiji is usually defined in opposition to the West through reference to a romanticized pre-modern tradition, individual Fijians are often more concerned with defining their identity vis-à-vis other villagers and other groups within Fiji. When people craft self-accounts to justify their position within the indigenous Fijian community they question and redefine both tradition and modernity. Modernity on the margins is an experience of anxiety-provoking contradictions between competing ideologies, and between international ideologies and local experiences. Indigenous Fijians have been exposed to international ideologies and government programs extolling to virtues of "pre-modern" communities that place communal good and time-honored tradition over individual gain. But other waves of policy and rhetoric have stressed individual achievement and the need to "shake" individuals out of community bonds to foster economic development. Individuals feel contradictory pressures to be autonomous, achieving individuals and to subordinate self to community and tradition. Our Wealth examines traditional kava ceremonies, evangelical church rhetoric and individual life history narratives, to show how individuals draw on a repertoire of narratives from local and international culture to define their identity and sense of self. In kava ceremonies, rural villagers assert that they are the guardians of a sacred village-based tradition, in order to win respect and support from urban relatives and indigenous Fijians from other areas of the country. In evangelical churches, people try to define new ways of being properly Fijian involving demonstrating a commitment to community and God while downplaying traditional rank. In life history narratives of individuals in a variety of positions in village draw on different aspects of traditional ideology so as to justify their own life choices. Everyone responds to a common set of tensions caused by contradictions within international ideologies and gaps between local realities and extra-local ideology. But individuals position themselves differently relative to competing ideologies as they refract through idiosyncratic life circumstances, leading to creative, hybrid, reformulations of both indigenous tradition and global modernity.
Just Talk: Gossip, Meetings, and Power in a Papua New Guinea Village
By Karen J. Brison, University of California Press, 1992
Just Talk examines the often overlooked role of gossip and rumor in creating power in small Melanesian communities. The Kwanga of the East Sepik Province of Papua New Guinea think that malicious gossip is almost as dangerous as sorcery. They spend several hours a week in community meetings where they look into rumors about sorcery, adultery, and other sources of potential trouble. Public debates seldom resolve problems. Instead, over the years public and private discussions generate layer upon layer of stories, which, though regarded by the community as plausible but unprovable " just so stories," have an insidious effect in defining situations and shaping reputations. To understand how " talk" can create and ultimately destroy the position of Melanesian leaders, Karen Brison follows discussions of particular situations over time and suggests that gossip and rumor are just as central to shaping and shifting power relations as are the public meetings which are more often studied.
Kwanga community leaders build reputations by hinting that they are the confidants of sorcerers able to kill those who challenge the authority of male cult initiates. Such talk creates the impression that these individuals are very powerful and that all initiated men should be feared, yet at the same time it endangers trust in surface impressions and leads to alarmist rumors. So, while ambitious individuals try to define situations in such a way as to further their own goals and enhance their own reputations, they cannot fully control the impact of their own words. Ultimately, the same men who build reputations through gossip and innuendo find themselves victimized in turn by malicious gossip.
Brison's discussion reflects a broader concern with the role of words in constructing social reality. Just Talk suggests that our understanding of both Melanesian leadership and the power of words is greatly enhanced by attention to gossip and rumor: words are dangerous weapons that can have consequences the original speaker neither anticipated nor desired.
Coping with Bereavement: Long-Term Perspectives on Grief and Mourning
Edited by Karen J. Brison and Stephen Leavitt, American Anthropological Association, vol. 23, no.4, 1995
The cross-cultural study of mourning offers promising ground for exploring the relationship between culture and emotional experience. Researchers have documented the profound feelings of grief, anger, and fear that accompany losses everywhere, suggesting that there is a "core grieving process" that occurs across cultures. At the same time, there is considerable evidence that cultural beliefs that influence the meaning of death, and funerary practices that govern the expression of emotion can radically alter people's emotional reaction to bereavement.
The articles in this issue address the relationship between cultural beliefs and the experience of mourning in cultures as diverse as the Yucatan Maya of Mexico, the Toraja of Sulawesi, Indonesia, the Midwestern United States, and the Bumbita Arapesh and Kwanga of Papua New Guinea.
2016 – Teaching Neoliberal Emotions through Christian Pedagogies in Fijian Kindergartens. Ethos 44(2): 133-149.
2012 – Fijian and Papua New Guinean Pentecostal Missionaries. Ethnology 51: 93-109.
2012 – (co-authored with Susan Dewey) – Introduction: Cross-Cultural Views of Youth and Modernity." In Super Girls, Gangstas, Freeters and Xenomaniacs. (Syracuse University Press).
2012 – Gendered Modernities among Rural Indigenous Fijian Children. In Super Girls, Gangstas, Freeters and Xenomaniacs. (Syracuse University Press)
2011 – Producing Confident Children in Fijian Kindergartens. Anthropology and Education Quarterly 42(3): 230-244.
2011 – Hierarchy and Equality in Fijian Kindergartens, In Echoes of the Tambaran: Masculinity, History and the Subject in the Work of Donald F. Tuzin. David Lipset and Paul Roscoe, editors. (ANU Press)
2009 – Shifting Social Categories in Fijian Kindergartens. Ethos 37 (2): 314-333.
2007 – The Empire Strikes Back: Pentecostalism in Fiji. Ethnology 46: 21-41.
2003 – Imagining Modernity in Rural Fiji. Ethnology 42: 335-48
2002 – Disjunctures in Discourse: Emerging Identities after the 2000 Coup in Rakiraki, Fiji. Pacific Studies 25(4):47-68.
2001 – Crafting Sociocentric Selves in Religious Discourse in Rural Fiji. Ethos 29:453-74.
2001 – Constructing Identity through Ceremonial Language in Rural Fiji. Ethnology 40:309-27.
2001 – Ethnicity in the Pacific. In, R. Scupin, ed., Ethnicity: A Global Perspective. New Jersey: Ablex.
1999 – Hierarchy in the World of Fijian Children. Ethnology 38:97-120.
1999 – Imagining a Nation in Kwanga Village Courts, East Sepik Province, Papua New Guinea. Anthropological Quarterly 72:74-94.
1999 – Money and the Morality of Exchange among the Kwanga, East Sepik Province, Papua New Guinea. In, D. Akin and J. Robbins, eds, Money and Modernity: State and Local Currencies in Melanesia. University of Pittsburgh Press.
1998 – Giving Sorrow New Words: Shifting Politics of Bereavement in a Papua New Guinea Village. Ethos 26:363-86.
1996 – Becoming Savage: Hegemony and Identity in an East Sepik Village. Anthropology and Humanism 21: 5-18.
1995 – You Will Never Forget: Narrative, Bereavement, and World View Among Kwanga Women. Ethos23:474-488.
1995 -(with Stephen Leavitt) Coping With Bereavement: Long Term Perspectives on Grief and Mourning. Ethos 23:395-400.
1995 – Changing Constructions of Masculinity in a Sepik Society. Ethnology 34:155-175.
1993 – Organizing the Social Flow in a East Sepik Village. In Migrations and Transformations. Edited by Andrew Strathern and Gabrielle Sturzenhofecher. University of Pittsburgh Press.
1991 – Community and Prosperity: Social Movements in a Papua New Guinea Village, The Contemporary Pacific 3:325-355.
1989 – All Talk and No Action?: Saying and Doing in Kwanga Meetings. Ethnology 28:97-125. Reprinted in: Anthropological Approaches to Politics, Frank McGlynn and Arthur Tuden, eds, pp.106-129. University of Pittsburgh Press.
Academic credentials
B.A., McGill University; M.A., University of California at San Diego; Ph.D., University of California, San Diego