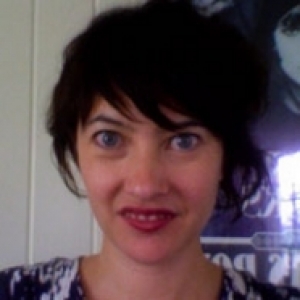 Jenelle Troxell
Job Title
Associate Professor of English
Co-Director of Film Studies
Research interests
Transnational cinema; visual art and media theory; essay films; modernism, literary and visual avant-gardes; little magazines; pre-code cinema; feminist, gender, and sexuality studies.
Publications
"light filtering through those shutters." Camera Obscura 34.3 (2019).
"'Mirror Work' and the Epidemic Imaginary in New Queer Cinema." Synapsis: A Health Humanities Journal 9.12 (2019).
"Neither Day Nor Night: Peggy Ahwesh's Palestinian Essays." Framework 58.1 (2017).
"Mind Cure and Ecstasy on the Pages of Close Up." Screen 58.3 (2017).
"Inside Jane Heap's Boudoir: 'the best conversation the world has to offer" Aster(ix) 2 (2016).
"Torture, Terror, and Digitality." Afterimage 43.3 (2015).
"Distracted Wreading [From Structural Film to Digital Poetics]." Mot Juste exhibition catalogue, Mandeville Gallery (February 2015).
"Shock and 'Perfect Contemplation.'" Modernism/Modernity 21.1 (2014).
"The City Films of Jem Cohen." CineAction 93 (2014).
"Towards a 'criticism that is creative': Ment (DE) 5.1 (2014).
Routledge Encyclopedia of Modernism, entries on The Smiling Mme. Beaudet and Seashell and the Clergyman.
Editing
Convolution: Journal for Critical Experiment. Edited by Paul Stephens and Jenelle Troxell. Design by We Have Photoshop.
Convolution 01
Convolution 02: Wreading
Aster(ix) Contributing Editor
Film curating
Our Monsters, Ourselves: The Legacy of Pre-Code Horror, October-November 2023.
Breathing Fire: A Celebration of Anna May Wong, September 2023. (with live musical accompaniment)
Breaking the Rules: Great Women of the Pre-Code Era, March-June 2023.
Distracted Wreading: From Structural Film to Digital Poetics, 2015.
Film
Marcilla, an experimental fiction film, offers a feminist re-telling of Carl Dreyer's Vampyr. Appeared in over 30 festivals internationally, including The San Francisco Lesbian & Gay Film Festival, New York Lesbian & Gay Film Festival, São Paolo International Film Festival, Amsterdam International Film Festival, Rome Film Festival, DUMBO Art Festival, and Feminale: International Women's Festival, Cologne. Marcilla is featured in Fergus Daly and Katherine Waugh's documentary Outliving Dracula: Le Fanu's Carmilla.
"a hundred visions and revisions" a video meditation on spatial enclosure, created with Farah Saleh, a Ramallahwi dancer, not permitted to perform in Jerusalem. Exhibited in Al-Housh Gallery, Jerusalem as part of Jorge Alberto Perez's Ramallah: Portrait of Works and Days exhibition.
Additional media
"The Beginnings of Feminist Film Criticism" / The Cinematologists podcast 2020.
Additional media
Distinctions
Jenelle Troxell has received grants from the Deutscher Akademischer Austauschdienst (DAAD), Beinecke Rare Book and Manuscript Library, Mellon Foundation, American Business Women's Association, and the Max Kade Foundation.
She has held visiting professor positions at Pratt Institute (Brooklyn, NY) and Al-Quds University-Bard Honors College (Abu Dis/East Jerusalem) and was a Scholar in Residence at New York University.
Academic credentials
B.A., Johns Hopkins University; M.A., Columbia University; Ph.D., Columbia University