Union has been recognized as the "Community Partner of the Year" by the Schenectady ARC.
The award was presented Thursday night at the organization's annual dinner. Jake Feinstein '21, a student volunteer, accepted the award on the College's behalf.
The College has had a longstanding community partnership with the Schenectady ARC (Advocacy, Resources, Choices).
The ARC's Discovery Academy is based at the college. The program gives young people with intellectual and developmental disabilities an opportunity for a college life experience. Participants attend classes on subjects including independent living, community resources and leisure. They also participate in events on campus and interact with Union volunteers.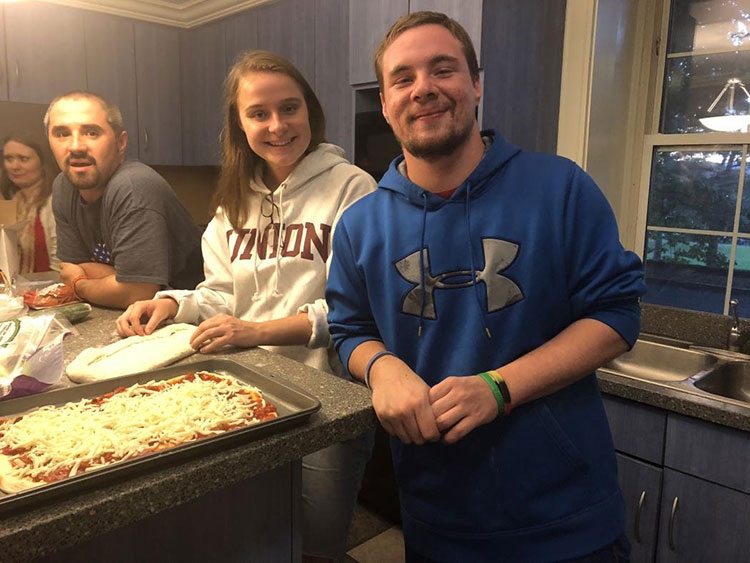 The ARC also collaborates with the College for its Good Eats program. Funded in part by Union's Minerva House system, student volunteers serve as culinary coaches by helping participants learn how to plan and cook healthy meals.
The College also hires employees through the ARC's New Directions Employment Services. Participants receive on-site job coaching and training toward becoming independent at the work site.
In addition, students and faculty volunteer throughout the year at various ARC events or programs.
"As a valued member of the community for more than 65 years, Schenectady ARC has been fortunate to partner with many great people and organizations as we fulfill our mission to serve individuals with intellectual and other developmental disabilities and their families," said Kirk Lewis, executive director of Schenectady ARC.
"The partnerships we are recognizing at this year's dinner, however, are extraordinary examples of the generous spirit in Schenectady and are living proof of the great things that can be accomplished through collaboration and cooperation. We are pleased to have this opportunity to thank these individuals and organizations and to recognize how their efforts have enriched the people we support and the greater Schenectady community."
Union's commitment to community service has been recognized nationally. Five times in the past six years, the College has been named to the President's Higher Education Community Service Honor Roll for exemplary service to the local community. The honor is the highest federal recognition a school can achieve for its commitment to volunteering, service learning, and civic engagement.