On a sweltering weekday afternoon, Sean Rigney '20 slogs into the heart of the Albany Pine Bush Preserve. A sprawling pine barrens of 3,200 acres and a globally rare ecosystem, the preserve is less than 10 miles from campus. It's also Rigney's second home this summer.
Steve Rice, professor of biology, awaits Rigney at a pre-determined spot. Both are carefully dressed to protect against the sun and ticks, which are prevalent in the preserve's vast vegetation.
As Rice grips its sides to keep it from toppling over, Rigney climbs an eight-foot ladder to get a better view of the landscape. Clutching a terrestrial laser scanner on loan from Union's Makerspace, Rigney begins collecting 3D images of the area's shrub structure.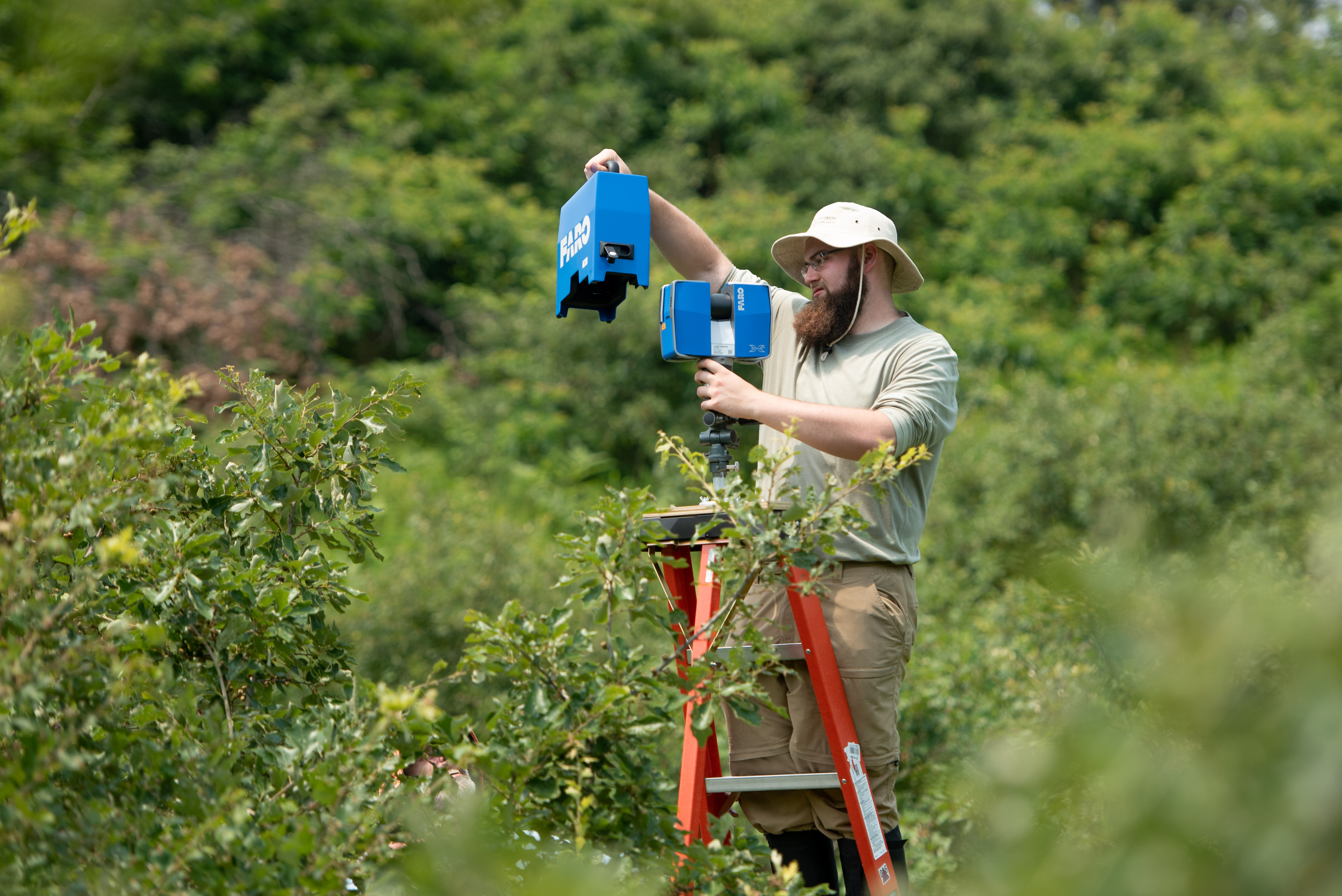 His goal? To understand the relationship between the shrub structure and the activity of the half-dozen or so songbirds that live in the habitat, including Eastern bluebirds, kingbirds and towhees, along with field sparrows, brown thrashers and prairie warblers. The results will provide an understanding of the cues birds use when settling within the landscape and help managers predict how conservation management practices alter songbird communities.
Rigney is among more than 130 students across a multitude of disciplines engaged in a summer research project. About half of the student group is funded internally with a faculty member through the Union College Summer Research Fellowships and the Summer Scholars Program. Others are supported by individual grants to faculty members or departments, or foundation support.
The projects include Marina Angelopoulos '21's examination of contemporary art in China, Theo Seidel '21's development of hardware for tensegrity robotics and Elizabeth Anderson '20's analysis of the Electoral College.
And for the third straight summer, a handful of biomedical engineering majors are participating in a clinical immersion program. In partnership with Albany Medical College, students are rotating through a number of clinical areas to explore firsthand the biomedical challenges facing health care providers and to develop possible solutions.
Union has long been committed to undergraduate research. Since 1986, it has fostered close working relationships between thousands of students and faculty in the summer.
"Summer research at Union is one of the most transformative experiences we offer, because it gives students a chance to see what research is like in a way that just isn't possible during the academic term," said Chad Orzel, the R. Gordon Gould Associate Professor of Physics and director of Undergraduate Research.
"Students get to spend four, six or eight weeks immersed in a single research project of their choice, working closely with a faculty mentor. That kind of experience can change the course of a career, opening students' eyes to a whole range of new possibilities. In reading about the careers of prominent researchers and academics, I'm always struck by how many of them started out with undergraduate research projects."
For Rigney, a biology major from Branford, Conn., the Pine Bush research is an extension of a joint project with Alyssa Silbey '20. Several times a week, he ventures out to the preserve for a few hours at a time.
"I enjoy working with Professor Rice," said Rigney. "I've taken some of his classes, and it's nice to be able to build up that relationship over the summer."
Rice joined Union in 1998. He has been bringing students to the Albany Pine Bush for research almost as long. Other professors also use the preserve as a learning laboratory for summer research students.
"This is a great resource for Union," said Rice. "They have world-class scientists, conservationists and stewardship professionals. Students like Sean get to interact with them, toss around ideas and receive feedback. It's an excellent place to conduct research."
A poster session highlighting many of the summer research projects will be held Friday, August 2, from 12:15 to 1:30 p.m. in the MacLean Family Atrium in Wold Center.
For a list of summer research students and their projects, visit here.
Learn more about undergraduate research at Union.