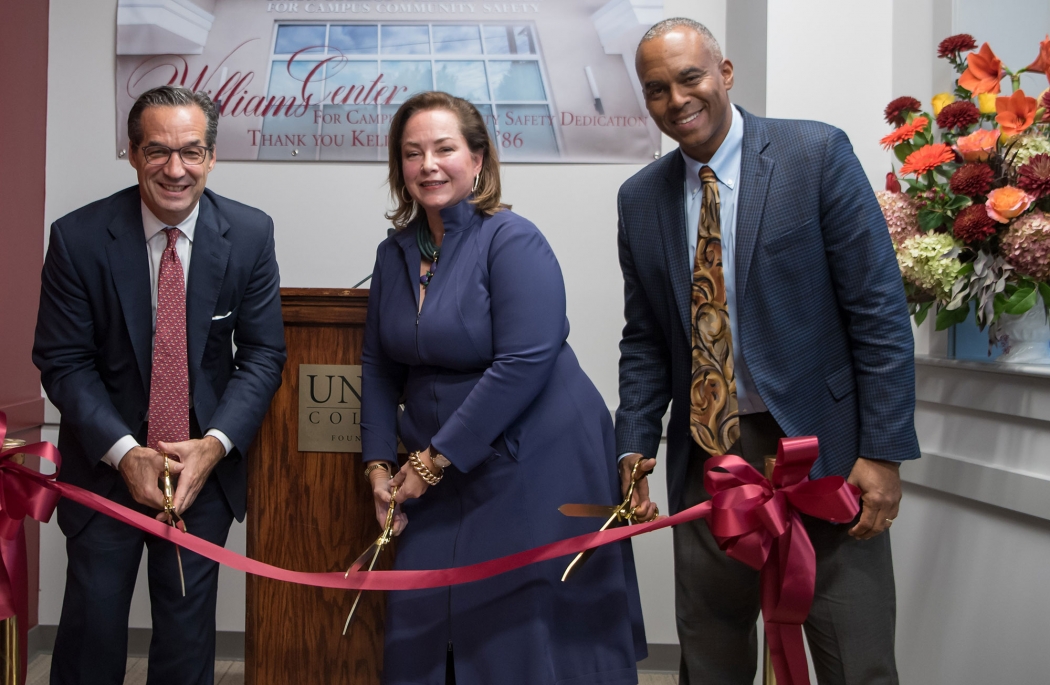 When Kelly Williams '86 decided to support the College's plan for a new home for its Campus Safety Department, she had one request.
"I'm not interested in funding a police station," said Williams, founder of a private equity firm. "Safety isn't about building walls. It is about connectedness. It is about being vigilant about other people's dignity. Safety is showing respect for other people."
Williams shared her vision Thursday at the dedication of the Williams Center for Campus Community Safety. A member of Union's Board of Trustees since 2008, Williams and her husband, Andrew Forsyth, provided the lead gift for the $1.6 million project.
Housed in a former bank building at Nott Street and Van Vranken Avenue, the center is directly across from one of the campus's main entrances.
Union paid $135,000 for the 4,200-square-foot building, which has been vacant since 2013. The College received a $25,000 grant toward the purchase from the Schenectady County Metroplex Development Authority.
The Wright Family Foundation, a longtime proponent of Union whose mission is to "provide funding in support of neighborhood revitalization, jobs and career support, education and social needs," also provided support.
Following an extensive renovation, the College moved most operations of its Campus Safety Department to the site, including its 26-member security force, in time for the fall term.
A number of services provided by the department, including vehicle registration; transportation and ID card processing; and 24-hour accessibility and video monitoring, will remain at the current location in College Park Hall.
The Williams Center is an inviting space, with offices, a command center, conference rooms and an interview room designed to make people feel comfortable when discussing sensitive issues.
Its location also makes it accessible to the broader community, which was one of Williams's wishes. Neighbors have already stopped in since the center opened last month.
"An amazing thing has happened to our department," said Christopher Hayen, director of Campus Safety. He expressed his appreciation to both the past and current administration for the much-needed space.
"We are all looking forward to working with the neighborhood," he said.
Metroplex officials viewed the project as critical to their efforts to redevelop lower Nott Street and the surrounding area. Recent projects include the $3 million renovation of the county's former Department of Social Services building into apartments and Mohawk Harbor, a $150 million residential, office and retail development on the Mohawk River. The Golub Corporation headquarters and College Park Hall are nearby.
"This corner needs to look better," President David R. Harris said of the College's decision to purchase the 60-year-old property in the city's Northside neighborhood. "And now, not only do we have a space that works for our campus, but we have a space that creates a beautiful entrance to our campus."
Williams has several family members with a background in law enforcement, including her father, Jim. The support of the Williams family foundation for the center honors them in part, she said. She also envisions the center hosting special programs and events aimed at educating campus and the broader community on critical issues.
"People will feel welcome here," she said. "Our hope is that this space will become a locus of healthy discussions that need to be had about all elements of safety. We want it to be a safe haven for people during a crisis. We want it to be a listening center. This should be a place where people feel comfortable sharing their points of view. I wanted this to be called a campus community safety center. It is about the broader community, of which Union is a part of, and it is about safety."