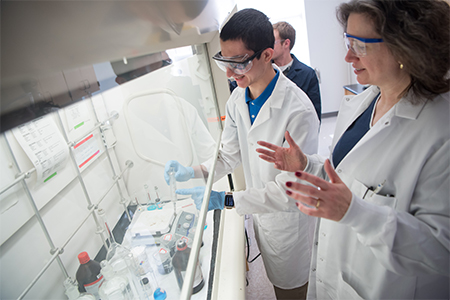 Union's Aerogel Lab gives students and faculty the opportunity to make significant contributions to the development of a cutting-edge material.
The lab was founded in 2001 by Ann Anderson, the Agnes S. MacDonald Professor of Mechanical Engineering, and Mary Carroll '86, the Dwane W. Crichton Professor of Chemistry.
Working closely with students, they invented, developed and patented a novel, rapid approach to making aerogels. Since 2009, they have collaborated with Brad Bruno, professor of mechanical engineering, on catalytic aerogels for automotive pollution mitigation.
What is an aerogel?
An aerogel is a porous nanostructure of silica molecules that is about 95 percent air. Described by Professor Anderson as "frozen smoke," aerogels are among the lightest solid materials known. They are formed by a highly cross-linked polymerization reaction and
a careful drying phase.
What are some applications for aerogels?
Because of their superior insulating properties, aerogels are used for everything from wetsuits to blankets to skylights. NASA has used them on the Stardust mission to collect comet dust samples and in numerous Mars missions, including the Rover. Union's Aerogel Team is currently researching ways to make aerogel-based window panes for sustainable buildings and to develop catalytic converters based on aerogels.
What's unique about doing aerogel research at Union?
Students are closely mentored but also enjoy autonomy and the chance to do work usually not conducted at the undergraduate level. They have co-authored dozens of scientific journal papers with faculty, and they have presented at regional, national and international conferences. Several Union graduates are co-inventors on the aerogel patents.
How do these research opportunities translate in the real world?
Union students receive substantial interdisciplinary research experience and exposure to entrepreneurial activities before entering graduate school or the STEM workforce. As a result, their aerogel research has paved the way for success in advanced studies, fellowships, and careers in engineering, science, renewable energy, teaching and medicine.