On a Friday night in late February, hundreds gathered in Memorial Fieldhouse witnessed a historic announcement from President David R. Harris: a $51 million gift from Class of 1980 graduates Rich and Mary Templeton. The gift, the largest ever for the College, will transform engineering and the liberal arts with the creation of the Templeton Institute for Engineering and Computer Science.
Just weeks later, President Harris announced that for the final days of the winter term and the beginning of the spring term, classes would shift to remote because of the surging COVID-19 pandemic.
In a year like no other, the transformational gift and the impact of the pandemic were two of the most popular articles on the College's news site in 2020. The gift announcement was easily the most read story, generating more than 1,200 page views above the second most clicked-on story, an April list of popular movies and TV shows that have a connection to Union.
A June piece announcing plans for the fall semester, "Union Where You Are," outlining a series of academic offerings, residential options and health measures, was the third most popular. A January story about record applications to the College was fourth, while the list of Prize Day winners in May rounded out the top five most read stories. The disruptions caused by COVID-19 shifted this year's ceremony online.
On Union's official social media accounts, the most popular post on Facebook was "Honoring U," a virtual celebration of the Class of 2020. On Twitter, a tweet featuring the "How it Started/How it's Going" trend received more than 200 likes and 27 retweets. On Instagram, a post about Dior, a new goldendoodle belonging to Fran'Cee Brown-McClure, vice president for Student Affairs and dean of students, received the most likes.
Union's award-winning news site garnered nearly 195,000 unique page views during the year, making it one of the College's most popular sites.
Stories that originated on the site are frequently featured in national, international and local media outlets.
In recent years, Union faculty, students and staff have been mentioned in the top media outlets in the country, including the New York Times, Washington Post, Wall Street Journal, U.S News and World Report, Chronicle of Higher Education and Inside Higher Ed.
Content on the site has been honored by the Council for the Advancement of Secondary Education (CASE).
The 10 most-viewed stories of 2020:
Social media:
Most popular Facebook post: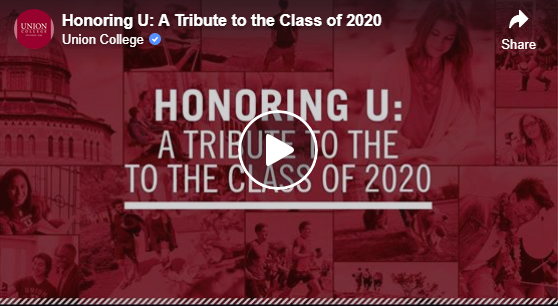 Most liked Instagram post: