When Daniella Massa '23 was in the final stages of her college search, a key factor that pointed her toward Union was a visit to the CRoCHET Lab.
Housed on the bottom floor of the Wold Center, the Collaborative Robotics and Computer-Human Empirical Testing lab is an interdisciplinary hotspot that features robots and unique interfaces.
It is also the ideal place for Massa, a computer science and psychology double major, to spend her summer weekdays working on her research project.
Under the guidance of Kristina Striegnitz and Nick Webb, associate professors of computer science, Massa is hoping to develop a fully functional social robot that is able to communicate and interact with humans.
Named VALERIE (Voice-Activated Laser Enabled Robot for Interactive Experiments), the robot is an ongoing project for the Computer Science Department. VALERIE can move, speak and display a variety of facial expressions on her main screen.
Over eight weeks, Massa will agglomerate the functions into a graphical user interface (GUI) and design a variety of task-driven interactions for VALERIE to perform, including asking a person for information or physical help, or to deliver information, such as being placed in Admissions and answering questions from prospective students and their families.
"Having a well-designed GUI allows us to ensure that VALERIE behaves the way we want her to during an interaction," said Massa, of the hamlet of Hartsdale in Greenburgh, N.Y.
Massa is among more than 120 students across a multitude of disciplines working on summer research projects. Most projects are funded through the College's undergraduate research program. Government or scientific society grants to faculty members, academic departments and foundation funding support the rest.
For nearly 40 summers, with the exception of the pandemic, Union has fostered close working relationships between thousands of students and faculty as part of its longstanding commitment to undergraduate research.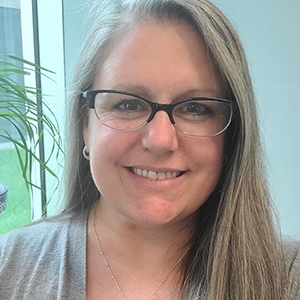 Summer research is a great opportunity for students to get a taste of a professional research environment and to also really delve into a project that they may be passionate about, or learn about a topic that is entirely new to them. Having several weeks to focus on a single project allows a level of immersion in the research that isn't practical or available during the academic term. It can be a great jumping off point for an independent study, or thesis project."
-Heather Watson, director of undergraduate research and associate professor of physics and astronomy
In nearly every corner of campus, one can find students pursuing a diverse mix of projects.
Luke Miranda '23, a biochemistry major from Fayetteville, N.Y., hopes to understand the self-cleavage sites and structure of metacaspase proteins from the fungus Schizophyllum commune. He is working with Kristin Fox, the Florence B. Sherwood Professor of Physical Sciences.
Julian Zapata-Hall '23, a mathematics major from Morelia, Mexico, is one of three students working in Schaffer Library on a project with Jennifer Grayburn, director of Digital Scholarship and Public Services. The students are part of the library's Summer Institute for Digital Exploration at Schaffer (Summer IDEaS), which aims to introduce students from across the disciplines to the digital humanities.
The students will explore the College's massive John Bigelow Collection through data visualization, including network analysis, mapping and text analysis. A member of the Class of 1835, Bigelow was a prominent author, lawyer, diplomat and distinguished man of letters in the 19th and early 20th centuries.
Gifted to the College nearly 60 years ago on behalf of the Bigelow family, the collection spans approximately 80 linear feet. It includes some 22,000 letters from prominent political, cultural and literary giants, including Theodore Roosevelt, Andrew Carnegie, Charles Dickens, Mark Twain and Frederick Law Olmsted, the landscape architect who co-designed Central Park.
Last year, the National Historical Publications and Records Commission of the National Archives awarded Union a grant to support the digitization of the collection.
"Having access to small fragments of people's lives is great, being able to give them a second life through research and divulgation is awesome," said Zapata-Hall. "We are currently learning about the computer techniques used to convert antique written material, such as letters, into useful data sources and how we can use this data to gain a further understanding about the lives of their authors or era in general."
The summer research program at Union includes weekly elevator pitches for students to share their projects with other students and faculty. There are also weekly seminars related to career development and campus resources that may be useful for research.
"I have really enjoyed my summer research experience so far," said Massa. Her research will form the basis of her senior thesis. "You get to work at your own pace, but you still have to meet certain deadlines. And seeing what other students are working on has been interesting."
A poster session highlighting many of the summer projects will held Friday, Aug. 5, in the Wold Atrium.
"Regardless of their ultimate career plans or major, the experience gained from summer research will help students learn more about what they love doing, and hone their problem solving and communication skills," said Watson. "Summer research also gives students a chance to gain independence in their work, and discover their own strengths."
Visit the website to learn more about undergraduate research at Union.
Click to see all summer 2022 research projects

| | | | | |
| --- | --- | --- | --- | --- |
| Student | Class Year | Major | Title of Project | Faculty Advisor |
| Jacob Abbott | 2023 | Environmental Science | Developing High Resolution Models of Groundwater Metal Exposures in Northern Plains Indigenous American Tribal land | Mason Stahl |
| Maya Acampora | 2024 | Biomedical Engineering | Flexor Hallucis Longus Muscle Activation in Dancers versus Non-Dancers | Amy Loya |
| Eyosyas Achamyeleh | 2024 | Electrical Engineering | Soccer 3D- Trajectory Tracking System | Traver Cherrice |
| Justin Aguirre | 2024 | Political Science | Google in China: Android, Massive Modularity and the New Geopolitics of Technology | Mark Dallas |
| Nang Quoc An | 2023 | Computer Science + Math | HTCondor Scaling and Parallelization | Matthew Anderson |
| Tingwei Ao | 2023 | Mechanical Engineering | Aerogel-Based Insulated Windows | Ann Anderson |
| Emily Armlin | 2023 | Biochemistry | hFSH Signaling of Caveolin Binding Motif Mutants | Brian Cohen |
| Baibhav Barwal | 2025 | Computer Science | Implementing Scalable Strong Uniquely Solvable Puzzle Search Algorithms | Matthew Anderson |
| Samhita Bheemireddy | 2023 | Chemistry & Anthropology ID Major | Assessing Attitudes of BIPOC Youth and Community Stakeholders Towards the Police in Schenectady, New York | Robert Samet |
| Andrew Boyd | 2024 | Biomedical Engineering | The Effects of The Life Handle | Jennifer Currey |
| Melanie Boyle | 2023 | Physics and Political science | Different Salt Water Compositions Freezing and High Pressures on Europa | Heather Watson |
| Aidan Briney | 2023 | History | How Similarities Between Colonial and National Governance Affect Life in Nairobi Today | Brian Peterson |
| James Brouder | 2023 | Computer Engineering | Using Dual Nozzle 3D Printers to Fabricate non-planar Circuit Boards | Cole Belmont |
| Maia Carty | 2024 | Mechanical Engineering | Turbulent Flow over Local Heterogeneities in Model River Vegetation Canopies | Ali Hamed |
| Nuo Chen | 2022 | Psychology | The Effect of Repeat Checking on Memory Vividness, Detail, and Confidence; The Effect of Known Language(s) on Episodic Memory | Daniel Burns |
| Alice Cheng | 2023 | Biology-Psychology | Managing anxiety, agitation, and restlessness among home hospice patients at the very end of life | Carol Weisse |
| Young Jun Chun | 2025 | Computer Science | Reusing general model of movement of 3D robots to make experimental trials more efficient | John Rieffel |
| Kennedy Clark | 2024 | Biomedical Engineering | Sports Science and Analytics Sparking STEM Interest | Amy Loya |
| Avery Clavel | 2023 | Environmental Science | El Niño Frequencies Determined By Isotopic Values from Modern and Aged Stalagmites and Impacts on South American Summer Monsoon | Donald Rodbell |
| Elizabeth-Veronica (Eva) Crowley | 2024 | Physics | Lightcurve Analysis of a Koronis Fragment with the Union College Observatory | Francis Wilkin |
| Ryan Cudworth | 2025 | Political Science on the Pre-Law Track | A More Perfect Union: A Statistical Analysis on How Best to Increase Voter Turnout in the United States | Clifford Brown |
| Maeve Daby | 2023 | Sociology and Spanish and Hispanic Studies | Responsible Recreation: Established by Education | David Cotter |
| John Daly | 2024 | Computer Science | 2D Voxel-Based Soft Robot Simulation | John Rieffel |
| Jason D'Amico | 2024 | Computer Science/Sociology Double-Major | Understanding Older Adults' Use of Fitness Tracking Applications | Poorna Talkad Sukumar |
| Siddhant Deka | 2024 | Electrical Engineering | Investigating Error Tolerance in the Cohn-Umans Algorithm | Matthew Anderson |
| Emma Drake | 2023 | Environmental Science | Risk model for Woolly Hemlock Adelgid on Conservation lands in Otsego County | Steven Rice |
| Dang Duong | 2024 | Computer Science | Improving 3D SLAM Reconstruction by Applying Human-Aid Suggestions | Matthew Anderson |
| Hung Duong | 2024 | Computer Science | A Research on Unbounded Real-Time Data Streaming And Big Data Processing for Machine Learning and Deep Learning Models | Roger Hoerl |
| Ella Harper-Schiehl | 2023 | Neuroscience | Exploring the Implication of Cortisol Receptor Sensitivity on Incidence of Depression | Brian Cohen |
| Spencer Hatfield | 2024 | Mechanical Engineering | The Permeability of Graphene Oxide Membranes in Use with Fuel Dehydration | Yijing Stehle |
| Sebastian Kania | 2024 | History | The Comfort Women in American Memory- American Public Memorials to Japanese Sexual Slaves during the Second World War | Joyce Madancy |
| Abhay Kashyap | 2025 | Computer Science | 3-DIMENSIONAL OBJECT DETECTION AND LOCATION TRACKER IN REAL-WORLD | Aaron Cass |
| Laura Kaso | 2024 | Undecided | Unofficial and official economy, corruption and economic development; The modern Albanian style of Economy | Bradley Lewis |
| Josh Kent | 2023 | Biomedical Engineering | Cryopreservation of Human Mesenchymal Stromal Cells to Preserve Immunomodulatory Factor Secretion for Off-The-Shelf Treatment | Sudhir Khetan |
| Parsa Keyvani | 2023 | Computer Science and Economics | An Econometric Analysis of the Major Choice of First-Generation College Students and International Students in the United States | Stephen Schmidt |
| Avanti Khare | 2023 | Neuroscience | Downstream effects of semantic context and accentedness on memory | Chad Rogers |
| Luke Kilby | 2023 | Mechanical Engineering | Graphene Oxide supercapacitors | Stehle Yijing |
| Hannah Lane | 2023 | Biology with Interdepartmental Major in Philosophy | Spare Receptor Hypothesis and FSHR | Brian Cohen |
| Rebecca LaVenture | 2023 | Biomedical Engineering | Cytotoxicity of Octyl Dimethyl Para-Aminobenzoic Acid (OD-PABA) on Normal Human Dermal Fibroblasts (NHDFs) and Effect on Gene Expression | Sudhir Khetan |
| Vu Le | 2024 | Computer Science | Implementing Scalable Strong Uniquely Solvable Puzzles Search Algorithms | Matthew Anderson |
| Megan Lee | 2023 | Biology | Tamias striatus exploitation of anthropogenic foods across an urban gradient | Kathleen LoGiudice |
| Yeonjae Lee | 2023 | Chemistry | Synthesis of potential inhibitors for S. commune Metacaspase | Joanne Kehlbeck |
| Shizhe Li | 2023 | Economics-Mathematics | An Algebraic-Topological Approach to Intrinsically Knotted Graphs | Brenda Johnson |
| Olivia Logan | 2024 | Physics | Theoretical and Computational Physics | Nelia Mann |
| Daniella Massa | 2023 | Computer Science & Psychology | Rendering Facial Expression Within a Social Robot to Enhance Communication and Human Interaction | Kristina Striegnitz |
| Bailey McAtee | 2024 | Mechanical Engineering | 3D flow analysis of the turbulent boundary layer over 2D roughness with localized blowing | Ali Hamed |
| Emily McCann | 2023 | Biology | Genetic Variations in Endocannabinoid System Genes as a Predictor for the Increased Risk of Developing Anorexia Nervosa | Brian Cohen |
| Vasileios Megas | 2024 | Electrical Engineering | Low-Cost Volumetric 3D Ultrasound for Cancer Imaging | Jue Wang |
| Luke Miranda | 2023 | Biochemistry | Characterization of ScMCA-Ia and Related Mutants via Autoproteolysis | Kristin Fox |
| Abigail Mitty | 2023 | Psychology and Spanish & Hispanic Studies Interdepartmental Major | Tracking Mental Health Challenges of Hospice Patients in a Residential Home for the Dying | Carol Weisse |
| Muhammad Talha Mushtaq | 2023 | Computer Science and Economics | Modularity, Ecosystems and Standard-setting: The Business and Geopolitical Implications of Google's Android OS. | Mark Dallas |
| Saliha Nazir | 2023 | Environmental Science and Visual Arts double major | Stable O and C isotopes in Peruvian stalagmites as paleoclimate archives in the Southern Hemisphere | David Gillikin |
| Hung Nguyen | 2024 | Computer Science | Using Machine Learning and Deep Learning Models to Estimate Stocks' Prices in Real Time | Roger Hoerl |
| Minh Nguyen | 2024 | Mechanical Engineering | Conductivity and stability improvement of electrode on a hydration sensor | Yijing Stehle |
| Andrew Nordell | 2023 | Mechanical Engineer | Effect of an upstream cylinder on flow characteristics around a downstream cylinder | Ali Hamed Ali Hamed |
| Emily Olenik | 2023 | Psychology and Sociology | Pediatric parenting stress, family stability, and physical and emotional functioning in children with chronic illnesses | Jennifer Malatras |
| Natalie Preveza | 2023 | Neuroscience | Using Biophysical Assays to Investigate Conformational Switch that Occurs in Precursor MicroRNAs | Colleen Connelly |
| Shams Qureshi | 2025 | Biomedical Engineering | The effect of the Menstrual Cycle on the biomechanics of the Achilles Tendon | Amy Loya |
| Jillian Ramey | 2023 | Psychology | Pediatric parenting stress, family stability and physical and emotional functioning in children with chronic illness | Jennifer Malatras |
| Maryam Ramjohn | 2023 | Environmental Science | Stalagmites as paleoclimate archives- analyzing Peruvian cave stalagmite isotope levels to illustrate paleoclimate up to 500,000 years ago. | Donald Rodbell |
| Travis Rathwell | 2023 | Neuroscience and Physics | Coarse-grained models for DNA-protein complexes | Cecilia Bores-Quijano |
| Paulo Reyes | 2023 | Mechanical Engineering | Effects of Hydrophobic Aerogel Film on Drag | Ann Anderson |
| Bianca Ring | 2024 | physics | Freezing Points of Salt Water Solutions With Relevance To Europa | Heather Watson |
| Ethan Romero | 2024 | Biochemistry | Development of a Stereo- and Enantioselective (Ipc)2BH-mediated Mukaiyama Aldol Reaction | Lee Pedzisa |
| Aavasna Rupakheti | 2025 | Computer Science | Investigating Error Tolerance in the Cohn-Umans Algorithm | Matthew Anderson |
| Dante Sasso | 2023 | Psychology | Investigating the Encoding Benefits of Retrieval | Zachary Buchin |
| Arun Schroder | 2025 | Mechanical Engineering | Design of Molds for Aerogel Manufacturing | Ann Anderson |
| Natalie Shearing | 2023 | Mechanical Engineering and Spanish double | Liebau Pumping in Embryonic Hearts | Bradford Bruno |
| Daniel Singer | 2025 | Geology | Ultraviolet Filter Chemical Sorption in Sediments | Laura MacManus-Spencer |
| Ansh Singhal | 2024 | Computer Engineering | Soccer Ball 3D-Trajectory Tracking System | Cherrice Traver |
| Alicia Slavit | 2023 | Biomedical Engineering | microCT imaging analysis of Drosophila melanogaster to study the effects of muscle aging | Amy Loya |
| Hailey Stoltenberg | 2023 | Environmental Science | Tropical paleoclimate reconstruction from a Peruvian speleothem | David Gillikin |
| Gwyneth Sultan | 2023 | Biology | Use of Peptides to Investigate the Interaction Between hFSHR and Caveolin | Brian Cohen |
| Christine Swanson | 2023 | Environmental Science | Determining Aquifer Hydraulic Properties from Water Level Fluctuations in Response to Barometric Pressure Changes | Mason Stahl |
| Chau Tran Minh | 2025 | Biomedical Engineering | The effect of metal ions on the surface tension of 2D materials at the air-water interface. | Ellen Robertson |
| Tuan Trinh | 2023 | Computer Science | Multiple subject detection with moving cameras. | Aaron Cass |
| Dana Truini | 2023 | Biology and Spanish | Using a Motion Capture System to analyze jump performance in Schistocerca americana | Scott Kirkton |
| Veronica Turek | 2024 | Biology | The Improved Purification Process of Metacaspase Proteins | Kristin Fox |
| Nicole Turpin | 2024 | Biomedical Engineering | Ultrasound Neuromodulation in an Earthworm | Takashi Buma |
| Marileisi Vizcaino Perez | 2023 | Psychology | "I Don't Like Her Anymore": Masculine Honor Beliefs and the Effects of Romantic Rejection on Perceived Mate Value | Conor O'Dea |
| Diep Vu | 2024 | ID Computer Science and Economics | Financial Narrative Engines using Natural Language Generation | Kristina Striegnitz |
| Lani Waggoner | 2024 | Biochemistry | Comfort Medications Used in Home Hospice Patients at the Very End of Life | Carol Weisse |
| Logan Walker | 2023 | Computer Science | Further Exploration of the Behaviors of Silicone Robots | John Rieffel |
| Luodi Wang | 2025 | Computer Science | Realtime Human-Aided Correction for 3D SLAM Algorithm in Robots | Matthew Anderson |
| Caitlin Williams | 2023 | Biology | Testing UV and Polarized Light Perception in Bearded Dragons | Leo Fleishman |
| Nuo Xu | 2023 | Managerial Economics | The century-long diffusion of the automobile in the U.S. states from 1996 to 2020 | Dong Cheng |
| Conor Fryer | 2025 | Mechanical Engineering | Using sustainable biocomposites as an alternative to synthetic fibers in sporting goods | Ronald Bucinell |
| Anton Tatus | 2024 | Managerial Economics | Ukrainian Resistance: Formal, Informal, and Interconnected | Jeffrey Witsoe |