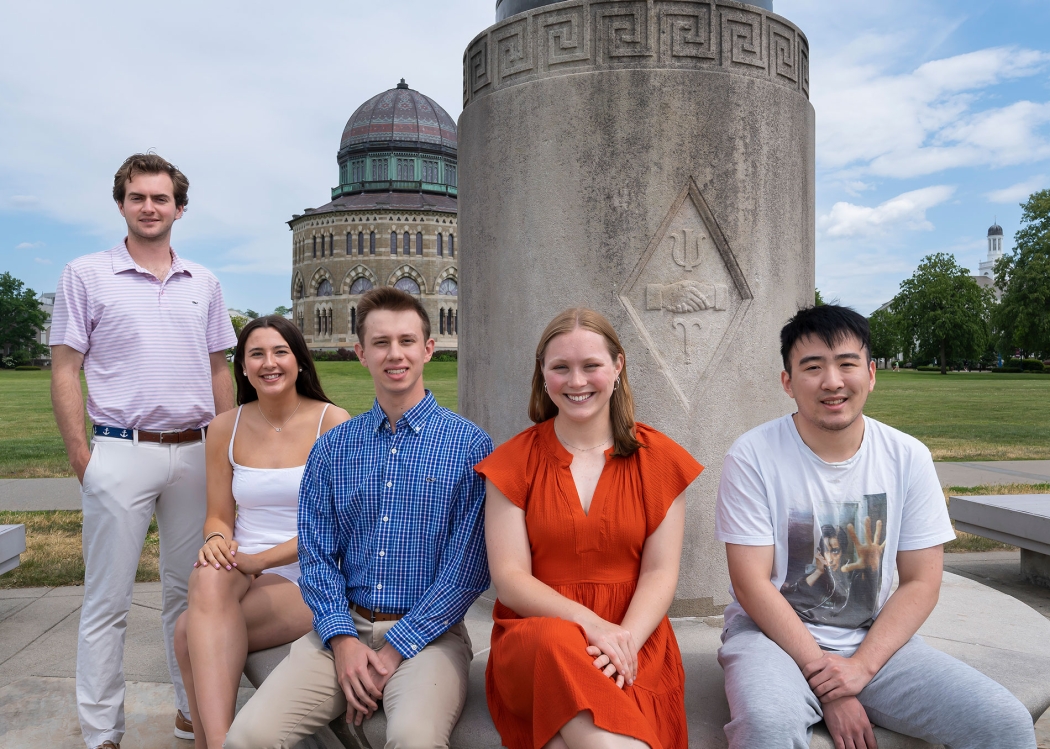 Five of the six valedictorians of the Class of 2023 (from left): Aidan O'Brien, Olivia Pachla, Matthew Beazoglou, Karson Saunders and Shizhe Li. Not pictured: Jing Chen
A record six students of the Class of 2023 earned the distinction of valedictorian. All six graduate with a perfect 4.0 grade point average.
Matthew Beazoglou
Hometown: West Hartford, Conn.
Major: Biology
Activities: Varsity baseball; Honor Council; Student Athletic Advisory Committee; Ambassadors Program; Chi Psi; Phi Beta Kappa; and Omicron Delta Kappa
Favorite class: Endocrinology with Professor Brian Cohen. He challenged us to learn the nuances associated with complex physiological processes at the molecular and clinical level.
What I will miss the most: The close connections I have made with my peers and faculty
Advice for incoming students: Do not be afraid to reach out to professors or peers. It is helpful to create a large network of relationships that will grow during your four years of college.
Life after Union: I will be pursuing clinical research at Yale University School of Medicine.
Jing Chen
Hometown: New York City
Major: Computer science
Activities: President of Association for Computing Machinery for Women; editor-in-chief of Concordiensis; Scholars Program; and Phi Beta Kappa
Favorite class: Scientific Computing taught by Professor Matthew Anderson, the course that introduced me to the wonders of CS
What I will miss most: The tight-knit relationships I have built with friends who are so supportive and inspiring, and the professors whose doors are always open to help or chat
Advice for incoming students: Try something you could never imagine yourself doing. It might be just the activity you'll brag about when you reflect on your college experience.
Life after Union: Software engineering at IBM Research
Shizhe Li
Hometown: Beijing, China
Majors: Mathematics and Economics
Minor: Statistics
Activities: Calculus tutor; math coach; orchestra; and Phi Beta Kappa
Favorite class: Abstract Algebra with Professor Leila Khatami
What I will miss most: All the professors who supported me along the way
Advice for incoming students: Take more math courses, because solid quantitative skills really helped me find success in different areas of study.
Life after Union: I will pursue a master's degree in statistics at Stanford University.
Aidan O'Brien
Hometown: Rensselaer, N.Y.
Major: Interdepartmental chemistry and psychology
Activities: Men's tennis (captain); Phi Beta Kappa; Chi Psi; Biology Club (president); and Leadership in Medicine Student Advisory Council
Favorite classes: Medicinal Chemistry with Professor Kehlbeck and Evolutionary Medicine with Professor Yukilevich
What I will miss most: The friends that I have become so close with these past four years. Also, the incredible faculty who provided unwavering support through my studies and life.
Advice for incoming students: Find ways to distract yourself from the burden of school. When things get stressful, do what makes you happy.
Life after Union: I will pursue my M.D. at Albany Medical College in the fall.
Olivia Pachla
Hometown: Marshfield, Mass.
Major: Neuroscience
Activities: Women's basketball; Liaison Committee on Study Abroad; Delta Phi Epsilon; Strong Girls United mentor; and Nu Rho Psi Neuroscience Honors Society
Favorite class: Cellular Neurosciences with Professor Chu-LaGraff. It was unlike any class I'd taken before. It improved my speaking, analytical and writing skills, and challenged me in new yet practical ways.
What I will miss most: The girls I lived with this year in Potter House, especially my close friends
Advice for incoming students: Get to know your professors, and involve yourself in learning opportunities outside of your classes; this will enrich your academic experience exponentially
Life after Union: I'm looking forward to my summer at home near the ocean and spending meaningful time with my favorite people. I'll be exploring ways to get involved in clinical research for the next year or two, and eventually pursue my Ph.D. in clinical neuropsychology.
Karson Saunders
Hometown: Rexford, N.Y.
Majors: English and sociology
Activities: Varsity softball; Writing Center tutor; Peer Mentor (Accommodative Services); Honor Council (vice chair); Delta Phi Epsilon; Phi Beta Kappa; Alpha Kappa Delta; Sigma Tau Delta; Order of Omega; and Omicron Delta Kappa
Favorite classes: It is impossible to choose just one! Of all the incredible courses I took with Professor Patterson, Aging and Society was especially a favorite. Schools and Societies with Professor Cotter was another from Sociology, and from English, The Lyric Essay with Professor McAuliffe was one of the most unique and meaningful classes I have ever had the pleasure of taking.
What I will miss most: The people. I have been so fortunate to meet so many amazing individuals. I will forever treasure the connections with fellow students, professors and faculty that my time at Union has gifted me with.
Advice for incoming students: These four years will fly by. Pursue what you are passionate about and what fuels you! Union is a wonderful place to make your own and discover so much about yourself and your interests. When you do this, you will find not only success, but your people as well. Cheer them on in their pursuits, and they will do the very same for you.
Life after Union: I will pursue my master's in public health at the School of Public Health at the University at Albany, with a concentration in health management and policy.