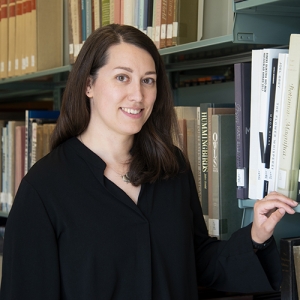 Amy Hathaway
Job Title
Head of Access Services Librarian
Circulation and Reserves
119 Schaffer Library
Research interests
Amy is the Head of Access Services Librarian and oversees Circulation, Interlibrary Loan, Stacks Management, and Reserves/Digitization. She has worked in Access Services since 2010 and in academic libraries since 2017. Amy feels passionately about the library's role in academic achievement and student success. Her professional interests include leadership/management and the intersection of libraries and the fine arts.
Prior to Union College, Amy held Access Services positions at Hudson Valley Community College, Albany College of Pharmacy & Health Sciences, and the University at Albany.
Academic credentials
MSLIS, Syracuse University; BA, University at Albany; AAS, Monroe Community College
Schaffer Library
Schaffer Library
807 Union St
Schenectady, NY 12308

View in Google Maps
Trouble finding something?