Union College is the ideal place to embrace the art of dance. Whether you are a beginner or an experienced dancer, you will thrive in a collaborative, close-knit learning environment with professional dance faculty who emphasize discipline, experimentation and creativity. Students may take individual dance classes or pursue a minor.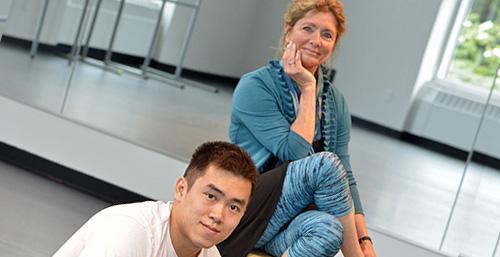 The dance program offers various levels of technique classes in ballet, jazz, modern, hip hop, cross training and more. Academic choices range from courses in Dance History, Staging Explorations and Dance for the Camera to Choreography and Performance.In addition, students can pursue Dance Projects or an independent study that culminates in a research presentation or performance.
Other learning opportunities
At Union, you will work with guest artists who bring a range of technique styles and ideologies to campus. Workshops in ballet and modern dance have been given by the legendary Edward Villella and Jacques d'Amboise. Members of Paul Taylor 2, Limon Dance Company, RUBBERBANDance, 10 Hairy Legs and Bridgman/Packer Dance are a few of the other artists who have taught here.
Each fall, the Stephanie C. Davis Dance Residency brings in world-class companies that offer master classes, lecture-demonstrations and performances. Troupes have included Les Ballets Jazz de Montréal, RUBBERBANDance, Rioult, Monica Bill Barnes Company, David Dorfman Dance, Camille A. Brown Dancers, Kun-Yang Lin Dancers, Spellbound Contemporary Ballet, Koresh Dance Company, Collage Dance Collective, Ballet Hispánico and Philadanco!
The annual Edward Villella Dance Fellowship has enabled students to study with companies and professional groups all over the world, from the Mark Morris Dance Center in Brooklyn to the Kyoto Art Center in Japan.
One of the highlights of the academic year is the Winter Dance Concert, a showcase of original choreography based on conceptual themes and directed by Dance Program Director Miryam Moutillet. This show is cast through an audition and runs from Wednesday through Saturday, with two shows on Saturday, in late February and early March.
Each spring, the Steinmetz Dance Performance at the Nott Memorial features choreography by faculty and dance minors as well as student clubs such as Dance and Step teams, Hip Hop, K-pop, LatinX and Bhangra clubs. This vibrant festival of dance brings together the campus community as it celebrates diversity at Union College.
Off campus, our mini-term abroad on the Indonesian island of Bali gives you a chance to learn gamelan (percussion instruments) and dance with performing arts masters; visit cultural and arts venues; and attend rituals and professional performances.