Union College is the ideal place to discover the power and beauty of movement. Whether you are a beginner or more experienced, you will thrive in a collaborative, close-knit learning environment with experienced faculty who emphasize discipline, experimentation and creativity. All students can take individual dance classes or pursue a minor.
The dance program offers multilevel technique classes in ballet, jazz, modern, Broadway, hip hop, tap, lyrical and more, as well as courses in choreography, dance history and performance. Courses range from American Musical Theater and Dance to choreographic practicums to Dance Project, an independent study that culminates in a research presentation or performance.
Special learning opportunities
As a Union College dancer, you'll come to appreciate the richness of dance traditions from different cultures. You'll work with guest artists who bring a range of styles and forms of expression to campus. Workshops in classical and modern dance have been taught by the legendary Edward Villella and Jacques d'Amboise and members of Paul Taylor II.
Each fall, the Stephanie C. Davis Dance Residency brings in world-class companies that offer master classes, lecture-demonstrations and performances. Troupes have included David Dorfman Dance, Les Ballets Jazz de Montréal, Monica Bill Barnes & Company, Rioult, RUBBERBANDance and Camille A. Brown & Dancers. The Edward Villella Dance Fellowship has enabled students to study with companies and professional groups all over the world, from the Mark Morris Dance Center in Brooklyn to the Kyoto Art Center in Japan.
One of the highlights of the academic year is the Winter Dance Concert, a showcase of original choreography based on conceptual themes such as life in Paris from 1880 to 1920, South American culture and 21st century lifestyles. Each spring, the Steinmetz Dance Performance  at the Nott Memorial features dancing by students and faculty. In addition, throughout the year students with a love of dance take part in the Ballroom and Hip Hop dance clubs, Bhangra, U Break  (break dancing) and Union Dance Team.
Off campus, our mini-term abroad on the Indonesian island of Bali gives you a chance to learn gamelan (percussion instruments) and dance with performing arts masters; visit cultural and arts venues; and attend professional performances.
Dance for the Camera
The process of making dances for the camera, uniting the various aesthetics of movement and the practical elements of recording visual material. Methods will focus on conceptualized movement, phrase development, compositional tools and framing, as well as design production.
American Musical Theatre and Dance
An introduction to the American musical from Vaudeville to today's contemporary Broadway shows. Through lectures, video viewing and workshops, students learn the historical background that focuses on the work of lyricists, composers, dancers, signers, choreographers, and directors and producers.
Choreography
The creation of a dance piece in collaboration with selected dancers, designers, musicians or other artists. Students will act as artistic directors, overseeing their creation and being in charge of their collaborators. The piece will be presented at the Winter Dance Concert series or Steinmetz Symposium.
Henle Dance Pavillion:
Spacious and light-filled, this 7,000-square-foot facility overlooks Jackson's Garden. The dance studio and lobby/rehearsal space have 20-foot ceilings that safely permit lifts and aerials.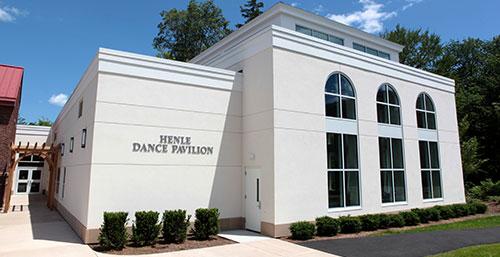 A leap into learning - and risk-taking:
Life at Union kicked into high gear for
David Thai '17
when he discovered he could bring his love for hip-hop and break dancing to the College's dynamic dance program.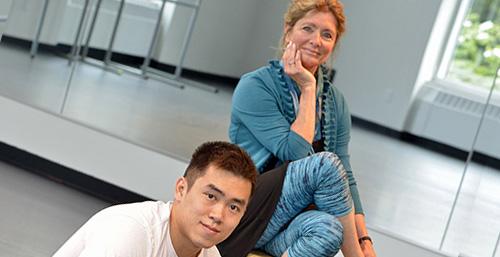 Create, perform, explore:
From courses to concerts to student clubs, the arts are infused throughout campus life.