Major, Minor
Degree: Bachelor of Arts
If you are looking for a small, rigorous, production-oriented theater program, explore the theater major at Union.
Here you'll encounter conservatory-trained and professionally active faculty members who teach a worldview of theater by presenting work from across genres and cultures. From the classroom to rehearsal hall to live productions, you'll enjoy opportunities on and off stage to participate in devised and scripted productions, both classical and contemporary.
The Theater and Dance Department is based in the Yulman Theater, a modern complex that features several performance and classroom spaces, and state-of-the-art scene and costume shops. A spacious new dance pavilion overlooking Jackson's Garden is connected to the theater.
Being a theater major at Union is like being a part of a family. Ours is a tight-knit community in which we explore all aspects of performing arts. The Theater and Dance Department offers classes in everything from stagecraft and acting to directing and scenic design."
-Chloe Savitch '22
Performing opportunities
It's easy to get involved in theater at Union, which sets us apart from other colleges, where competition for stage time or performances can be highly competitive. Amid a robust calendar of theater and dance offerings throughout the academic year, major campus productions have included Clifford Odets' Waiting for Lefty, J.M Barrie's Peter Pan, Brian Friel's Dancing at Lughnasa, Sara Ruhl's In the Next Room and Oscar Wilde's The Importance of Being Earnest. Many students are involved in Mountebanks, a drama club founded in 1912, considered the nation's oldest student-run theater group.
Internships
Students may pursue a specific area of interest through a one-term internship with a professional theater or dance company. While individual projects vary, they may encompass production, performance or management responsibilities. Many students get involved in shows at Proctors, a major historic theater located in downtown Schenectady near campus, through its internship partnership with the College.
Study abroad
An intensive three-week winter break mini-term in London features attendance at nine or more theatrical productions and other performances. Backstage tours and professional workshops explore the world of a production from the perspectives of audiences, performers, directors, choreographers and designers. The Union winter mini-term on the Indonesian island of Bali is an intensive study of the performing arts.
Yulman Theater
Delve into all aspects of theater, from acting to stage design, in the Yulman Theater. In this modern complex you'll find the Main Stage, which hosts major student productions; the Black Box Theater, a flexible space for staged readings and monologues; an actor's studio and a design studio; and a scenic shop that accommodates stagecraft and specialty construction classes.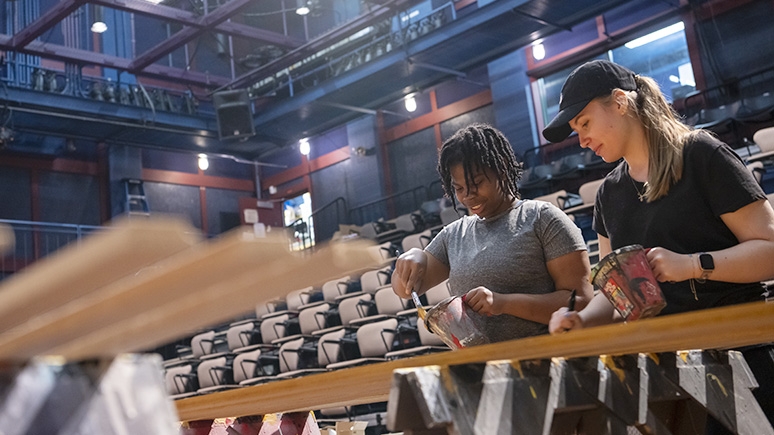 After Union
Actor and director of learning and education, Arizona Theatre Company
Actor, director, writer, producer, New York City
Analyst, Citi Private Bank Law Firm Group
Analyst, Goldman Sachs
Assistant director, Arizona Theatre Company
Casting agent, New York City
Director and writer, Hollywood
Director of communications and marketing, Jewish Arts
M.F.A. candidate in stage management, University of California, Irvine
Postdoctoral Fellow in psychology, Albany Medical Center
Stage manager, Saratoga Shakespeare Company