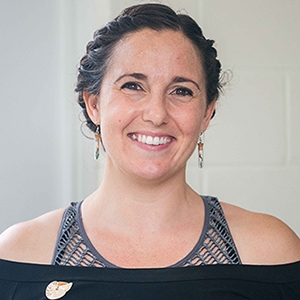 Kate Feller
Job Title
Assistant Professor of Biological Sciences
Areas of expertise
Neuroscience, invertebrate vision, visual ecology, neuroethology, neuromechanics
Research interests
My research focuses on how vision informs and influences animal behavior, physiology and evolution. I primarily work with mantis shrimp, a group of animals that boast some of the most complex eyes as well as one of the fastest animal movements. I use an integrative, comparative approach to tackle different levels of organization to understand the link(s) between vision and visually mediated behaviors in mantis shrimp and other predatory invertebrates.
Teaching interests
Courses: Heredity, Evolution, and Ecology (BIO 103), Neurobiology (BIO 242), Experimental Neurobiology (BIO 262)
Publications
McDonald, M.S., Feller, KD, Porter, ML (in press). Investigation of the ultrastructures and retinal arrangements of larval stomatopod eyes. Arthropod Structure and Development. doi: 10.1016/j.asd.2023.101251
Feller, K., & Porter, M. (2023). Photonic tinkering in the open ocean. Science, 379(6633), 643-644.
Smedley, G. D., McElroy, K. E., Feller, K. D., & Serb, J. M. (2022). Additive and epistatic effects influence spectral tuning in molluscan retinochrome opsin. Journal of Experimental Biology, 225(10), jeb242929.
West, S. L., Aronson, J. D., Popa, L. S., Feller, K. D., Carter, R. E., Chiesl, W. M., ... & Ebner, T. J. (2022). Wide-field calcium imaging of dynamic cortical networks during locomotion. Cerebral Cortex, 32(12), 2668-2687.
Additional media
Academic credentials
B.S., William Smith (and Hobart) College; Ph.D., University of Maryland Baltimore County