Project Title: Literature of the Manor House: Representations of English manor Life in Fiction & Film
Faculty Creator: Professor Andrew Burkett
Department:
English
In Collaboration With:
Cole Belmont, Director of the Makerspace
Tools Used
3D modeling; Sketchfab; Annotations.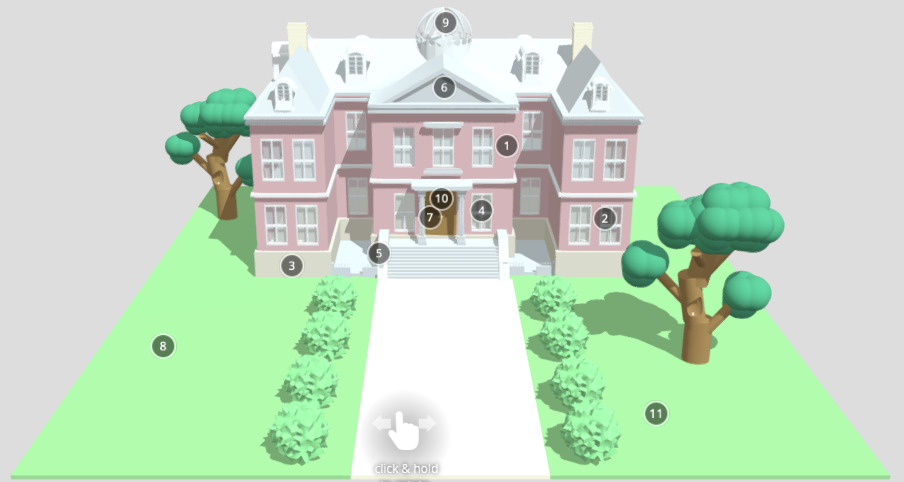 Project Description:
Students in this English course studied in depth the genre of the British country-house novel, a specific type of storytelling that requires readers imaginatively to explore, among myriad other topics, the architecture of England's manor homes and grounds through novelistic and literary devices. The goal of this Digital Humanities project was for students to merge their literary explorations of imaginative fictional structures from these novels with historical research into period-specific architectural and other three-dimensional design features related to the manor-house tradition. To do so, students were trained in Tinkercad (an online 3D-modeling program) as well as Sketchfab (a virtual showcasing and storyboarding platform) during a Digital Humanities lab sequence running in parallel with this course and co-taught by Andrew Burkett, Jennifer Grayburn, and Cole Belmont. For final course projects, students thus had the option to envision, design, create, and showcase their own digital investigations of English country estates.
Why Digital?
The digital component of this assignment allowed students to engage with a program (Tinkercad) and platform (Sketchfab) that served as a new media format and palette for articulating and expressing their visions of both fictional and historical elements of the architectural design features of English manor estates, which these students studied in depth via English novelistic traditions. The new media literacies in which these students were trained provided novel outlets for forms of student research and expression.