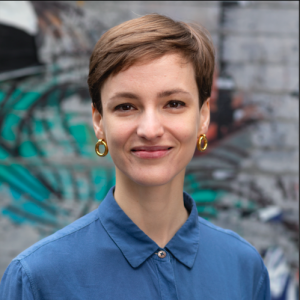 Sarina Kuersteiner
Job Title
Assistant Professor of History
Areas of expertise
Medieval History
Research interests
I am a historian of the medieval Mediterranean with a particular interest in the high and late medieval period (ca. 1000-ca. 1500 CE). My main interest is how economic and legal history intersects with the history of religion, art history, and literary history. Even though my past research has focused on the Mediterranean, medieval Italy in particular, current research includes the Red Sea, the Indian Ocean, and the Seas of Southeast Asia. In the context of these geographies, I am passionate about sharing with my students the question of how people made sense of their lives and how identities were expressed during the medieval period before nation-states began drawing new borders.
One book project, "Shapes of Risk in Medieval Commerce: Mediterranean, Red Sea, and Indian Ocean, ca. 1000-1400 CE," examines differences and similarities in conceptions of risk among Jewish, Christian, and Muslim merchants. For the medieval traders I study, trading meant sharing in a cross-cultural context. However, previous scholars have mostly highlighted medieval European businessmen as the ones who invented the financial tools that enabled Europe's economic success in the early modern and modern periods. My research shows instead that the history of European economic institutions is complicated, contingent, and to a large extent the product of cross-cultural encounters that took place in the global medieval world.
The other book project, "Minds and Margins: Notarial Culture in Bologna, 1250-1350," examines the self-images and experiences of notaries. Notaries are professional writers of contracts, court records, administrative documents, and other official acts. Contractual text is, however, by far not the only content we find in notarial registers. Notaries entered poems, prayers, images, sketches, and musical notes there too. My book project is the first interdisciplinary study of notaries bringing together marginalia and contractual texts to ask a seemingly simple question: How can we understand notaries if we take into consideration both marginalia and legal acts? Did they separate their personas from the offices they oversaw? Such separation between professional and personal spheres is presumed to be a prerequisite for the functioning of bureaucratic governments. "Minds and Margins" examines marginalia as windows into notaries' mindsets. Future research aims to include acts and registers from other cities and towns located in modern Italy, Spain, and France. To this end, I am currently planning the construction of an open-access database that allows researchers to upload marginalia (including metadata) that they have collected during archival research. The dragons, knights, werewolves, castles, religious objects, animals, poems, prayers, slurs, and other kinds of marginalia that can be found on the covers of numerous notarial registers certainly invite interest, expertise, and contributions of not just a few but many researchers from different disciplines.
Teaching interests
I teach courses on both the European and African Middle Ages. Additional courses include digital humanities, economic history, and the history of religion and capitalism. In my courses, students learn to use different methodological approaches to history consisting of formulating alternatives to mainstream historical developments; analyzing historical subjects in cross-cultural contexts; reflecting on the historiography of a topic; and questioning underlying theories of established historical narratives.
Beyond the ability to understand societal change, the study of medieval sources offers a unique exercise in abstract and critical thought. Because of the distance in time, medieval objects, texts, and images require us to constantly interrogate them about what it is that they communicate. Familiar terms such as "contract," "love," or "work" could and often would have radically different meanings in the Middle Ages. Examining how these seemingly natural terms change and, to begin with, what they mean in the context of the medieval period equips students with a kind of skill of critical thought that is useful in any discipline and intellectual endeavor.
Publications
Articles
2021 "Ad instar quatuor elementorum: Medical and Literary Knowledge in Salatiele's Ars notarie (1242 CE – 1243 CE)." In "Il Notaio nella società dell'Europa mediterranea (secc. XIV-XIX)," ed. Gemma T. Colesanti, Daniel Piñol, and Eleni Sakellariou, special issue, RiMe (Rivista dell'Istituto di Storia dell'Europa Mediterranea) 9 (2021): 71-108.
Book Chapters
2022 "Almost Sacred? How Bolognese Notaries Shaped the Meaning of Archives, 1289 CE – 1294 CE." In Collecting, Curating, Assembling: New Approaches to the Archive, edited by Emily Savage. London: Routledge. (forthcoming)
Reviews
2021 Review of Magdalena Weileder, Spätmittelalterliche Notarsurkunden: Prokuratorien, beglaubigte Abschriften und Delegatenurkunden aus bayerischen und österreichischen Beständen. Köln: Böhlau, 2019. In Sehepunkte 21 (2021), http://www.sehepunkte.de/2021/11/35681.html
Additional media
Exhibitions
Sarina is one of the co-founders of the public history project Medievalist Toolkit (website to be re-activated soon). The Medievalist Toolkit aims to bridge the gap between public-facing professionals and academics in countering the misuses of medieval symbols, narratives, and metaphors in public discourse and action. One part of our work consists of providing short glossary texts on terms and topics that are misused as vessels of extremist violence. For example, in 2019, a white supremacist shot hundreds of worshipers attending Friday prayers, killing 51, at a mosque in Christchurch, New Zealand. Among the multiple medieval references scrawled on his gun was "1189 Siege of Acre," a battle between Saladin's Ayyubid troops and the forces led by the kings of England and France. Our glossary entry on the term "Siege of Acre 1189" re-inserts the phrase in its proper medieval context while raising awareness of why its history is powerful and attractive to people like the murderer of Christchurch who imagine themselves to continue a civilizational battle begun in the Middle Ages. Another part of our work is organizing workshops to bring together journalists, public-facing professionals, and academics to talk about problems and solutions in misuses of history to violent ends. The Medievalist Toolkit has been supported by several awards from Columbia University and the Medieval Academy of America.
Academic credentials
B.A., M.A. University of Zurich (Switzerland), Ph.D., Columbia University