Frank Rapant: After the Fire, Abby Golodik: A Precarious Balance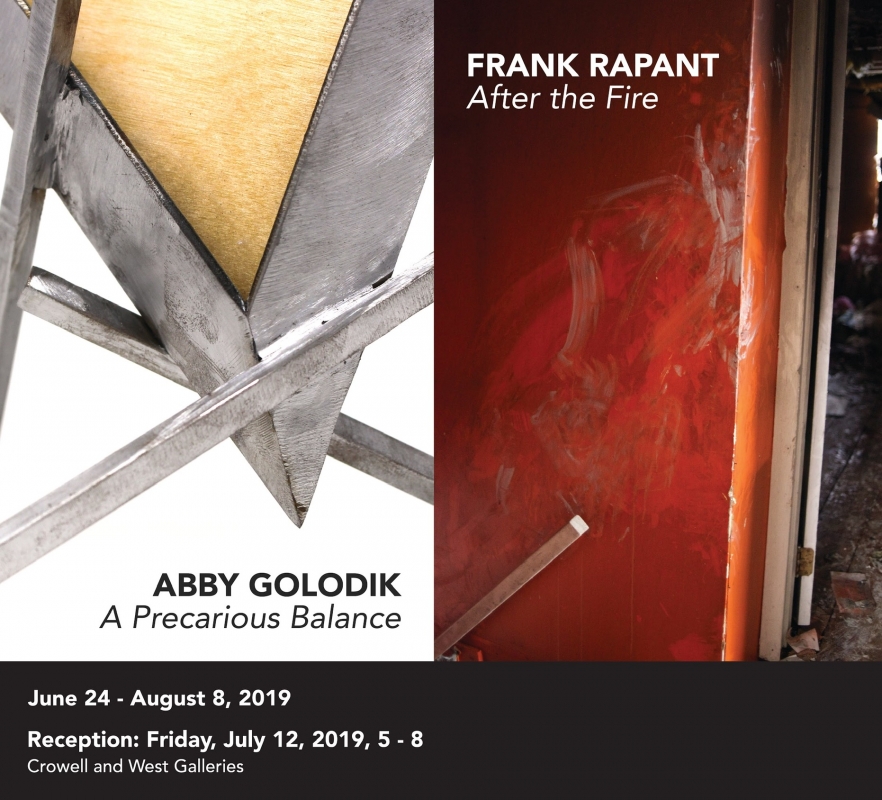 June 24 - August 8, 2019 with an opening reception on Friday, July 12, 5 - 8, at the Crowell and West Galleries, Feigenbaum Center for Visual Arts, Union College, Schenectady, NY
This event and exhibition is free and open to the public Monday through Saturday, 8am - 7pm.
Call (518) 388-6714 for more information.
Artist Statements
Abby Golodik
This body of work consists of steel sculptures with wood and stone elements, varying from enclosed planes to open bar structures. There is a progression from balanced pieces, to pieces with visual movement. I experimented with surface treatment and finishing techniques to contrast the clean look in earlier pieces. The new works were built on impulse, which allowed me to unlock spontaneous designs that play with shadow and light. The pieces are constructed at angles that would tip over without the perfect support to capture their last moment of stability. Each piece reaches an equilibrium when assembled, precariously balanced on sharp edges. I have pushed working with simple geometric forms that grow organically, like crystalline structures. These sculptures continue to evolve into new progressions and I am curious to see where this body of work will take me next. 
Abby Golodik is a recent alumna of Union College where she majored in Studio Arts and concentrated in Sculpture. In 2018 Abby was awarded the Charles Alexander Richmond Prize in Fine Arts and graduated Cum Laude with a Bachelor of Arts Degree. She is the current Studio Art Technician at Union College and resides in Schenectady.
Frank Rapant
On January 30, 2014, I left home for a normal workday. Within a couple hours I began receiving phone calls from my neighbors. Steve, a Town of Schodack Police Officer was the first to call, he left a message of, "Frank, please call me, it's important." Vinny, on the other side of me left a message of, "Frank call me back, there is a lot of smoke coming from your house." Mark called and said, "Hey man, I don't know what's happening with your house. There's a lot of smoke and fire trucks. Your dog is out in the yard."  He didn't say the dog was dead. We ended up losing almost everything we owned. Our dog and cat were locked in the house, and perished due to smoke inhalation. It was a faulty breaker that started the electrical fire. We are very fortunate that it didn't happen at three in the morning. After a year of high stress and very many tears my wife and three daughters have settled down in a new home, with new pets. My marriage survived, but my children still wake up crying in the night.
These images are not meant to be sensational. This is my life, and it was a horrible thing to go through. Photography is a tool I use to relate to the world; how I come to terms with things horrible, beautiful, or wonderful.  When tragedy struck my life my first response was to try to make art out of it. Some of these images are autobiographical, some are documentarian, and some are abstract expressionism. They all speak to the sense of optimism within the loss and tragedy my family has experienced.
Frank Rapant has a BA from Union College. He continues to live with his family in a new location in Castleton, NY.  He regularly exhibits work in the Capital District and beyond.