Susan Zirinsky has spent her entire adult life at CBS News. Beginning in 1972, she has been a part-time desk assistant, a researcher, an associate producer. She worked her way up the ranks to "Evening News" producer and White House producer.
As such, she has been witness to some of the biggest stories in history. Watergate. The Tiananmen Square student uprising. The Sandy Hook Elementary school shooting. The Boston Marathon bombings. The terrorist attacks in Paris.
Drawing inspiration from her decades in the news business, Zirinsky offered a series of life lessons to the nearly 500 members of the Class of 2019 at Union's 225th Commencement in Memorial Fieldhouse Sunday. The ceremony moved indoors because of steady rain during the morning.
"There is no Google maps, Waze or Siri giving any of us directions to success," said Zirinsky, who, on March 1, took over as president and senior executive producer of CBS News. She is the first woman to lead the venerable news organization.
"What makes any of us feel successful? Success really means how well you cope with the things that happen as you take the journey in life. Real success is about not giving up when the worst things do happen. Success is about having an impact."
Zirinsky was the inspiration for Holly Hunter's character in 1987's Oscar-nominated movie "Broadcast News." She shared with graduates the key elements she lives by, including using fear as a self-motivator, sleeping very little and not always leaning in.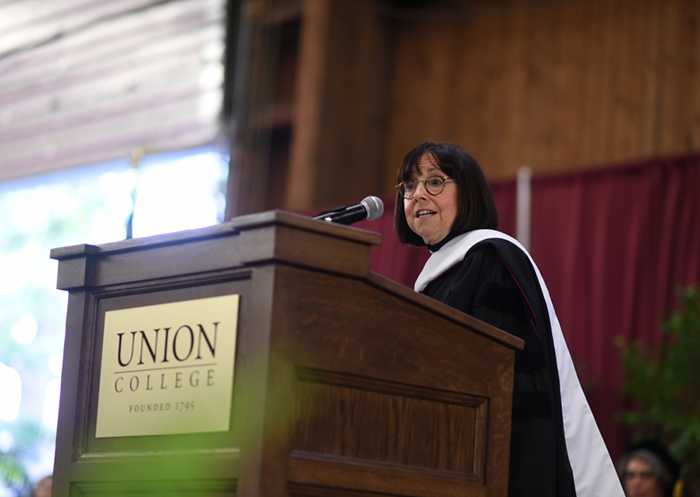 "Lean sideways," she said. "You have to accept you cannot have it all."
In her address, Zirinsky touched on the cultural shift of the last two years, including the #MeToo movement and its impact on society.
"Unconscious bias remains in every business, every campus, every social situation," she said. "It may never be over. An inclusive society is what we must be."
She called on the class to be agents of change.
"There are battles ahead to be fought, but you know what they are," she said. "You, by actions and behavior, you have the responsibility to get us, all of us, to reconcile the past bad acts and unconscious bad acts. The debts of history have come due."
Of all the major stories Zirinsky has been a part of around the globe, none affected her like 9/11. Approached by documentary filmmakers who captured the only footage of the plane striking the North Tower, she helped produce the critically acclaimed "9/11," considered by many to be the historical record of the terrorist attacks on the World Trade Center.
Reflecting on the 10th anniversary of that horrific event, the rookie firefighter at the heart of the documentary said some people go their whole lives without ever being really tested.
"The strength and courage of those who walk among us are indeed inspiring," Zirinsky said. "Look for them. They will change your lives."
Zirinsky received an honorary doctorate of letters degree.
The College also awarded an honorary doctorate of letters degree to Deborah Margolin, a playwright, actor and founding member of Split Britches Theater Company.
Margolin is Professor of the Practice in Yale University's undergraduate Theater Studies Program. Dan Venning, assistant professor of theater and dance, nominated Margolin.
In his first charge to the graduates, President David R. Harris encouraged the class to be guided by the key messages in the school's motto: "Under the laws of Minerva, we all become brothers and sisters." Harris assumed the presidency last July 1.
"You will forever be connected to the people you met on this campus," he said. "Please stay close to one another and close to those of us who remain here. We brothers and sisters can share wisdom with one another when times are uncertain and celebrate when times are good."
He asked the graduates to take what they have built at Union and apply it to the world.
"Make positive differences, in ways large and small, in places near and far, with wisdom and compassion," he said. "Your brothers and sisters were always broader than your team, your fraternity or sorority, your club, or even the Union community. Now is the time to play on this larger stage. Know that you are ready for what comes next, and that the world needs you."
The student speaker, Christie Dionisos '19, reminded her classmates of how well their Union experience has prepared them for their next chapter.
"How do you put words to a place that took your breath away," asked Dionisos, a double major in neuroscience and gender, sexuality and women's studies from West Chester, Pa.
"You do it justice. You make it proud. You be responsible for the biggest biological breakthrough in cancer research, the next engineered human prosthetic, the novel of the century, the most influential economic policy, the loudest cry for social justice. You are eminently qualified to do this."
She urged them to find their voice as they take a seat at the table.
"This isn't a leave-the-nest, spread-your-wings-and-fly moment," she said. "You are already flying. Union gave you opportunities to do that, now is just your chance to fly higher. I can sense among us a whole lot of potential energy yearning to become kinetic. It is not an individual feeling; it is the collective sound of a cohort breathing together. We are a force, filling seats at the table left and right. They have no idea the power we hold, especially with what we can do together."
Five members of the Class of 2019 received special recognition: Co-valedictorians Allegra Dawes, a mathematics major (with a minor in political science) from Corning, N.Y.; Thomas Gagliardi, a biochemistry major from Armonk, N.Y.; and Samantha Miller, a visual arts major from San Diego, Calif. Also recognized were co-salutatorians Lisa Gu, a computer engineering major from Marlboro, N.J., and Marc Perlman, a biology and economics interdepartmental major from Roslyn, N.Y.
The celebration opened with remarks from William A. Finlay, College marshal and chair of the Theater and Dance Department. Finlay was presiding over his final Commencement. He is retiring from Union at the end of the month. He joined the College in 1994 and has been marshal since 2005.
Robert Bertagna '85, the new chair of the College's Board of Trustees, offered welcoming remarks.
The ceremony concluded with "Ode to Old Union," led by the Dutch Pipers.
Visit Union's Facebook page for a photo gallery from the event.